---
Power inverters allow you to convert Direct Current (DC) from batteries to Alternating Current (AC) used by devices and appliances. A typical inverter on the market is the 1500 Watt Power Inverter.
You have many models to sort through if you're in the market for a 1500W Inverter. I have reviewed several 500 models available on the market and would like to provide an overview of some of the best choices.
Types of 1500W Inverters
Inverters can be divided into several categories, so the choice is not always straightforward.
This article focuses on off-grid inverters.
There are three major categories of inverters, and each main category comes in 3 primary input voltages and two main output voltages.
If you already know this, you can jump down to the selection below, but continue reading if you want more information.
This is a list of your primary inverter categories to consider.
Input Voltage – 12V, 24V, 36V, 48V
Output Voltage – 110/120V or 220/240V
Waveform – Pure Sinewave or Modified Sinewave
Design – Low-Frequency Pure sinewave or High-Frequency Pure sinewave
Functionality – Inverter or Inverter Charger.
Input Voltage
You will probably use a battery bank, so your inverter's input voltage should match the nominal battery voltage – probably 12V, 24V, or 48V.
Once done, you can select the desired AC output voltage (120 or 240 VAC).
Output Voltage
Knowing the output voltage needs of your inverter is essential – 110/120V or 220/240V.
When determining your output voltage, although most appliances and electronics use 120V, pumps often use 240V.
Waveform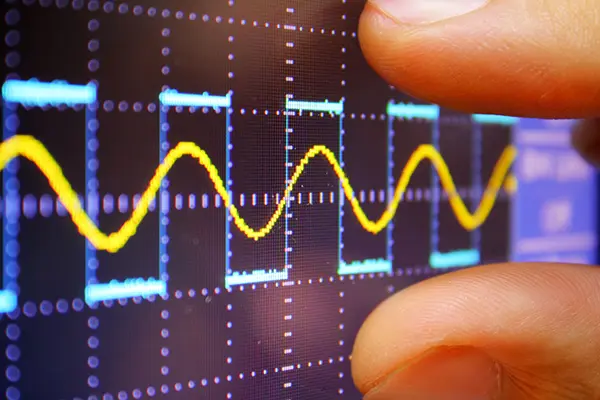 This article discusses two primary types of waveform inverters – Sine Wave (Pure/True) and Modified Sine Wave.
Sine Wave (Pure/True) – This inverter uses AC – the type your local utility company provides. This is much better for more sensitive appliances and devices.
Pure Sine Wave inverters are also more expensive.
Modified Sine Wave – Rougher and less efficient is how best to describe this inverter. Some appliances and devices won't work with a Modified Sine Wave inverter. However, they are often used for tools and essential appliances.
High-Frequency Pure Sine Wave
These inverters are usually less expensive, smaller, and don't handle industrial loads as well as a low-frequency inverter. As a result, they are more common in retail sales.
High-frequency inverters are appropriate for many small appliances and devices but don't work well long-term with high-torque tools, pumps, and motors.
High-frequency inverters are typically acceptable for the occasional user – camping, car camping, RV, boating, etc., if you only use them a few hours a week. They are also acceptable for small electronic devices used a few hours daily.
Low-Frequency Pure Sine Wave
These inverters have large iron cores, making them much larger and more durable. Low-frequency inverters operate much cooler and offer many features.
Multiple DC inputs and dual voltage outputs (120/240V) are often allowed.
If you are going to run compressors and air-conditioners, then consider low-frequency inverters. They are also appropriate if the equipment regularly runs and for long periods.
What Can a 1500W Inverter Run?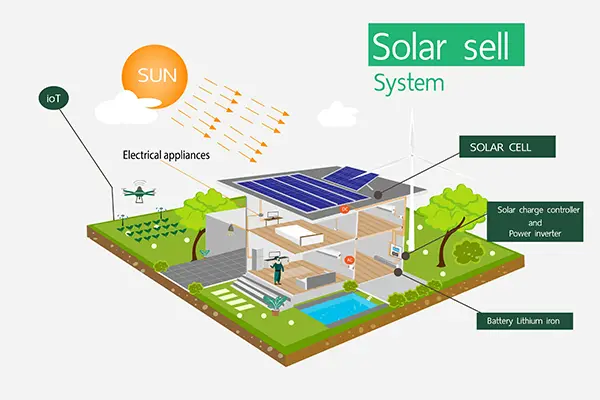 A 1500-watt inverter can run equipment or devices with a running power consumption of fewer than 1500 watts.
Running power is the power used consistently after the initial surge.
There are a few things to keep in mind.
Add up the watts being use – ie., light =60W + fridge=1,000W + TV=440W = 1500W
Surge or starting power consumption should be about 2-3x the running power consumption. Appliances with motors typically require a brief surge of power to start.
Total power consumption should not exceed 1500. You will need to turn off devices if it does.
Criteria for Choosing Your Power Inverter
Below are a few features to consider when choosing your inverter.
Rating
Planning is important. Make sure you determine the watts you need and don't be too conservative. Instead, use the actual number of watts your electronics and appliances use.
Noise
Inverters use fans. Listening to these in a tight environment like your truck, RV, or boat is no fun. Check out the reviews, as these will often mention if they are noisy or not.
Number of Power Outlets
Power inverters are available with single outlets to power one device and multiple outlets to power multiple devices simultaneously. Make sure you consider your needs before making the purchase.
Number of USB Ports
Many power inverters come with Universal Serial Bus (USB) ports, allowing you to charge your cell phones, laptops, game consoles, power tools, and other electronics. They come in conjunction with the power outlets. Make sure you check how many are available.
Safety Features
Some inverters incorporate safety features to shut down the inverter at high temperatures, surge protectors, etc. There are many others, so review them and decide what you need. Inverters are not inexpensive.
Size
Size often depends on where you are using your inverter. For example, it makes more sense to use a high-frequency inverter in a vehicle or where portability is important.
Using a low-frequency inverter may make more sense if you power your home or job site daily and for long hours.
A Few Items to Keep in Mind
Remote Starter does not mean you can wander around with it like your TV. Many are wired and only extend about 15 feet, so check the specifications.
No LCD Display does not mean any LED display, so check the specifications for these.
Best 1500 Watt MODIFIED Sine Wave Inverters
Kreiger 1500W, 12V Modified Inverter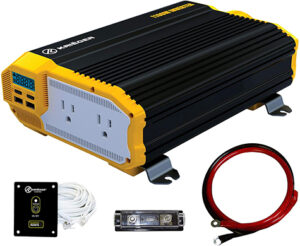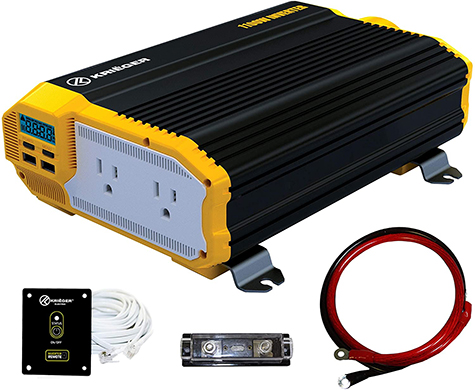 This is a solid modified wave inverter at a good price. It uses quiet thermal fans and has 2 AC outlets and 2 USB ports. Also included are fuse assembly accessories, which is not always the case. This inverter has one of the best warranties for 3 years. Krieger is a dependable company, and at the time of this article, this inverter had 4.5/5 star reviews.
Energizer 1500W, 12V Modified Inverter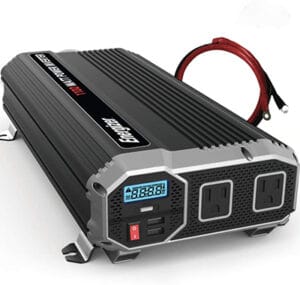 Energizer also makes a very good modified inverter, although the 2-year warranty still does not match Kreiger's 3. The installation kit includes cables but no fuse kit like Kreiger. This is why Kreiger edges out Energizer for my top pick. Energize is still a good company, and with 4.5 out of 5-star reviews at the time of this article, Energizer has its fans.
Giandel 1600W, 12V Modified Inverter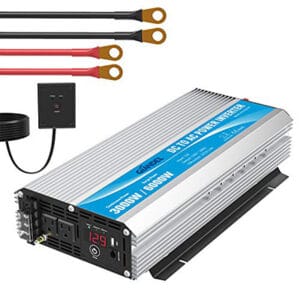 Giandel makes good inverters, and this 1600W modified inverter is no exception. This inverter comes with cables and a remote starter and has all the safety features you need to protect your equipment.
Best 1500W PURE SINE Wave Inverters
AIMS 1500W, 12V Pure Sine Inverter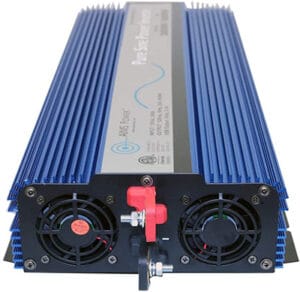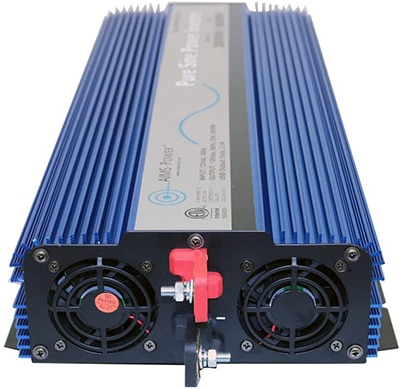 AIMS has been making solar equipment for off-grid projects over twenty years, so they know inverters. They are also located in Nevada so service and tech. support are local to the US.
Voltworks 1500W, 12V Pure Sine Inverter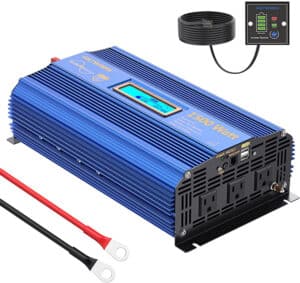 The 1500W Voltworks Inverter receives high-performance reviews. It has the safety features you need and comes with an LCD display, making it convenient when you need to monitor it while tucking it away.
Pros
Multiple Output Ports/Outlets
Cons
Can't turn off the low-voltage alarm manually
GoWise 1500W, 12V Pure Sine Inverter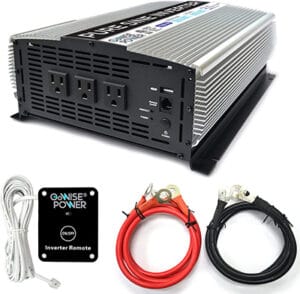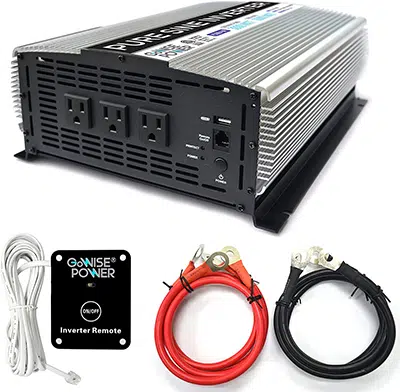 This inverter by GoWise has a reputation for being durable, and handling equipment surges well at start-up. It is a well-made inverter with cables and a remote starter for convenience.
Cons
Hard to contact Service sometimes
Inverter is a little bulky
Related Posts
Some of the links in this post are affiliate links. This means that when you click on one of these links, I earn a small commission at no extra cost to you. Also, as an Amazon Affiliate, I earn from qualifying purchases.