---
Solar Greenhouse Lights installed – check!
Tim finally finished the greenhouse; the finishing touch was the solar lights. After a lot of fussing, solar outside lights in the form of pendants were the choice.
I will show you the choices, explain why we chose them, and show you the final product.
The Greenhouse Itself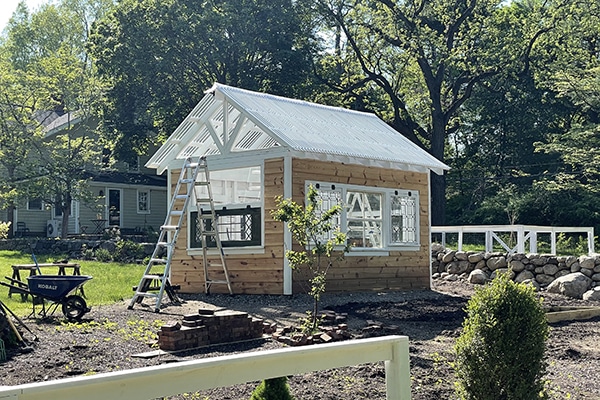 The Greenhouse itself is fairly small, about 10 x 6. It will mostly prepare plants for Spring planting and not be used to grow plants year-round.
I think Tim did an outstanding job, and it is perfect!
All types of materials were scavenged – old doors, even older windows. At least 2-3 people a day stopped to comment while it was being built.
Tim has had numerous requests to build the little greenhouses and may have found his next profession!
What I Wanted in My Solar Greenhouse Lights
Choosing a solar light is not that difficult, and it often just boils down to personal preference, but there are a few things to consider that are important to us.
How long would the solar lights stay on?
Could I adjust the lighting?
Would the lights be bright enough? How many lumens?
Why I Chose the Lights I Did?
I chose the MLambert Pendant light for a few reasons.
300 lumens (150 per pendant) vs. the Barn lights 40 lumens. I paid $5 more than the Barn lights (my next favorite). No real contest there.
They were rated IP65. The other two did not provide a rating but said "waterproof."
Ratings on all the lights I short-listed were excellent.
Light settings – up to 12 different settings.
Aesthetics – I liked the sleek retro look.
Solar Green House Lights – Installation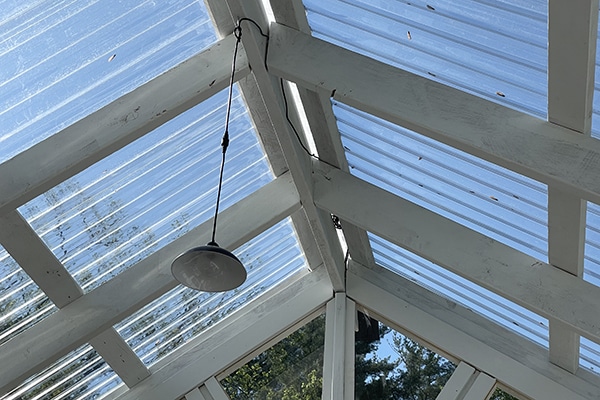 One pendant was installed on the greenhouse, about 2.5 feet from each end. The solar panels were placed just below the peak of the roof.
The south-facing solar panel is tilted perfectly and gets significant sun.
The north-facing solar panel is not in the ideal location but appears to get enough sun to operate effectively.
Green House Lights – Performance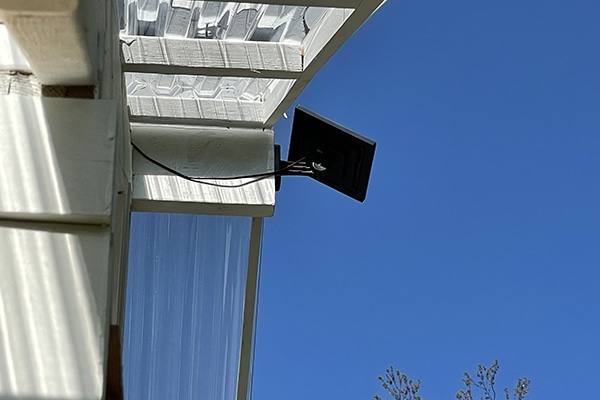 Overall I have been very pleased by the performance of the solar lights.
Positives
This is the best part of the solar greenhouse lights, the performance. The ability to set the brightness is great, and they are much brighter than I expected!
The lights are not too small and provide a nice warm ambiance, making it a nice bright work area.
Negatives
There are not any negatives.
I do wish they came on a little sooner. When I bought them, I knew it had to be dark for them to work, but they were not kidding. It has to be dark!
That's no problem, though. Get home, eat dinner, wait for the kids to sleep, and then hide in the greenhouse.
Solar Light Background
Below is a little more information on outdoor solar lights if interested. I'm a big proponent of solar use, and there are many ways to use this clean energy.
What is a Solar Light?
A solar light receives light during the day when the sun is out, stores it in a rechargeable battery, and releases the stored energy at night as light after the sun goes down.
A solar light does not need to be connected to a power outlet and does not need its battery often replaced because it usually comes with a rechargeable battery. In some instances, the manufacturers build the batteries into the lights, which cannot be replaced.
Simply put, solar light provides light for you at night when the sun is down with little or no maintenance.
How Do Solar Lights Work?
Solar lights consist of 3 main parts.
A solar panel
A rechargeable battery
A load – Light Source (LED)
Photovoltaic cells in the solar panels absorb sunlight during the day, charge the battery, and light the bulb at night.
How to Choose a Solar Light
Regardless of the type of light you choose, there are basic requirements you should consider before making a purchase.
Battery Power – Regarding battery power (mAH), the higher the mAH, the better the battery. However, you really want to know how long your light will stay on after it dark or how long a full charge will last you.
Brightness – Every manufacturer will tell you they have the brightest solar light. Check the lumens. Other than Solar String Lights, they should be listed. Point of Reference – 40 lumens = 400 watt light bulb.
Your choice will depend on where you use the lights, but below are some general guidelines.
Step lights: 12-100 lumens
Hardscape lights (on walls): 50-185 lumens
Landscape/Garden lights: 50-300 lumens
Path/Garden lights: 100-200 lumens
Landscape spotlights: 120 lumens
Lamp posts: 120-180 lumens
Pond/pool lights: 200-400 lumens
Motion sensor lights: 300-700 lumens
Floodlights: 700-1300 lumens
LED Bulb – Most good outdoor solar lights use more efficient LED bulbs. These produce a bright white light so consider tinted glass or a cover. Larger bulbs and high-quality photovoltaic cells produce better light.
Charging Rate (Watts) – Solar panels are rated in watts, and higher is better. If your lights don't fully charge during the day, it does not matter how long they hold a charge at night. If your lights are shaded, place a solar panel in a sunny area and wire it to the lights.
Weather Resistance – Many manufacturers claim their lights are waterproof or weather resistant. Look for common ratings – IP44, IP65, IP66, etc. The higher the rating, the more resistant the light.
For more information, use this IP rating checker.
FAQ
Does a solar greenhouse light need to be turned off?
Turning off a solar light will help preserve its battery life.

Do Solar lights require batteries?
Outdoor solar lights store the sun's energy during the day so that you can use the lights at night. This means that they do require batteries to store the energy.
Do solar lights work on cloudy days?
Yes, solar lights will gather and store energy on cloudy days, but they work best with direct sunlight. It is best to place solar panels out of the shade with southern exposure if you live in the northern hemisphere.
Related Posts
Some of the links in this post are affiliate links. This means that when you click on one of these links, I earn a small commission at no extra cost to you. Also, as an Amazon Affiliate, I earn from qualifying purchases.