---
Choosing the best 1,000-watt inverter can be time-consuming. However, this will be an essential piece of equipment that powers my tools, truck, RV, or off-grid cabin, so it must be reliable and durable.
If I'm in the backcountry or driving cross-country, I can't exactly grab another one. Also, inverters are expensive and heavy, so you probably don't carry a few back-ups in the old toolbox.
This article will discuss criteria I think are important when choosing an inverter and highlight a few that offer good quality and durability at a reasonable price.
Best 1,000-watt Inverters – A Snapshot
Below is a quick snapshot based on consumer purchases.
The top two Pure Sine 1,000W inverters purchased on this site are Bestek and Renogy inverters.
Bestek is popular among tent and car campers. It is not as powerful as others, but it has 2AC outlets and two USB ports. It is a dependable inverter, and since many people only use it to charge electronics when camping, they don't need as much power as they would if they were using small appliances.
Renogy is purchased more by RV and off-grid home groups. This reliable inverter does not take up a lot of space, and Renogy products have a good reputation. In addition, the renogy inverter is consistent and durable.
Kreiger is easily the most popular Modified 1100-watt inverter. This inverter is a workhorse and is often purchased by people using tools and small, non-sensitive electronics like lights, etc.
Best 1000-watt Inverter – Decision Criteria
There are several criteria to consider when choosing an inverter. Some of them are personal preferences like size, noise, etc., depending on where and how you will use them.
Pure Sine vs. Modified
Rating
Noise
Power Output Outlets/Ports
Safety Features
Size
Pure Sine vs. Modified
In addition to Pure Sine and Modified Inverters, there are also High-Frequency and Low-Frequency Inverters.
Modified
A modified inverter is reliable and less expensive than a Pure Sine inverter and can run most tools and household appliances.
Below is some equipment that may not work as efficiently with Modified inverters and some results you may see if you try and use it.
Motors may use more power because they have to work harder.
Fluorescent lights often make a buzzing noise, flicker, and are not quite as bright.
Clocks, mostly digital clocks, may not work with a modified inverter.
Timers may not work.
Temperature controllers may not always work.
Computers, cell phones, and tablets are considered sensitive. As a result, they may not only not work but also be at risk of damage.
C-Pap machines and other medical equipment are also sensitive equipment that should use Pure Sine inverters.
Although there are disadvantages to using Modified inverters, they are inexpensive and run most tools, appliances, electronics, etc. The technology continues to be improved, and many manufacturers will insist they can run the same equipment as Pure Sine inverters, but science tells you this is not the case.
Pure Sine
Pure Sine Waves are what your local utility company produces.
These inverters are more expensive but can run any equipment. They are better with sensitive equipment.
High Frequency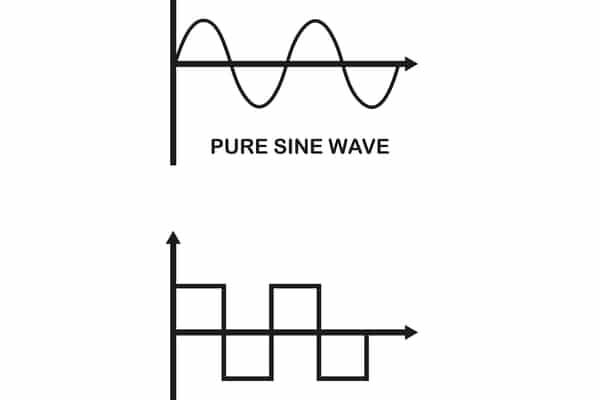 High-Frequency inverters are what you most often find sold. This is because they are less expensive, small, and don't handle industrial loads or low-frequency inverters.
These inverters are good with computers, electronics, small appliances, and small tools but don't handle machines requiring large loads well – pumps, motors, and some tools with high torque.
Low Frequency
Low-Frequency inverters have an iron core, are more expensive and durable, and usually have more features and versatility.
These inverters can handle much larger loads; some included features are listed below.
Hardwire additional external GFCI outlets
The input of multiple DC voltages
Dual output voltages (120/240VAC)
Integrate battery chargers and transfer relays
Note that manufacturers are cutting back on producing low-frequency inverters with a 1000-watt capacity or less. Nevertheless, there are still some low-frequency systems in the market, although many double as battery chargers.
Rating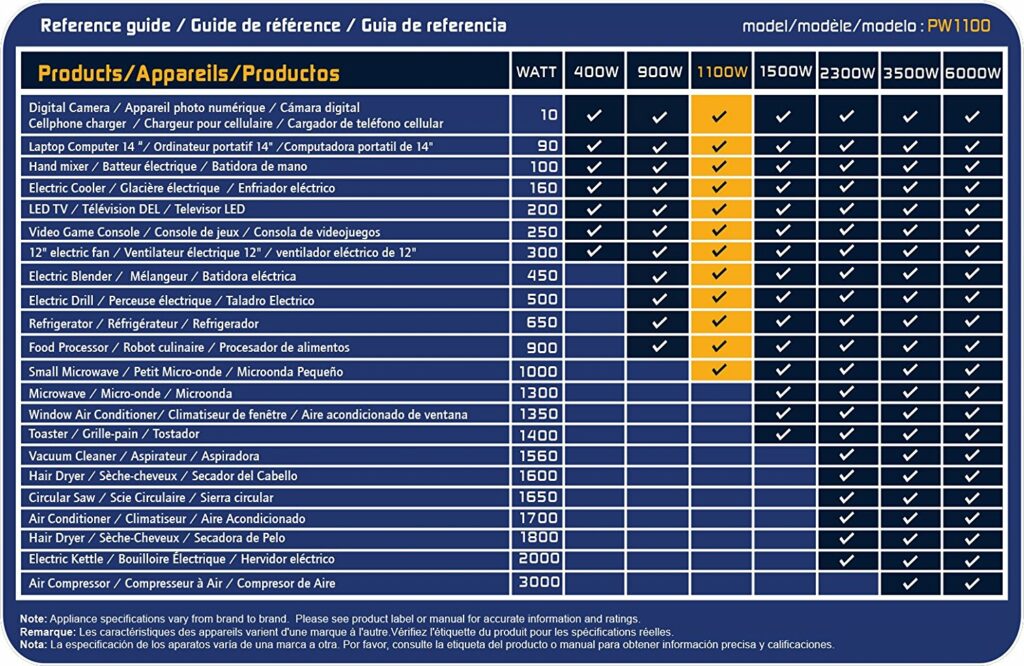 Planning is essential when building your solar system, and choosing the correct inverter is critical.
Make sure you know the total amount of wattage you will use. You don't want an inverter that is too small, nor do you want to waste money on one that is larger than what you need.
The chart above provides standard wattage for many appliances, but the information is also available on the devices and electronics you use.
The wattage listed on the back, bottom, or plate is the maximum amount of power used.
Noise
When choosing the best 1000-watt inverter, a noisy converter behind your truck seat or in your RV and Camp can be annoying.
On the other hand, it does not matter if the inverter is loud if you are using noisy tools. This is why many contractors choose Modified Inverters. They may be a little noisier, but it does not matter where they use them.
Consumers will let you know if an inverter is noisy, so check out reviews and forums. I have also captured that information in the longer reviews below.
Power Outlets/Ports
Most inverters have 110AC Outlets and both 2.1 A and 2.4 A (Smart) USB ports.
I don't care much about USB ports on a Modified Inverter because I'm probably not going to use a Modified inverter for my sensitive electronics.
On the other hand, AC outlets are critical for my tools, and if I'm only using tools, then a less expensive Modified inverter is fine.
A Pure Sine inverter must have USB ports when I'm camping or in an RV or cabin. Kids like to play games and watch TV; I need them for my laptop and phone.
Safety Features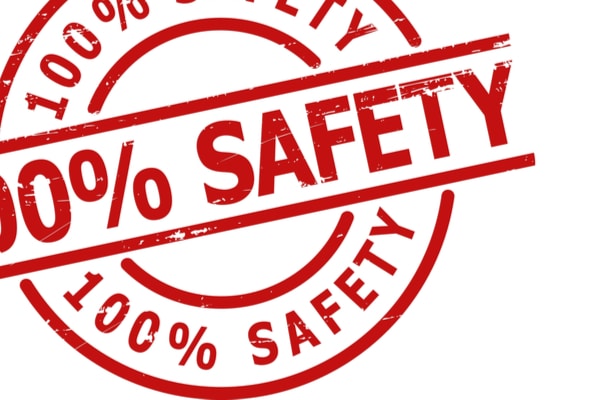 Most modern inverters have safety features, with two critical features being surge protection and temperature control.
When deciding on the best 1000-watt inverter for you, high voltage, voltage overload, short-circuit protection, etc., are all safety features.
In addition to LED indicators, alarms, and LCD Displays, modern inverters have Smart Cooling fans that turn on and off the inverters according to preset temperatures.
Size
One note on size and weight. CHECK THE MANUFACTURER'S WEBSITE. Amazon specifications are often wrong, so check the manufacturer's specifications. I've done this in the comparison guides.
Size is dependent on where you put the inverter. Are you squeezing it into a small, tight space in your car or boat? Do you have much more room in your truck or cabin?
When choosing the best 1000-watt inverter, measure your space requirements before purchasing.
The Inverters I like and Why I Chose Them
There are a lot of inverters to choose from, but they all have their differences. If you read the 2000W inverter article and the 3000W inverter article, you will find that the same inverter may not be reviewed in both articles. This is because some manufacturers make better low output inverters, and some produce better higher output inverters.
Many people will look at my choices and immediately say, "Well, "XYZ" is so much better," I'll agree there are other inverters that are just as good, but these are very good inverters, and they meet my requirements.
Renogy 1000W Pure Sine Inverter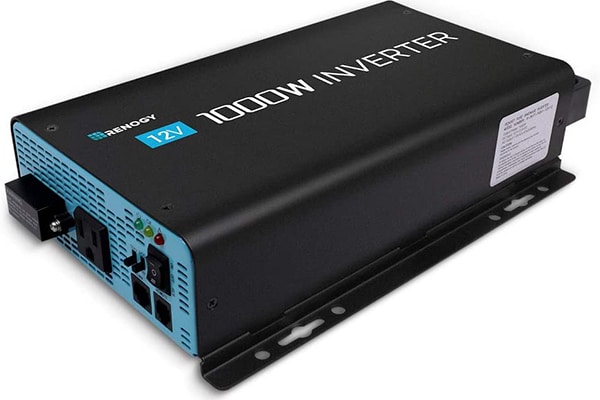 The Renogy 1000W Inverter is a durable, efficient 1000-watt inverter with plenty of power, five safety systems, and a remote starter. This is the inverter I would choose for tools and small appliances, with 1AC outlet and 2 USB ports. The remote starter is a nice feature that makes the inverter easily accessible if you have to place it in a tight space out of the way.
The inverter has LED lights, a simple on/off switch, two cooling finds, and an AC terminal block. It is nice to see an AC terminal block on a 1000W inverter since this allows you to wire directly.
Positive – This is a well-made inverter with convenient features like a remote starter and a terminal block for direct wiring.
Negative – there is not much that is bad. However, the cables provided are a bit light, and you may want to upgrade depending on how you use them.
You can also purchase from Renogy and ShopSolarKits.com.
Bestek 1000W Pure Sine Inverter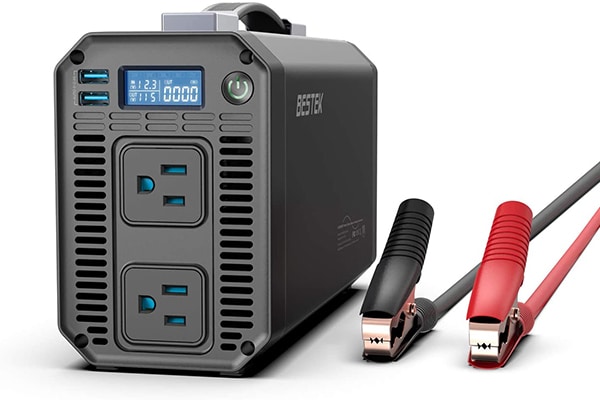 The Bestek 1000W inverter is a good inverter for camping and as a backup power source. This is a portable inverter that is good for camping trips or to keep in my RV. You can keep the kids' electronics charged with 2 AC outlets and 2 USB ports and power your small appliances.
This is also a great portable inverter to move around as needed without worrying about connecting and reconnecting it. This is a dependable inverter that performs consistently.
Positive – a user-friendly inverter with plenty of connections. Safety functions prevent overheating, and a clear digital display monitors the output.
Negative – You won't have as much surge power as you will in Bestek, Renogy, etc., but plenty for your needs. The inverter fuses are also built-in, so you won't be able to change them if they fail. There are four fuses, so you should be in good shape.
Krieger 1100W Modified Inverter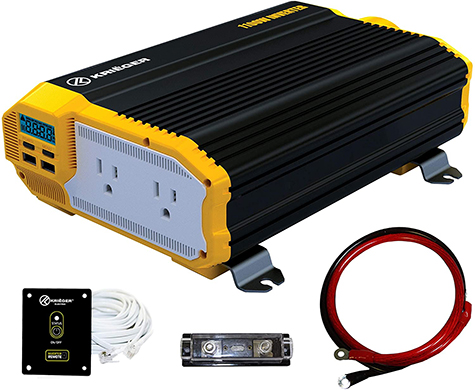 Krieger stands behind the Krieger 1100W inverter with a 3-year warranty. This is often the inverter you will find on trucks and in shops. This reliable, powerful inverter has a remote starter and is flexible with 2AC outlets and 2USB ports. It also comes with battery cables and an ANL fuse kit.
There are numerous safety features (Overload, Temperature, short circuit, etc.) and two cooling fans to ensure protection.
Positive – With 2AC outlets and 2 USB outlets, there is plenty of versatility. Again, you can't beat the three-year warranty. Few other companies offer this.
Negative – The on/off switch and remote are for standby mode. You will have to turn off the inverter on the back of the unit. Keep this in mind, or you will drain batteries.
Energizer 1100W Modified Inverter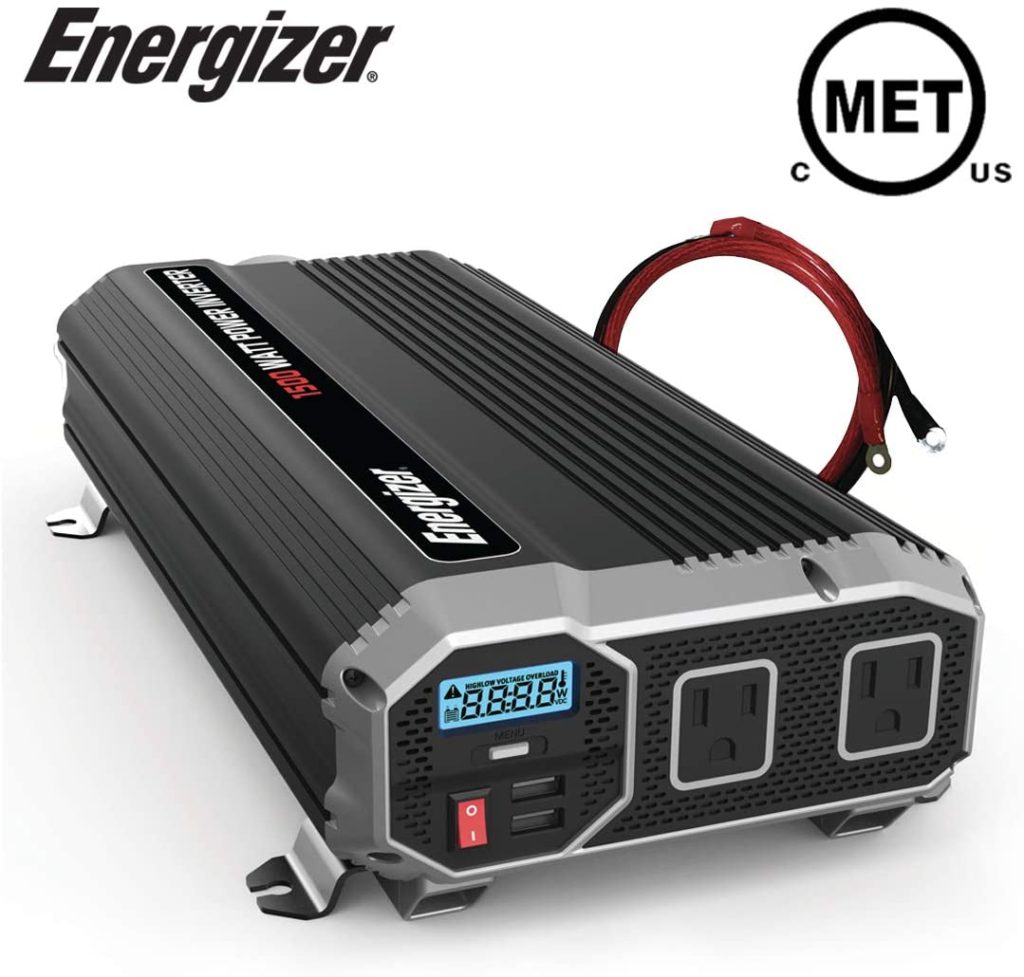 The Energizer 1100W inverter is very similar to the Krieger inverter. Energizer has a reputation everyone is familiar with, and this inverter comes with a two-year warranty to support its reputation.
This inverter comes with 2 AC outlets, 2 USB outlets, and an LCD screen. It also has numerous safety features like the Krieger inverter – overload, over-voltage, under-voltage, high temperature, short circuit, and dual Smart cooling fans. All the safety features are displayed on the LCD screen.
Unlike the Krieger, though, it does not have the convenience of a remote starter.
Positive – this is a quiet inverter with good hardware, unlike some inverters with fewer sturdy posts for connections. Feedback is consistent and primarily positive for this unit.
Negative – The cables provided are not negative, but they are short. This is relatively common across many of these inverters. Unless you set the inverter up immediately next to its use, plan to buy some longer cables.
Best 1000-watt Inverter – Final Thoughts
All these inverters have differences, even within their own Pure Sine Wave and Modified categories. Ultimately, the right inverter for you depends on how you plan on using it.
The Renogy inverter with its AC Terminal Block is good for a small cabin if you want to wire it directly. This is also a dependable inverter that receives good reviews.
If you want an inverter for camping with your family, then Bestek may be a good choice. The Bestek inverter has multiple ports and outlets so you can charge devices, and it is easy to pick up and move around where needed.
Krieger is a workhorse, but it is a modified inverter, so you may want to keep it for your off-grid cabin or power tools. It is durable whatever you use it for, and with a three-year warranty, you can't go wrong.
The Energizer Modified Inverter has all the features you need at a great price. It does not offer a remote starter or ANL fuse kit like Krieger, but if you just want a good, solid economical inverter, this is the inverter you should consider.
Related Posts
Some of the links in this post are affiliate links. This means that when you click on one of these links, I earn a small commission at no extra cost to you. Also, as an Amazon Affiliate, I earn from qualifying purchases.