---
Suppose you are looking for the best PWM Solar Charge Controller. In that case, I'll assume you have chosen a PWM charge controller rather than the more popular MPPT solar charge option and already understand the differences.
Before you make the final purchase, review the differences in the charge controller types again.
In this article, I review the PWM Charge Controllers I think are currently some of the best options available for DIY projects. I'll provide a comparison chart so you can narrow down your choices, and then I have included an overview of each charger.
Finally, in the reviews below, I have reviewed 20A charge controllers. Each brand makes quality-made charge controllers in different amperages and types (PWM vs. MPPT).
When You Should Use a PWM Charge Controller
A PWM charge controller should be used for smaller systems. It is not intended for larger systems with complex systems.
If price is an issue and you have a small system, this is a good charger. It is less expensive than MPPT chargers.
If you are charging a 12v battery, use a PWM charger with solar panels with a maximum power voltage (Vmp) of up to 18V.
A Few of the Best Charge Controllers Available Now
Many charge controllers are available on the market now, but the controllers listed below are good for DIY projects.
These controllers are reliable, easy to use, and offer good value at these price points.
HQST 20A PWM Charge Controller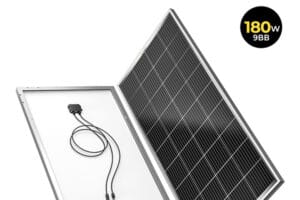 This 20A PWM charger has multiple advanced features for a very reasonable price. The charger is compatible with numerous battery types and has automatic temperature adjustments.
This multi-functional and intelligent 20A solar charge controller comes equipped with dual USB ports designed to charge electronic devices – a feature some competitors do not have.
The product provides overcharge and overload protection and short-circuit and reverse-connection protection.
Additionally, it provides a dot matrix graphic LCD screen and a human-machine interface with a key that makes operations on the interface convenient.
Charging parameters can be automatically adjusted with temperature compensation, and a wide range of load working modes make this charge controller easy to use.
Also, by virtue of an advanced load-starting method, large-capacity loads can be started smoothly.
Renogy Voyager 20A 12V/24V PWM Charge Controller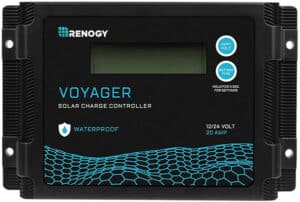 The Voyager is a great PWM controller for boats and harsher environments since it is waterproof and durable. This is also a simple controller without a lot of setting adjustments required.
Renogy has designed and built a very good controller at an economical price point that is waterproof and has many useful features.
This PWM controller uses SMART technology and has 4-stage bulk charging (Bulk, Absorption, Float, and Equalization), ensuring your battery is protected. In addition, the charger supports numerous battery types (Gel, AGM, Flooded batteries, or lithium) and detects 12v or 24v batteries.
The charger is IP67 rated, so it is waterproof and tightly sealed. It also has additional safety features – reverse polarity, overcharge, short-circuit, reverse current, overload, and over-discharge. This ensures the battery is protected.
One of the things I like is the LCD screen. There is no longer any need for a meter since all the information you need is displayed, although it would be nice to see watts.
This solid PWM controller from Renogy receives good consumer feedback and should be on your short list of considerations.
ALLPOWERS 20A, 12V/24V Charge Controller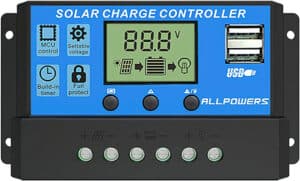 This charge controller can only be used with lead-acid batteries, but it performs well and receives positive user feedback. With advanced safety and performance features, this is a great price.
Pros
Multiple Safety Protections
The ALLPOWERS solar charge controller manages the overall performance of a solar panel and battery. With a discharge current rated at 20A, it provides multiple electric protections. The charger also has a reliable battery to charge and discharge period management.
This charge controller is only suitable for lead-acid batteries and offers an adjustable power rate with dual USB ports as well as 4-stage charge management and 4-stage PWM charge. This charger also has good protection – short-circuit, overloading, reverse protection, and heat dissipation.
Additionally, the controller provides a digital display feature that provides information on the status and data of the controller. It can be conveniently switched between varying modes, and its parameters reconfigured.
This simple, easy-to-use controller with limited uses, but it performs its job.
Morningstar Sunsaver 20A PWM Controller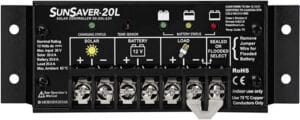 Morningstar has a reputation that is hard to beat, and this 20A PWM controller has a 5-Year Warranty to back it up. This durable, industrial-grade controller can stand up to almost any condition.
This 20A PWM charge controller is more expensive than the other charge controllers on this list, but it is also made by Morningstar and backed by their 5-Year warranty. Morningstar is known for its quality products and claims this charge controller has "the lowest fail rate in the industry."
This is a no-frills charge controller with no display and only a few LED operations monitoring it. Users will tell you it is fine because there is no reason to check this dependable charger.
This charger has a low-voltage disconnect and 4-stage charging, along with safety protocols – surge, short-circuit over-current, and reverse polarity conditions. It also has self-diagnostics and factory settings, so no installation settings are required.
The charge controller is also durable and can take abuse, with epoxy encapsulation, marine-rated terminals, and a cover for wire terminals. The polycarbonate case for the charge controller is industrial grade and one of many features that set this charge controller apart from many other controllers currently on the market.
If you want a charge controller that is dependable and that you can set up and forget, this is the PWM charge controller you need.
Summary – PWM 20A Charge Controller
While an MPPT charge controller is more efficient, it is not always necessary for a small system. In many cases, it is more economical to purchase a PWM controller.
Related Posts
Some of the links in this post are affiliate links. This means that when you click on one of these links, I earn a small commission at no extra cost to you. Also, as an Amazon Affiliate, I earn from qualifying purchases.