---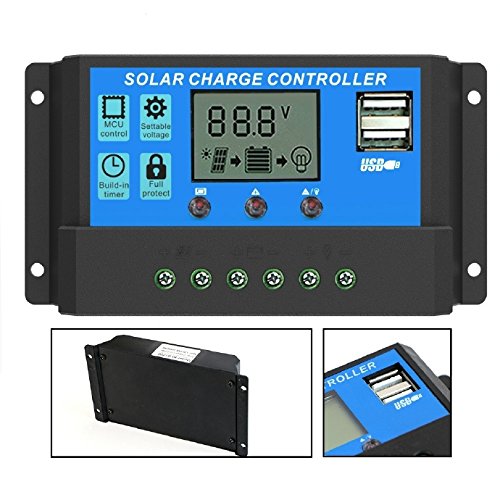 If you're looking to buy a solar charge controller and choose to go PWM rather than the more popular option of an MPPT solar charge controller – your only chance at getting your money's worth would be something worth your time would be finding the best PWM solar charge controller that money can buy. Otherwise – your future is guaranteed to be filled with quite a bit of frustration (and buyer's remorse).
So what is your chance at finding something decent? Well – here are our top PWM picks; stick to this list and you can't go wrong. (which isn't to say there aren't other good performers out there by the way)
HQST 30 Amp PWM Solar Charge Controller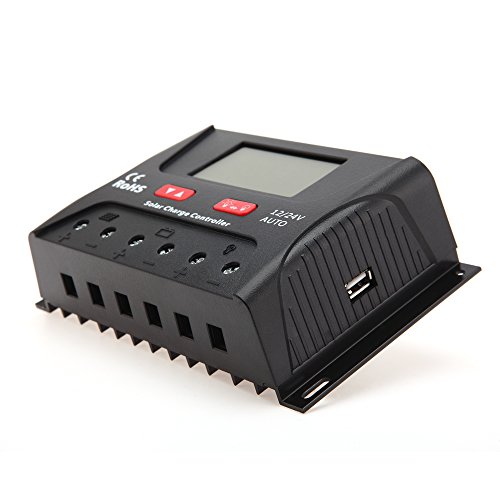 Manufacturer: HQST
Voltage: 12V/24V
Rated Charge Current: 30A
Rated Load Current: 30A
Float Charge: 13.6V
Discharge Stop: 10.7V
Operating Temperature: -35oC – 60oC
Dimensions: 1.9 x 4.9 x 4.2 inches
Weight: 0.2 ounces
This multi-functional and intelligent 30A solar charge controller comes equipped with dual USB ports designed to charge electronic devices – a significant addition to the regular solar charge controllers that don't have this feature. The product provides overcharge and overload protection as well as short-circuit and reverse-connection protection.
Additionally, it provides a dot matrix graphic LCD screen and human-machine interface with a key that makes operation on the interface quite convenient. charging parameters can be automatically adjusted with temperature compensation, and a wide range of load working modes facilitate the product's application. Also, By virtue of an advanced load starting method, large-capacitance loads can be started smoothly.
Pros
Gives great information on screen display
Also, it Eliminates the need for separate volt and amp meters because it is all there on the home screen
Additionally, it has a tempreture compensation feature
Cons
Display is not impressive
---
Esky Best PWM Solar Charge Controller – 30A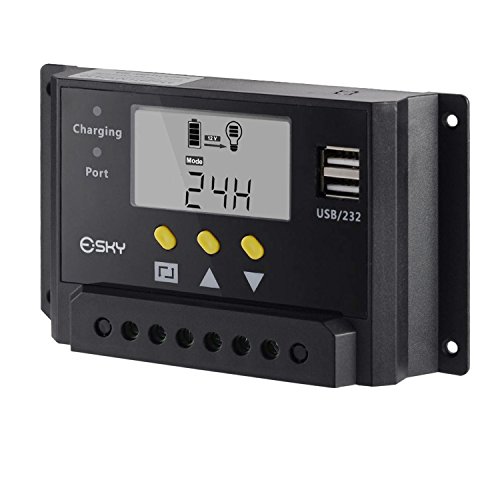 Manufacturer: Esky
Voltage: 12V/24V
Rated Charge Current: 30A
Rated Load Current: 30A
Float Charge: 13.6V
Discharge Stop: 10.7V
Operating Temperature: -35oC – 60oC
Dimensions: 1.9 x 4.9 x 4.2 inches
Weight: 0.2 ounces
The 30A Esky solar charge controller is an intelligent little device that comes equipped with an STM 8 microprocessor to control and charge the discharge process. It also features multiple load control modes and is adaptable to different situations. It also features an Excellent heat balance design and natural air cooling 4-stage charge management; charging temperature compensation functions. Additionally, it features multiple electronic protection and also a Comprehensive and reliable load control mode that can identify the day and night. Overall it is a Well-designed charge loop that can effectively improve the efficiency of charge and discharge; did we mention that already?
Pros
Well built, sturdy construction
USB outlets also provide a nice touch
Additionally, it also features Charging temperature compensation
Cons
Again, English manual is poorly written
---
ALLPOWERS BEST PWM Solar Charge Controller -20A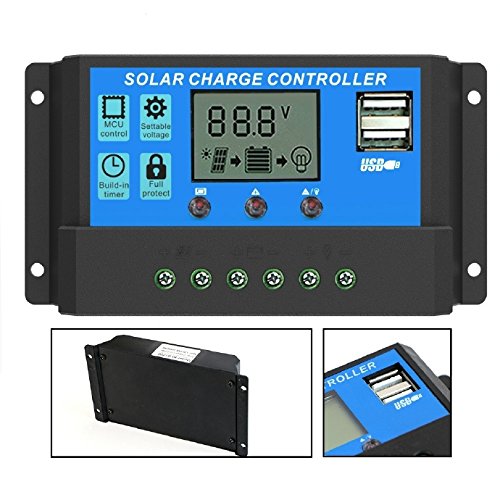 Manufacturer: ALLPOWERS
Voltage: 12V/24V
Rated Charge Current: 20A
Rated Load Current: 20A
Over charge Protection: 14.4V/28.8V
USB output: 5V/3A
Operating Temperature: -35oC – 60oC
Dimensions: 5.6 x 3 x 1.7 inches
Weight: 7.2 ounces
The ALLPOWERS solar charge controller manages the overall performance of a solar panel and battery. With a discharge current rated at 20A, it provides multiple electric protections and a reliable battery to charge and discharge period management. This charge controller is also only suitable for lead-acid batteries and offers an adjustable power rate with dual USB ports as well as 4-stage charge management and 4-stage PWM charge. Overall, with its featured short-circuit and overloading protection, built-in reverse protection as well as good heat dissipation – you can be assured that your battery's lifespan will be significantly prolonged.
Additionally, the controller provides the digital display feature which provides information on the status and data of the controller, so that it can be conveniently switched between varying modes and its parameters reconfigured.
Pros
Equipped with an STM microprocessor which helps to control the charger
Also, it features multiple electric protection
Ease of set up and use.
Cons
Digital display is not too impressive
---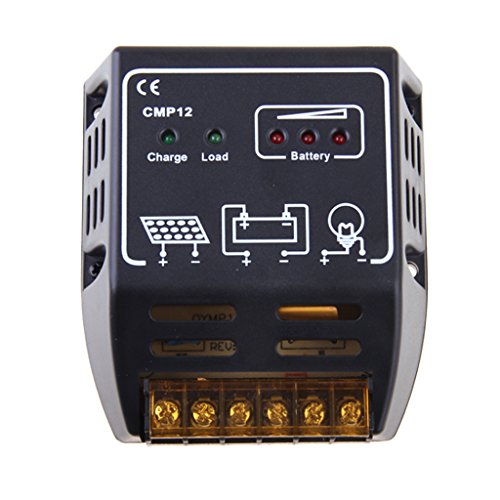 Manufacturer: Docooler
Voltage: 12V/24V
Rated Charge Current: 10A
Rated Load Current: 10A
Voltage stop : *10.8V or 21.6V
Resume Voltage: *11.8V or 23.6V
Operating Temperature: -20oC – 60oC
Dimensions: 5.6 x 3 x 1.7 inches
Weight: 4.8 ounces
The Docooler 10A 12V/24V solar charge controller is significant in performance for its overloading. It helps in short circuit protection and in reverse-polarity protection and reverse discharging. It offers system protection from a lightning strike and overall prolongs the battery life cycle. Users rave about its ability to control loads and with a circuit board that insulates from the environment, you are guaranteed an experience that is not impaired by weather or related conditions.
Pros
Quite cost effective and easy to use
Also, its Indicator lights displaying load
Cons
Indicator lights can get quite random when the controller has been in use for a while.
---
Mohoo BEST PWM Solar Charge Regulator – 20a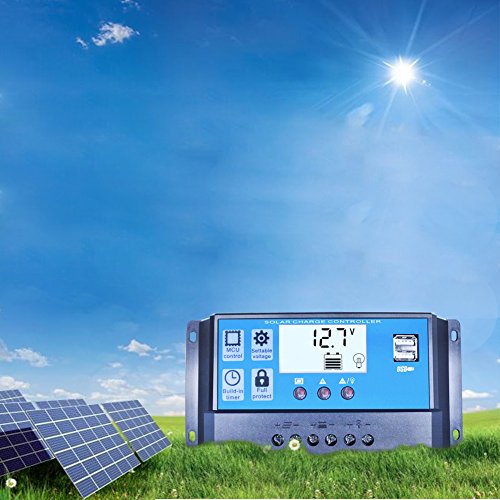 Manufacturer: Mohoo
Voltage: 12V/24V
Rated Charge Current: 20A
Rated Load Current: 20A
Float Charge: 13V
Discharge Stop: 10.7V
Operating Temperature: -35oC – 60oC
Dimensions: 1.9 x 4.9 x 4.2 inches
Weight: 0.2 ounces
The Mohoo 20A charge controller features PWM battery charging and is designed to specifically meet rural electrification needs. It functions to protect voltage overshoot and discharge. It also stops output when the voltage is too low and restore discharge voltage when necessary.
The solar charge controller features LED display, PWM battery charging and adjustable system parameters that enable customized use. Also worthy of note is the fact that the regulator is only suitable for lead acid batteries – and the battery must have enough voltage for the controller to recognize it.
Price: [amazon_link asins='B018ICLC3K' template='PriceLink' store='solarknowhow-20′ marketplace='US' link_id='2b9515e9-ca04-11e7-b592-c7a87636cadc']
Pros
LCD is clear and easily readable
It also has a menu button, that allows you to toggle between the displays and settings
Finally, Solid and sturdy construction
Cons
LCD display doesn't show you the wattage that the panel is producing (but shows most anything else that is relevant)
---
Renogy Wanderer 30A Negative-Ground best pwm Solar Charge Controller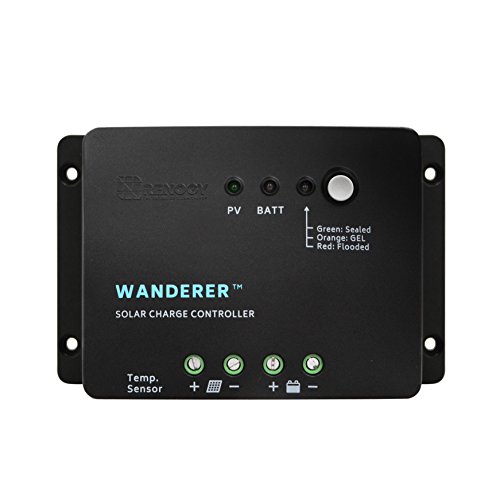 Manufacturer: Renogy
Voltage: 12V/24V
Rated Charge Current: 30A
Rated Load Current: 30A
Float Charge: 13V
Discharge Stop: 10.7V
Voltage Stop: *14V or 28V
Operating Temp: -35oC – 60oC
Dimensions: 1.9 x 4.9 x 4.2 inches
Weight: 0.2 ounces
The Renogy Wanderer is by all standards, a leader of the pack in the subject of solar charge controllers – is a negative ground controller with the potential to function effectively with virtually any negative ground system which is the most typical way of grounding. The charge controller features a 4 stage PWM charging with LED indicators that indicate the charge controller status and additionally, overcharging and over-discharging features that provides protection against overcharging, overload, short-circuit, and reverse polarity.
Additionally, the Negative grounding controller ensures broader off-grid applications and safety, especially to be used on a vehicle that has a battery negative on the chassis. Thus an additional investment in this charge controller will generate a much higher return and prevent system failure guaranteed
Pros
Easy hook up and is reliable
Also, its Display uses LED's to indicate charging status
Finally, Controller offers numerous options that determine when the load is powered
Cons
The battery LED may flicker sometimes
---
(Visited 548 times, 9 visits today)
Some of the links in this post are affiliate links. This means that when you click on one of these links, I earn a small commission at no extra cost to you. Also, as an Amazon Affiliate, I earn from qualifying purchases.