---
The best MPPT Solar Charge Controllers will efficiently manage the energy between your solar panels and your batteries. This, of course, over-simplifies solar chargers. Nevertheless, they are essential components, and this article will provide the information you need to choose the one right for your system.
Understanding how solar chargers work and the differences between the types of controllers is, whether an MPPT or PWM solar charge controller, is important. Determining the size you need, along with important features, is also included in this article.
How to Select a Solar Charge Controller – What Size You Need
There are two main things to consider before buying a solar charge controller.
The voltage size of your battery array and inverter.
The maximum current your solar panel array can deliver.
This explains these well and breaks down the topics, making them easy to understand.
Solar Charge Controller Choices
There are many suitable charge controllers on the market. Below are five that consistently get good feedback and are manufactured by companies that have been in the solar business for years.
1.
Victron Energy MPPT 100V 12/24V Charge Controller
Victron Energy is a Dutch company that sets the standard for charge controllers. These well-engineered charge controllers are backed by a 5-year warranty reflecting their commitment to their products and technology.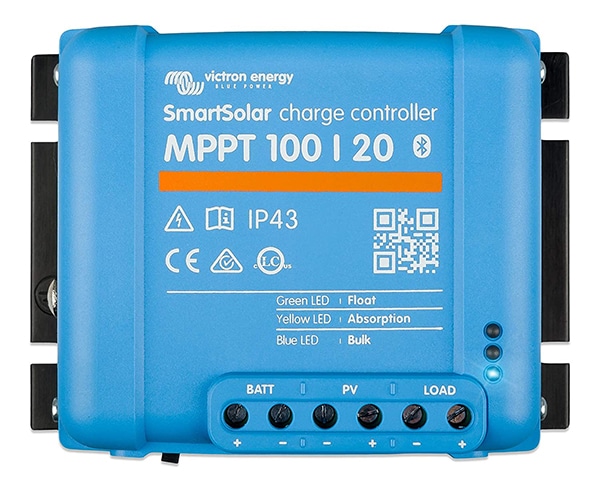 Pros
High quality, efficient charger that charges fast
Good Bluetooth tech and analytics
Well-engineered to use the maximum amount of power, extending battery life
Cons
Written instructions could be clearer
The Bluetooth device needs to be close to the unit
Below are just a few features that make this charge controller a standout. In addition, its ability to use every bit of power at a rapid pace will increase the life of your batteries.
Built-in blue tooth technology and the VictronConnect App for monitoring
Maximum Power Point Tracking and Advanced PowerPoint Detection when there is shade or clouds
Excellent conversion efficiency
Convection cooling
Automatic recognition of battery voltage
Flexible charge algorithm.
High-temperature protection and derating of the power when the temperature is high
Specifications: 10.63 x 9.84 x 5.91 inches, 6.6 pounds, built-in Bluetooth, VictronConnect App (Free Download), Remote On/Off, Programmable Relay,150 operating voltage, 60A max out current
Heads Up: Victron uses distributors for their products, so you will have trouble reaching them for service. Some distributors are excellent, and some are "eh."
There has been feedback that written instructions are poor. Written instructions have improved, but the units' online instructions are much clearer.
2.
Renogy Rover 30A 12V/24V MPPT Solar Charge Controller
Renogy is well-known by off-grid, RV, boat, and most any DIY solar person, and this manufacturer has established a quality brand in the DIY solar industry over the last ten years.
Renogy provides products that are "user-friendly." You will often hear "plug-n-play" when people talk about Renogy products. Renogy also targets the RV and DIY industry with products like their smaller, more compact solar panels.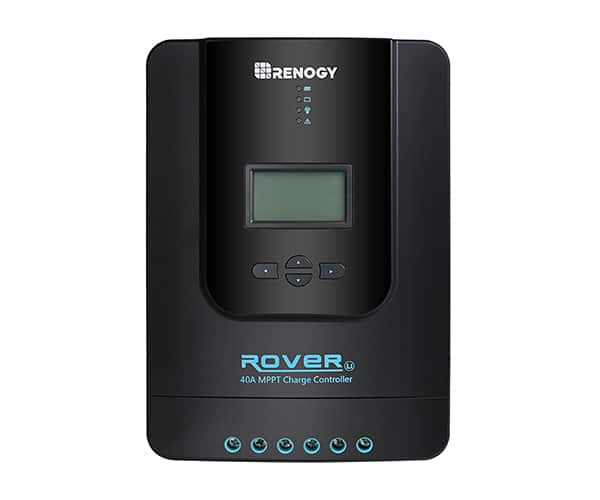 Pros
It can be used with multiple types of batteries
LCD, Digital monitors, and Bluetooth add-on for monitoring flexibility
An efficient charger that manages power well
Cons
Bluetooth is an add-on and not included
Bluetooth app can be inconsistent, and you must be close
Although their charge controllers don't have the same level of engineering as Victron, they offer a solid DIY product that is especially good if you are entering the solar arena.
Die-cast aluminum design ensures good heat dissipation
High tracking efficiency of up to 99%
Self-diagnostic capability protects against reverse polarity, battery overcharging, battery over-discharging, overload, short-circuit, and reverse current.
LCD screen and LED indicators
Features 4-stage charging (Bulk, Absorption, Float, and Equalization)
Compatibility with multiple battery types
Specifications: 11.22 x 8.07 x 4.00 in, 7.9lbs, Nominal Voltage: 12V/24V/36V/48V Auto Recognition,150 operating voltage, 60A max out current,
Heads Up: The Bluetooth module is sold separately, and there has been feedback that it is not as user-friendly as it should be. This may be frustrating if you have trouble reaching their customer service team.
3.
OutBack Power FM60-150VDC FLEXMax 60 Charge Controller
Outback Power is another US-based company with a strong brand. They manufacture their equipment and provide service and installation.
Much like Midnite, Outback is well known amongst the DIY crowd. You will pay a little more for their charge controllers, but you will get a robust set of features, quality, and durability in return.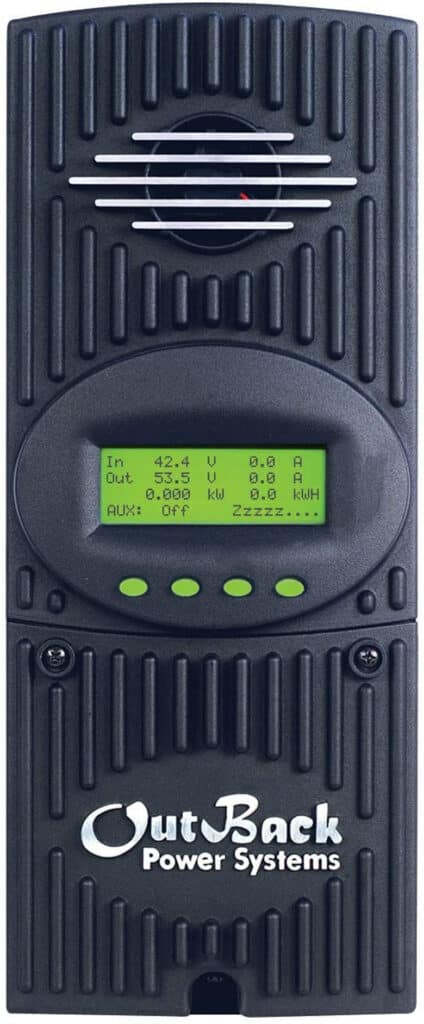 Pros
Allows remote programming and monitoring
Durable – operates at its maximum efficiency in temps. up to 104F
Efficient controller for large, remote systems
Cons
Poor manufacturer customer service. Try to work with the seller or distributor.
The outback charge controller is an efficient, powerful unit that is especially useful in remote locations. In addition, the units are dependable and can withstand extreme weather conditions.
Pioneer has set engineering standards and offers technical versatility with remote MATE monitoring and good performance analytics that log your charger for up to 128 days.
FLEXmax MPPT software algorithm
Active cooling and intelligent thermal management cooling
Charge controllers can operate at their total maximum current rating in ambient temperatures as high as 104°F (40°C)
Support for a wide range of nominal battery voltages
The ability to step down a higher voltage solar array to recharge a lower voltage battery bank
Backlit 80-character display
Logged system performance data for the last 128 days
OutBack network communications allow remote programming and monitoring via a MATE system display
Specifications: 41.3 × 14.6 × 11.4 in, 5.53lbs, 150 operating voltage, 60A max out current, 3.1″ LCD screen, 128 day data logging
Heads Up: The cooling fan can be a little noisy, and the set-up guide is lengthy, but overall this charge controller has excellent reviews.
4.
MidNite Solar CLASSIC 150 MPPT Charge Controller
Midnite Solar's charge controller is a workhorse. This 96A charge controller is larger than the other 60A controllers, but its popularity requires it to be in this group.
Midnite is known for its innovative energy solutions for DIY power enthusiasts. In addition, this popular controller is often found in off-grid solar and wind systems.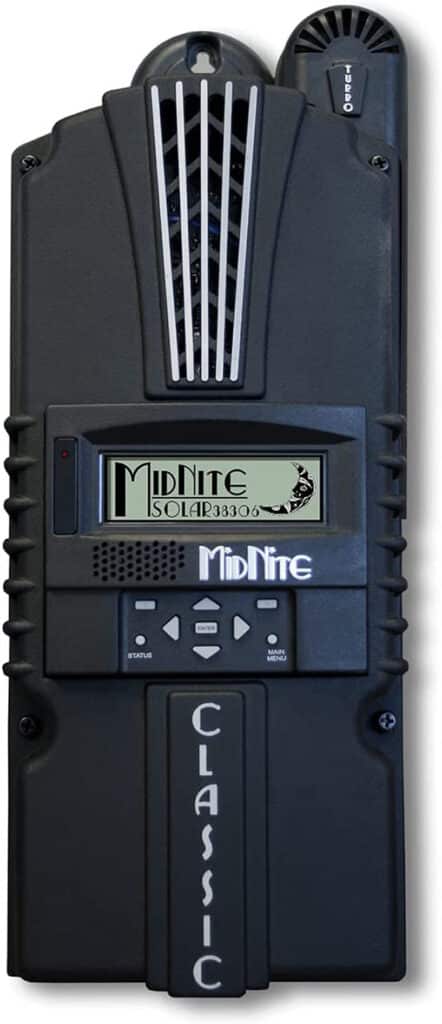 Pros
Versatile with wind, hydro and solar applications
Top-notch tech with web monitoring, data logging, etc.
Extensive settings and safety features so you can set it as you like
Good extended warranty
Cons
Weak coding sometimes requires too much intervention for changes to equipment.
A 5-year warranty backs the Midnite, and if you return it six months before it expires and pay $147 plus shipping so they can perform maintenance, the contract is extended by two years. This is the best warranty in this group!
Features included in the Midnite controller make it a standout in its category, and many of these features are unique to the Midnite.
Charges Lithium, Flooded Lead Acid, AGM, and virtually any other battery
The exclusive HyperVOC extends VOC limits when it is needed
Solar, wind, and hydro MPPT modes
Built-in DC-GFP and Arc Fault
Made in the USA
MidNite Battery Temperature Sensor (MNBTS)
The FREE MidNite Solar Local Application enables you to monitor your Classics over your local network or the Internet.
Specifications: 14.9″L x 6″W x 4″ D, 12 lbs., 150 Operating Voltage, 96A max out current, Exclusive HyperVOC, Solar, wind, and hydro MPPT modes, Battery Detector
Heads Up: Do not exceed the maximum input voltage, or you will damage the units. Unfortunately, there is no built-in protection. You will also need to purchase a "Whiz Bang Jr" to monitor battery output.
5.
EPEVER 60A MPPT Solar Charge Controller 12V/24V/36V/48V Voltage
Epever has a solid reputation and is especially well-known in Europe. Their "claim to fame" is technology, particularly the ability to automatically detect different voltages across different types of batteries and adjust power as needed.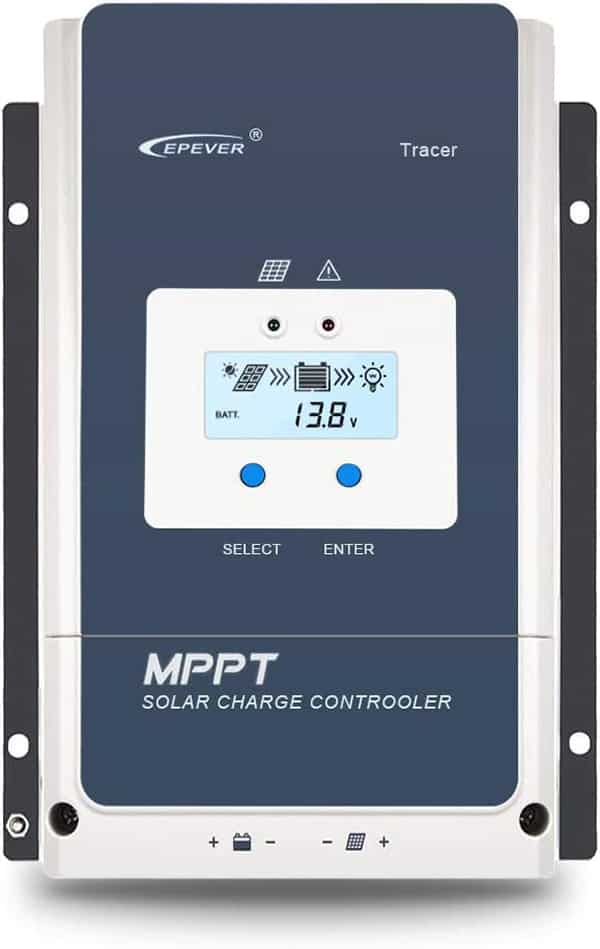 Pros
Proprietary technology with the ability to automatically detect the type of battery
Good safety protection for the electronics
Easy to expand your system with MODBUS communication
Cons
Does not automatically detect lithium batteries
Warranty not easily located
Epever also has a good separate MODBUS communication module. This allows you to expand the system as needed easily.
Three relays (utility, generator, load) designed for different demand
Remote temperature and voltage sensors
Common negative grounding and charging current up to 100A
Support up to 8 units in parallel, allowing for significant system expansion
Isolated RS-485 with 5VDC/200mA and MODBUS protocol
Specifications: 340×236×11, 9.9 lbs., 150 Operating Voltage, 60A max out current,
Heads Up: This charger cannot automatically detect voltage if connected to lithium batteries, so they should probably state "partially automatic" since many people use lithium batteries. I could not find their warranty policy easily (ok, at all), so this is not something they advertise.
Related Articles
Some of the links in this post are affiliate links. This means that when you click on one of these links, I earn a small commission at no extra cost to you. Also, as an Amazon Affiliate, I earn from qualifying purchases.