---
Choosing the best Pure Sine Wave inverter depends largely on the features you want for your inverter. There are over 30 different brands of inverters, and performance can vary by wattage. A brand that makes a very good 2000W inverter may not have as good a 5000W inverter.
Other factors make a difference in the inverter you choose.
Price
Output outlets
Size
Noise
Power
Consumer Reviews
Safety Features
Hard Wiring
Surge
Warranty
Customer Service
Durability
This article reviews quality brands that incorporate many of the features above. I've chosen the brands that provide good inverters across multiple sizes.
AIMS Pure Sine Inverters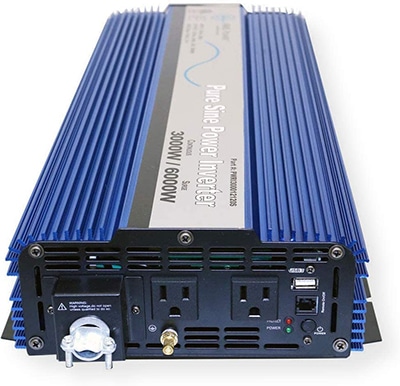 Pros
Off-grid focus in development
Located locally for customer service and warranty
Durable, quality-made inverters
Cons
The price point is higher than some other options
There is much to like about AIMS inverters, especially in the 3000W and above categories. AIMS is often near the top of my list and consistently has good consumer feedback.
Highlights
They back their inverters with a two-year warranty.
They ship all their equipment from one distribution point and have their headquarters in Nevada. It is easy to reach customer service and their technical group with questions.
AIMS growth has been centered around DIY off-grid consumers, and they now have over 95 products available for those consumers.
The inverters are durable and offer versatility. Even their 3000W inverters have AC Direct Connect blocks, AC outlets, and USB ports.
Bestek Pure Sine Inverters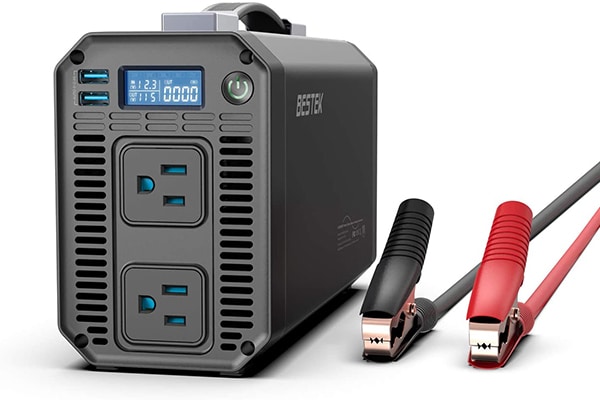 Pros
Very good price points for Pure Sine Inverters
Mobile and versatile inverter
A good entry-level inverter that is easy to use
Cons
Battery cables will need to be upgraded
Fuses cannot be replaced
Bestek inverters are some of the best Pure Sine inverters for car camping or anywhere a mobile, easy-to-use inverter is needed for charging devices. They make some of the most popular lower wattage car inverters on the market.
If you work from your vehicle or need to keep your kid's devices juiced up in camp without breaking the bank, these are your pure sine inverters.
Highlights
These are very good lower wattage inverters for camping, working from your vehicle, etc. They are well-made and easy to use. They also have the best consumer reviews in this group.
From 300W to 1000W, all of their inverters provide 2xAC outlets and 2 USB ports, allowing you to plug in plenty of devices.
Plenty of safety checks – Isolated voltage protects from over-voltage, under-voltage, overheat, overload, reverse polarity, and short circuit protection.
18-months warranty
Renogy Pure Sine Inverters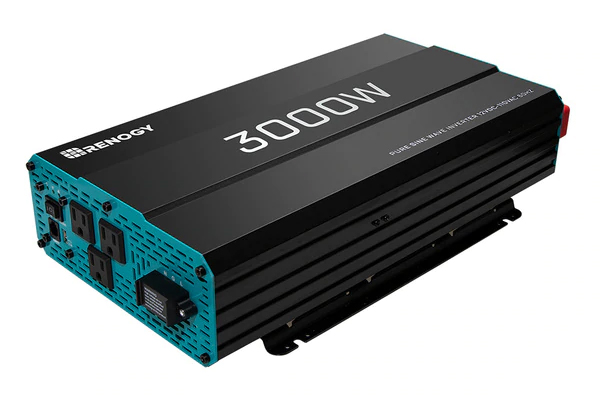 Pros
Popular brands and products with good consumer reviews
Inverters offer a good balance of technology and price
Good technology – power saving, auto transfer, etc.
Cons
Customer service is weak but is improving.
You will probably need to upgrade small battery cables
Renogy offers what many users consider one of the best Pure Sine inverter choices for RV owners and the DIY project crowd.
If you are looking for a good inverter for your weekend cabin or camping trips that won't empty your wallet, Renogy has some good choices.
Highlights
Renogy invests in technology. This is apparent in their website, new products they introduce, and current features like automatic transfers, power saving mode, etc.
These are some of the best Pure Sine inverters at their price points, and Renogy is always offering discounts on their website. Before you purchase from Renogy, always

check their site for sales

.
Renogy equipment is well-made and durable. It is also simple and easy to set up and use.
One Year Warranty
Victron Pure Sine Inverter Chargers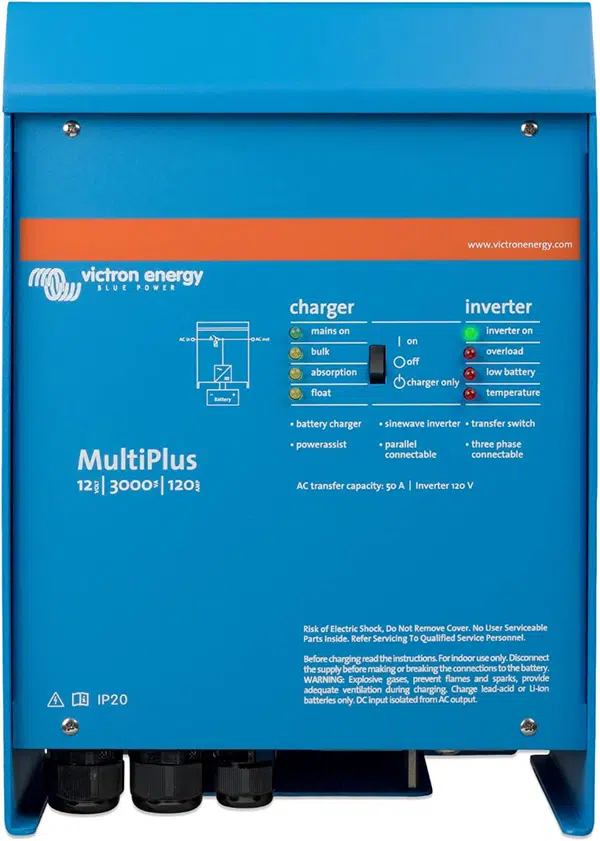 Pros
Leading-edge technology and any feature you need
Offers split-phase and parallel operation to power large homes on and off-grid
Remote monitoring from your phone
Cons
The price is high, but you do get significantly more technology
Victron has been in the business for over 45 years and offers some of the best inverters and inverter/chargers. I would be remiss in not including their inverter/chargers on this list of inverters, specifically the Multiplus category you see above.
If you have the funds and are serious about power for your permanent home, then this is the inverter/charger you should consider.
Highlights
The Victron Multiplus inverter chargers are considered some of the best Pure Sine inverters because of their versatility and leading-edge technology (split-phase, up to 6 in parallel, adaptive charging, hybrid power assist, remote monitoring, numerous system integration features, etc.)
Great inverters for on-grid, off-grid, or hybrid use.
Uninterrupted power uses when switching from grid to built-in inverter, so home electronics operate without disruption.
Good customer support. Keep in mind though, that support is provided by the manufacturers that provide your inverter.
Summary – Best Pure Sine Inverters
Whether you are looking for a lower wattage inverter for your car or an inverter to power your off-grid home, the inverters above are reliable and consistent.
Related Posts
Some of the links in this post are affiliate links. This means that when you click on one of these links, I earn a small commission at no extra cost to you. Also, as an Amazon Affiliate, I earn from qualifying purchases.