---
A 5000-watt inverter powers a broad range of devices. However, finding a good inverter with reliable consumer feedback can take time. We have reviewed the inverters available to make your decision-making process easier.
This article provides useful information for your decision-making process and offers what I think is currently some of the best 5000-watt inverters available.
Types of 5000 Watt Inverters
There are a variety of inverters on the market in three main categories. Each category can come in 4 primary input voltages and two main output voltages. I will explain this more later in this article.
Here is a list of the groups.
Input Voltage – 12V, 24V, 36V, 48V
Output Voltage – 110/120V or 220/240V
Waveform – Pure Sinewave or Modified Sinewave
Design – Low-Frequency Pure Sinewave or High-Frequency Pure Sinewave
Functionality – Inverter or Inverter Charger.
The Best 5000W Inverter Criteria
Picking a suitable inverter is important. To make the process as easy as possible, I have included a list of key points to consider.
Watts/Rating
It is essential you determine the wattage required to operate your electronic appliances. You should confirm the exact power output of all your electronics, devices, and accessories. Make sure you include your average usage and surge.
Many appliances or devices with compressors and motors have a surge at start-up. This needs to be taken into consideration. If the surge is not listed on the inverter, it is usually 2x the typical power of 5000 watts.
Also, consider the efficiency. Most inverters list their efficiency at 85% – 90%, but this can be affected by temperatures, so use 70%.
Noise
Noise is not a pleasant sound for anyone and should be a consideration. If you are driving in a vehicle or living in a motorhome, this can be particularly annoying.
Check reviews in online forums or via Amazon and distributor websites. Buyers are pretty vocal about noisy inverters. The inverters in this article are not noisy.
Number of power outlets
The number of outlets is important if you use multiple tools or devices. Keep in mind that the power is divided by the number of outlets. You won't get 5000 Watts from each outlet.
Number of USB Ports
Many power inverters come with Universal Serial Bus (USB) ports. These ports allow you to charge your cell phones, laptops, game consoles, power tools, and other electronics. They are usually located near the power outlets and very convenient if you are directly accessing your inverter.
If you are using your inverter for camping trips, in your RV, or to support the whole family, then plan on charging devices like phones, laptops, etc., regularly. You will probably need more than one USB port.
Safety Features
Most inverters incorporate numerous safety features that cut power to the inverter once a specific internal temperature is reached. There are many other features that prevent overloads, short circuits, etc.
You will need to make sure you have an accessible on/off switch. If you don't ensure your inverter is turned off, you may drain your batteries.
Size
Inverters come in all different sizes, and size has to be considered. If you plan on sliding it under a seat or putting it in a small cabinet, you probably don't want a tall inverter. When planning your system, ensure you measure your inverter's location.
Types of 5000 Watt Inverters
Modified Sine Wave Power Inverter
This inverter type is a reliable, economical choice capable of running most devices, especially essential household appliances. Modified inverters typically cost less than the Pure or True Sine Wave inverters.
However, Modified Sine Wave inverters can damage sensitive devices over time. The more sensitive the device, the less likely it will function on a Modified inverter. If you use these inverters with sensitive equipment, you may notice flickering lights, screens, and buzzing noises, or the devices may not work.
Pure Sine Wave Power Inverter
Pure Sine Wave Inverters are more efficient than Modified Sine Wave Inverters. As a result, they are a good choice for microwaves, computer equipment, medical equipment, etc. The power produced by these inverters is similar to what your power company produces and, in some instances, even better.
5,000 Watt Inverter Choices
Below is the guide, followed by additional detail and decision criteria. The voltage varies across the inverters, and I provide the most commonly used in Modified and Pure Sine. There is also an inverter/charger.
Check each brand, though, because the voltage varies across the brands.
GIANDEL 5000W, 12V Modified Inverter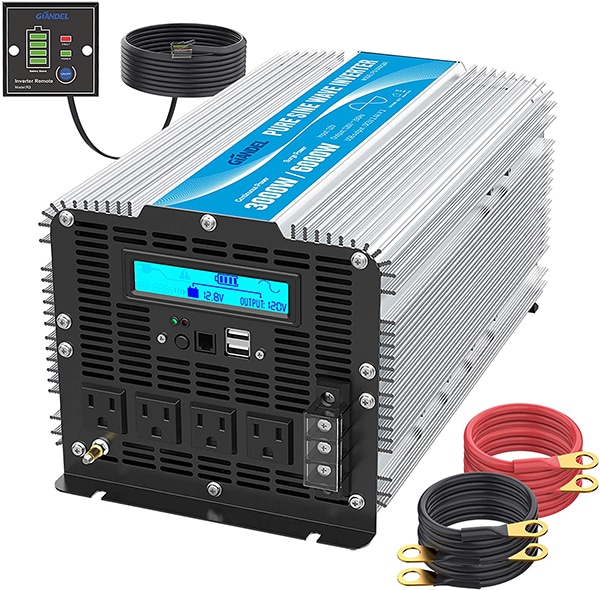 The Giandel 5000W, 12v Modified Sine Wave inverter is arguably one of the most popular 5000W modified inverters sold based on consumer feedback and rankings. Giandel offers a 5000W Pure Sine inverter (below) with very good feedback.
These are versatile inverters with 4xAC outlets, 2xUSB ports, AC Direct panels, remote on/off switches, and supplied battery cables.
AIMS 5000W, 12V Modified Inverter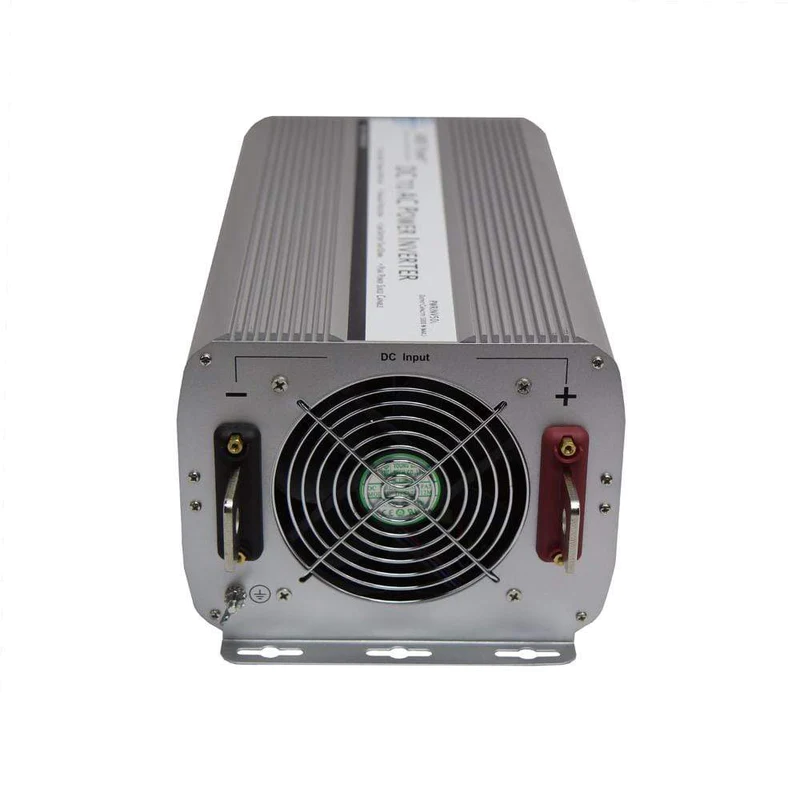 AIMS makes a very good 5000W Modified inverter from 12v to 48v. These durable inverters provide you with the power you need via 4AC outlets and an AC panel for hard wiring. You also have the option for remote on/off switches and numerous safety protections.
In addition, AIMS is headquartered in the US for tech and warranty support. If you purchase through ShopSolarKits.com, you can discuss all aspects of your solar project, not just the inverter.
SUNGOLDPOWER 6000W, 24V Pure Sine Low-Frequency Inverter/Charger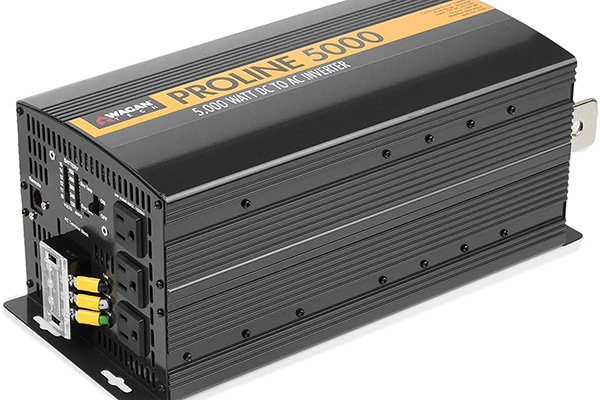 Although this is a 6000W Pure Sine inverter, I wanted to include it because it is SunGold Power and low-frequency. SunGold Power makes high-quality, durable inverters, and this inverter/charger is no exception.
Among its many features (battery charger, AC auto-transfer switch, GFCI socket, low frequency, low Idle Current, BTS cable, remote control, etc.), the inverter also offers battery priority, adjustable charging current and automatic generator start. This is A LOT of features at this price.
The Best 5000 Watter Inverter Summary – 5000 Watt Inverter
Whether you choose a Pure Sine Wave inverter or a Modified Sine Wave inverter, make sure you have a good plan before making a choice. If you need a 5000W inverter to run the tools and equipment on your truck, you may be fine using a good Modified inverter and not paying for a Pure Sine inverter.
On the other hand, if you are working remotely from your RV, you are probably using sensitive computer equipment. In this case, your technology investment probably justifies a more expensive Pure Sine Wave inverter.
Related Posts
Some of the links in this post are affiliate links. This means that when you click on one of these links, I earn a small commission at no extra cost to you. Also, as an Amazon Affiliate, I earn from qualifying purchases.