Some of the links in this post are affiliate links. This means that when you click on one of these links, I earn a small commission at no extra cost to you. Also, as an Amazon Affiliate, I earn from qualifying purchases.
---
You are probably reading this page because you want to buy the best LiFePO4 Battery or LFP Battery for your solar system, RV, boat, or off-grid use.
This page is an excellent place to start if that is the case.
I'll briefly explain a LiFePO4 battery and its benefits and then provide the best available battery choices.
This review includes 100A 12V batteries.
What is a LiFePO4 Battery?
A LiFePO4 Battery is short for Lithium Iron Phosphate Battery and provides many benefits over lead-acid batteries and other types of lithium batteries.
LifePO4 (or LFP) batteries are more expensive over the battery's life, but their benefits make them a better choice.
The benefits of a LiFePO4 Battery?
Life Span – A LiFePO4 battery will last up to 10 years, while many lead-acid batteries last two years.
Depth of Charge – LiFEPO4 batteries have a depth of charge of 80%.
No Maintenance – LiFePO4 batteries require no maintenance, and their self-discharge is less than 3%/month.
Power & Density – LiFePO4 batteries offer very good energy density at half the mass of lead-acid batteries, making them smaller and lighter.
Efficiency – LiFePO4 batteries are very efficient and have 100% of their capacity available. They also charge and discharge very quickly.
Safety – LiFePO4 doesn't discharge gases, so it can be used in living spaces. They also have safety systems in place to prevent shorts from causing fires.
Temperature Extremes – These batteries operate well in extreme environments and temperatures.
Lifespan – Although LiFePO4 batteries are more expensive, their lifespan makes them 4 – 6 times less costly than lead-acid batteries.
Disadvantages of a LifePO4 Battery
Voltage – The relative voltage of a LifePO4 battery is lower.
Low Temperatures – These batteries don't perform well at low temperatures, and you will need to better care of them, keeping them in a stable location.
Energy Density – The batteries have a lower energy density (mAh).
Use – You cannot use them on small portable devices like cell phones.
BMS – The batteries require a BMS and are also expensive.
If you are purchasing your first LifePO4 battery, this LifePO vs. Lead-Acid batteries article is "real-world" and provides good information.
A Few of My Criteria When Choosing a Battery
Price – What is the cost per Watt Hour (Price/Amps x battery voltage) – Example (Current Battleborn Price) – $874/1,200Wh = .73/Wh
BMS – This is where there are differences, but it is hard to know what many manufacturers are using. A good quality BMS can make or break a battery.
Quality Checks – A good reputable manufacturer will have good quality checks. For example, if a manufacturer uses Prismatic cells, one bad cell can result in a battery not working.
Safety Features – Most have comparable features, but check the manufacturer's safety features before purchasing.
Warranty – This is pretty telling. Battleborn has a very good 10-year warranty. They back up their batteries. Check the warranties and read the fine print on the manufacturer's sites before you purchase.
Discharge – For a 100A battery, I also want to ensure I'm getting 100Amp for continuous current and 200Amp for the surge.
1. Battle Born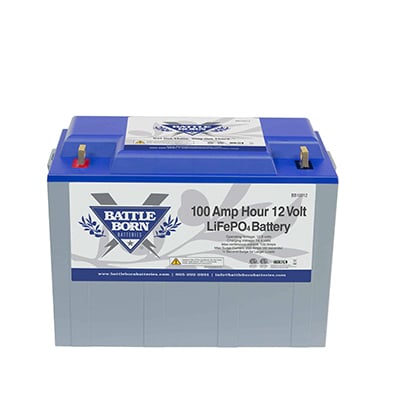 Battle Born is known for its quality. This battery will not fail when you need it most in a remote location or on a trip where you don't want to worry about maintenance.
Pros
Very high-performance reviews
Made in Nevada, so support is based in the US
Cons
Customer service is knowledgeable but abrupt
No lifting straps come with the battery
Anyone with an RV, Boat or Solar System has probably heard of Battle Born Batteries. These are well-made batteries with a reputation for performance and power.
Battle Born batteries work in all types of systems and are virtually maintenance-free, and one of the best things about them is that technicians are only a phone call away, whether you call Battle Born or ShopSolarKits.com.
General Specifications: Ten Year Warranty, 31 lbs, 12.75 x 6.88 x 9 inches, 12v, 100Ah, Charging voltage: 14.2 – 14.6 V, One Year Charge Retention
The 12V 100Ah batteries also provide a half-minute 200 surge if you need an overload for starting engines. But, of course, you would still be cutting it close if you wanted to start your truck, so check your engine requirements.
Like several other batteries, you cannot monitor this battery remotely, which would be convenient.
Although Battle Born uses 3000-5000 cycles and does not provide a specific number of cycles like other manufacturers, they make the following statement.
*Approximately 75-80% of the battery capacity will remain after 3000 cycles in applications recharging at 0.5C or lower. We have seen life spans of well over 5000 cycles in our lab testing.*
2. Lion Energy Safari UT 1300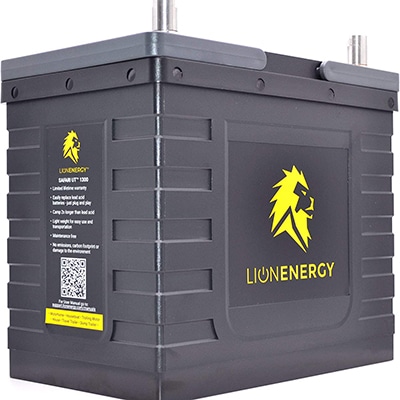 Lion batteries are also known for their dependability and are purchased by Battle Born buyers looking for a better price. At 23 pounds, these are also good for smaller spaces.
Pros
Compact size and lightweight
Good price and value
Cons
No App for a phone
Need the ability to monitor remotely
Lithium batteries from Lion are popular because of their dependability and price point. If you are a Battle Born fan, Lion is an option you may also want to consider.
This compact, lightweight battery weighs only 23 pounds and is a good choice for small openings or if you want several in parallel. Note that the dimensions above include one inch for the lugs. If weight makes a difference for your application, these are some of the lightest batteries in this group.
This is a straightforward, low-maintenance battery. It holds its charge for up to two years, and in addition to the Limited Lifetime Warranty, they also guarantee 3500 cycles. The UT also has a Smart BMS that prevents it from operating outside its parameters – overheating, overcharging, and discharging.
Lion also stands behind their batteries with a Limited Lifetime Warranty and a 30-Day Money-Back policy. This makes them a standout compared to many of their competitors.
I would like to see the ability to monitor the batteries remotely in the future. Also, it would be nice to have an App for my iPhone.
Shop Here and automatically get 15% off at checkout.
3. SOK Battery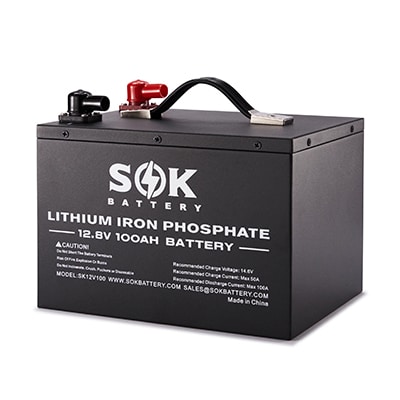 SOK is fairly new to the market and the next evolution in batteries. The quality and features you find at this price point are unmatched right now, which means they can be hard to find.
Pros
Seven Year Warranty
Cold Weather Protection
Price/Value
Cons
Check specs with the manufacturer
Popular – Often out of stock
12V Battery has no sealed case
SOK batteries hit the North American market by storm in 2020, and I would be remiss in not including them in this list. However, at their price point, I think SOK is the best value available now – if you can find one.
The 12V 100A battery is out of stock, but that is no surprise considering the battery's price, performance, and features.
Check out this review by ShopSolarKits.com on SOK batteries. These guys have nothing but good things to say, and although they don't have the 100A battery in stock, they do have the 206A battery and multiple 206A bundles available.
This includes the 206A Bluetooth heated battery in a sealed vinyl case for only $1,200. That is almost half what you would pay for some competitor's comparable batteries!
The SOK 100A 12V battery will last 4000-8000 cycles, has an advanced BMS system, and provides numerous protections – overcharging, over-discharging, short circuits, low-temp charging, and high-temp charging.
The battery is also very versatile. You can open the cases for any size battery and remove or add a BMS system, although theirs is very good.
The battery can be stored within a temperature range of 22F – 140F, but you can only charge it above 32F. In storage, the batteries lose approximately 3% of their storage monthly.
Probably the only drawback to the 100A 12V battery is its metal case. You can't use it in a wet environment. They have solved this with the vinyl, the sealed case for the 206A battery, and I imagine it's only a matter of time before the 100A battery has one.
SOK is the new kid on the block that everyone is talking about, and with a seven-year warranty, they stand behind their products. If you are looking for a good LifePO4 battery at an excellent price, this is your battery.
4. Renogy Battery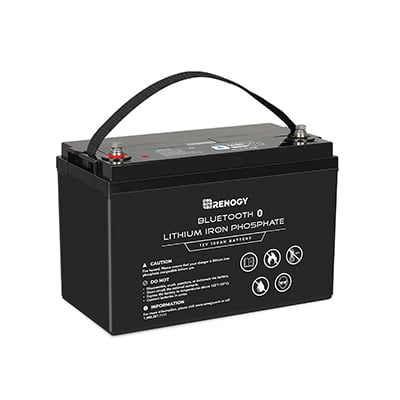 Renogy offers a good battery option and features you won't find in most competitors. This includes an activation switch for shelf mode and real-time monitoring.
Pros
RS485port for real-time monitoring
Free Shipping
Over 4000 discharge cycles
Cons
Weak customer support
Bluetooth requires close proximity
It cannot be wired in series
Renogy offers another good LifePO4 battery choice and some features not found in many competitors.
Renogy's battery is also a compact, lightweight option, especially compared to its Lead-acid and Gel competitors. In addition, this battery has a lift handle and uses F12 terminals instead of auto terminals, which is excellent for solar arrays and can be easily adapted for RVs and boats.
Remember that these are not designed to be wired in series but can be wired in parallel. So although you maintain 12 volts, you can increase the amperage.
The batteries have good safety features – over-voltage, under-voltage, over-current, short circuit, high temperature, and low temperature. In addition, they have a BMS system that allows them to maintain the balance between the cells.
There are two features that I like.
Activation Switch – The activation switch allows you to switch between active and shelf mode. If the batteries are in storage for an extended period, switch to shelf mode to preserve the battery.
Real-time Monitoring – The RS485 UP Communication Port allows you to view your data in real time via a Renogy monitoring screen or by exporting the data with a Renogy Bluetooth Module BT2 to your phone.
What to Know When Choosing Your Battery
When choosing your battery, there are a few general items to remember.
Battery Voltage – The most common deep-cycle batteries are 12 volts. However, this is not the only size available. You can also purchase both 24V, 36V, and 48V batteries. Make sure that whatever size you buy matches the voltage on your inverter.
Battery Connections – You can connect batteries via series or parallel connections. This does not apply to all batteries, though. Some can only be wired in parallel.

Series – If you connect batteries in a series, you add the voltage for each battery. This means that two 12V batteries = 24V and three 12V batteries = 36V, etc.
Parallel – If you connect the batteries parallel, then the amperage increases. Batteries connected parallel will retain the same voltage regardless of how many are connected. Three 12V batteries will still be three 12V batteries.

Battery Management System (BMS) – This is something you want your LifePO battery to have, so make sure you ask about the system before you purchase the battery. At a minimum, the BMS should be able to do the following.
Cold Weather Management – Most of these batteries should not be charged below 32 degrees, but there are LifePO4 batteries with warming elements, so check before you make a purchase.
Communication/Bluetooth Technology – Battery technology is advancing quickly. Monitoring your batteries remotely is VERY convenient when you have them packed into a small space.
Peak Surge – A battery that can handle a peak sure is important if you are starting motors or engines, although right now, a lithium battery is still going to have a hard time.
Summary – Best LifePO4 Battery
Any of the batteries above is well-made and will serve you well. Where they differ is in their price and application.
Battleborn is a quality battery that can be used in any environment, but it and Lion are expensive. With the introduction of new manufacturers, you will probably begin to see their prices decrease.
Renogy is a good outdoor, weather-resistant battery and is popular among the RV/ATV crowd, but it can't be wired in series and only in parallel.
SOK is new to the scene but has had a big impact in a short amount of time. You are getting a quality battery for a very good price. The 100A batteries need a weather-tight case and currently use metal, so they are not ideal in a wet or marine environment.
Related Posts
(Visited 1,119 times, 10 visits today)