---
Deciding on the best LiFePO4 Battery or LFP Battery for your solar system, RV, or boat, is an important and often expensive decision. Battery technology is advancing quckly and it has become more confusing with more batteries now on the market.
In this article, I'll review what I look for in a good battery. Then I'll explain the advantages and disadvantages of a LiFePO4 battery and provide what I think are some good battery choices.
What is a LiFePO4 Battery?
A LiFePO4 battery is a lithium battery. "technical speak" uses lithium iron phosphate as the cathode and graphitic carbon electrode with a metal back as the anode. There are many reasons that this type of lithium battery is ideal for vehicle use, backup power, etc.
Battery Comparison Table
ITEM

LION UT 1300

BATTLEBORN 12V

SOKS

RENOGY

Battery Capacity
12.8V / 105Ah / 1,344Wh

12V / 100Ah / 1,200Wh
12.8V / 100Ah / 1,280Wh
12.8V / 100Ah / 1,200Wh
Life Cycles
3,500+
3,000 – 5,000
4,000 – 8,000
4,000
Shelf Life
Up to 2 years
Up to 1 year
Up to 1 year
Not in documentation
Continuous Discharge Rate
150A
100A
100A
50A
Battery Type
Lithium Iron Phosphate
Li-ion LiFePO4
Lithium Iron Phosphate
Li-ion LiFePO4
Lithium Iron Phosphate
Li-ion LiFePO4
Lithium Iron Phosphate
Li-ion LiFePO4
Weight (pounds)
23
31
27
26
Dimensions LxWxH (inches)
10.2 x 6.6 x 8.8
12.8 x 6.9 x 8.9
10.2 x 7.8 x 8.0
11.4 x 6.8 x 7.4
Charging / Operating Temp
32 to 113° F / -4 to 131° F
32 to 113° F / -4 to 135° F
32 to 113° F / -4 to 140° F
32 to 131° F / -4 to 140° F
Warranty
Limited Lifetime
10 years
7 years
5 years
MSRP
$849
$874
$590
$640
What are the Benefits of a LiFePO4 Battery?
Although a LiFePO4 battery may have higher upfront costs, there are several reasons to consider these batteries for your long-term plans.
Life Span – A LiFePO4 battery will last up to 10 years, while many lead-acid batteries have half that time or less.
Depth of Charge – LiFEPO4 batteries have a depth of charge of 80% vs. lead-acid that have 50%.
No Maintenance – LiFePO4 batteries require no maintenance, and their self-discharge is less than 3%/month.
Power & Density – LiFePO4 batteries offer very good energy density at half the mass of lead-acid batteries, making them smaller and lighter.
Efficiency – LiFePO4 batteries are efficient and have 100% of their capacity available. They also charge and discharge quickly.
Safety – LiFePO4 doesn't discharge gases, so it can be used in living spaces. They also have safety systems in place to prevent shorts from causing fires.
Temperature Extremes – These batteries operate well in extreme environments and temperatures.
Lifespan – Although LiFePO4 batteries are more expensive, their lifespan makes them 4 – 6 times less costly than lead-acid batteries.
Disadvantages of a LifePO4 Battery
No battery is perfect, and although battery technology improves every year, there are still a few things to consider before purchasing a LifePO4 battery.
Voltage – The relative voltage of a LifePO4 battery is lower.
Low Temperatures – These batteries don't perform well at low temperatures, and you will need to take better care of them, keeping them in a stable location.
Energy Density – The batteries have a lower energy density (mAh).
Use – You cannot use them on small portable devices like cell phones.
BMS – The batteries require a BMS and are also expensive.
Check out this LifePO vs. Lead-Acid batteries article if you purchase your first LifePO4 battery. The article offers good "real-world" information.
A Few Considerations When Choosing a Battery
Discharge – For a 100A battery, I also want to ensure I'm getting 100Amp for continuous current and 200Amp for the surge.
Price – What is the cost per Watt Hour (Price/Amps x battery voltage) – Example (Current Battleborn Price) – $874/1,200Wh = .73/Wh. Price is always a consideration for me, although not always the main priority.
BMS – This is where there are differences, but it is hard to know what many manufacturers are using. A good quality BMS can make or break a battery. Research the battery online. Ask questions in forums and even reach out to the manufacturer.
Safety Features – Most have comparable features, but check the manufacturer's safety features before purchasing.
Warranty – This is pretty telling. Battleborn has a very good 10-year warranty. They back up their batteries. Check the warranties and read the fine print on the manufacturer's sites before you purchase.
Battery Choices
There are a lot of battery choices, and the batteries below are from well-known brands with a reputation for quality and durability. I'm often remote, so I need to know I can rely on my battery. The batteries below will not let you down when you need them.
1. BattleBorn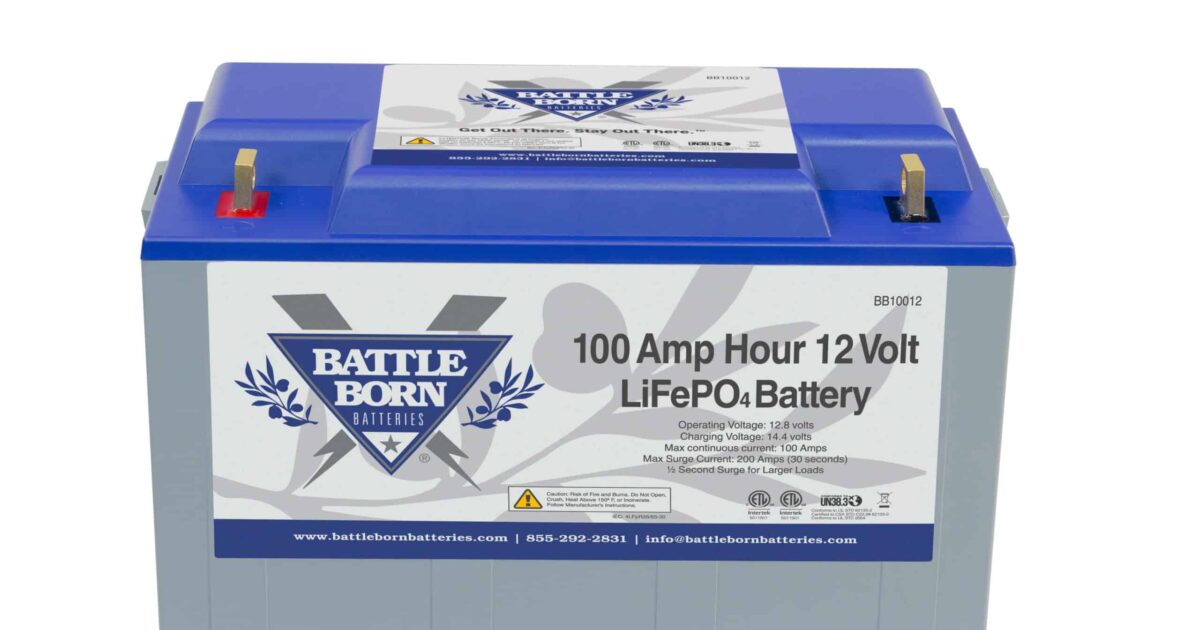 The BattleBorn Battery is one of the most well-known brands in this group. If you have owned an RV or boat or have an off-grid system, you have heard of Battle Born batteries. Battle Born is "middle-of-the-pack" in price and capacity, but not performance. This is a no-frills, well-made battery known for its durability and performance.
The 12V 100A Battleborn battery is lightweight at only 31 pounds and does not come with carry straps, so you might find it more cumbersome than some of the others listed here. The dimensions are comparable to the other batteries in this group.
The Battleborn has a sealed environment, a durable nylon case, and large, strong epoxy terminals that make this a good battery for wet environments or mobile environments like trucks or RVs with a lot of movement and vibration.
The large terminals on the Battleborn are also well-suited for a system where you may run several batteries in parallel and push a large number of amps.
In addition to its cells being UL 2054 listed, which is very stringent testing, Battleborn does its own quality checks. Like all of the batteries on this list, the parts are supplied by China, but Battleborn manufactures their batteries in Nevada, where the safety checks are done. Their warranty and technical service are also located in Nevada.
The BMS system on BattleBorn batteries is proprietary technology they have built for their batteries. Numerous sensors are in place to monitor current, voltage, and temperature, and it is reported to be some of the best short-circuit protection in a battery.
Another interesting thing about Battleborn is that they use cylindrical cells vs. the prismatic cells used by most of the other manufacturers on this list. The advantages of cylindrical cells are that they provide more power and operate better with BMS systems.
Advantages
Terminals – The large heavyweight terminals allow you to wire many batteries in parallel and push a lot of power (amps) through a system.
Case – The battery is sealed, making it ideal for wet, mobile environments with a lot of movement.
Service – You can deal directly with the battery manufacturer if you have issues.
Disadvantages
Price – These batteries do not typically go on sale and are the more expensive batteries in this group.
Remote Monitoring – As battery technology evolves, it will be good to see remote monitoring made available.
Purchasing
If you are going to purchase a Battleborn battery, there are several options.
ShopSolarKits has good prices and offers personalized assistance on not only the batteries themself but any questions you have if you are considering solar. They are known for their service.

BattleBorn

is always an option. You can buy direct and deal with the manufacturer.
2. Lion Energy Safari UT 1300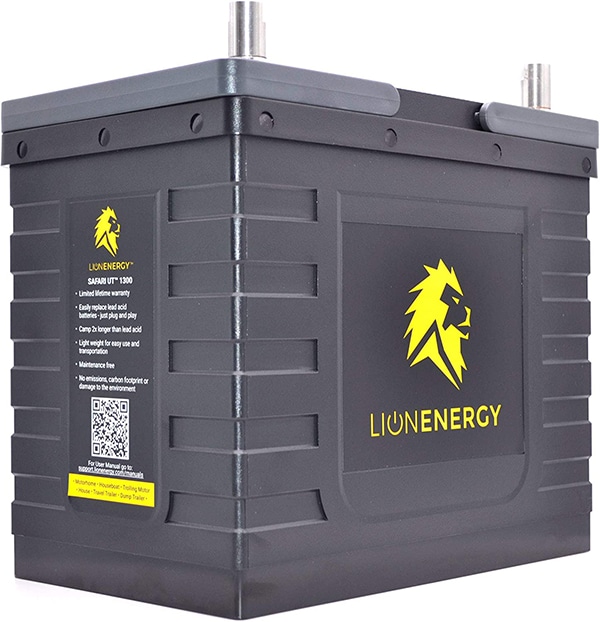 The Lion Energy battery is an option considered by buyers of BattleBorn batteries. This battery also has a reputation for durability and reliability but at a lower weight and sometimes a lower price point. There are many things to like about the Lion Energy batteries.
Although not as durable as the Nylon case by BattleBorn, the Lion Energy battery's thick plastic case is still reliable and sufficient for stationary environments that don't have excessive moisture. The battery also has carrying handles which are a nice-to-have.
The posts on Lion Energy batteries can be removed and have been improved since 1200. They no longer spin, and the positive and negative connections have been switched. Note that no more than 12 pounds of torque are recommended for the posts.
All of the batteries in this group are comparable in size, but the Lion Energy battery is the lightest at 23 pounds. This is significantly lighter than some of its competitors. Its use of prismatic cells means it uses fewer cells to store more power, which attributes to the battery's lighter weight and 105A vs. the competitor's 100A.
Output on the Lion Energy 1300 is one of its standout features. The battery has 150A of continuous power, better than any of its competitors. It can handle a 250A spike and even a quick 900A spike.
This battery also has its own smart proprietary BMS that protects it from overcharging and discharge and shuts it down if it's out of set parameters. Like the battery, the BMS is made in China.
Finally, the UT 1300 claims a retention time or shelf-life of up to two years. This is better than the competitors in this group and a positive feature if you are using your battery seasonally or intermittently.
Advantages
Warranty – Lion offers a lifetime limited warranty that is not prorated.
Price – You can sometimes find these batteries on sale, and Costco used to have frequent sales, although now they are harder to find. If you use this

SolarKnowHowDiscount Link

, 15% is deducted from the price of the battery at checkout.
Power – 150A of continuous power is a significant advantage, along with the ability to handle peaks of 250A.
Disadvantages
Posts/Lugs – The lugs on the UT 1300s are not as durable as those on a battery like the BattleBorn, and as I mentioned above, they can be over-torqued.
Battery Case – The battery case is not sealed or as durable as a thick nylon case, but it is fine in stationary, environment-controlled conditions. There is a lot of positive feedback from Lion Energy battery users.
Purchasing
As mentioned above, using this exclusive Lion Energy Link will get an additional 15% OFF.
Recertified – Right now, Lion has a limited supply of

Factory Recertified batteries

with a full warranty
Multiple Deals – Many distributors and retailers sell Lion, so shop around before buying your battery.
3. SOK Battery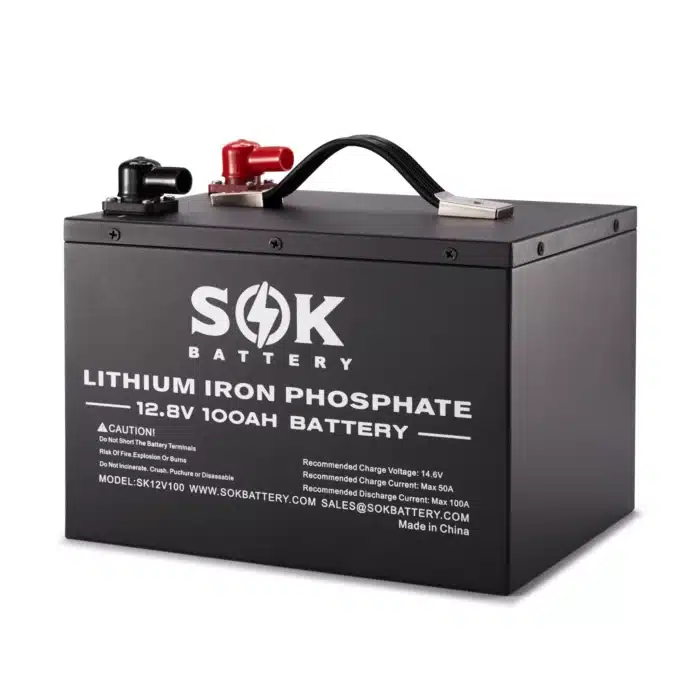 The SOK 12.8V 100AH battery is not only one of the best-made batteries in this group but also one of the least expensive. The exception is Renogy, which at the time of this article, had its battery on sale for $469. SOK produces a quality battery at a price point that makes it stand out.
The battery was out of stock but is back in stock, and with the new inventory, SOK has included some nice upgrades, like a heated battery and a Bluetooth BMS for monitoring. They also now have a "marine grade" 12.8V 100AH battery, placing them in direct competition with Battleborn.
The 12.8V 100AH battery comes in a metal case that is easy to access via a tightly screwed-on lid. This is another feature that sets SOK apart from competitors. LifePO4 batteries are traditionally difficult to access, and even SOK's marine-grade battery can be accessed via the screwed-on cover with a rubber seal. The terminal bolts are the standard M8 terminals with 5/18 bolts covered by rubber hoods for safety.
Internally, the battery is well-made with a proprietary BMS like the BattleBorn battery. It also has Bluetooth capabilities and two large heating pads between its sensors.
Finally, SOK has a 7-year warranty, but shop around because you may find distributors with additional three-year warranties that extend the SOK warranty to 10 years. At the time of this article, this was not available, but it has been in the past.
Advantages
Price – There is no better price for a battery of this quality. Other vendors will follow, though, because SOK is a disruptor in this industry.
Quality – In this category, and at this price, this is a very well-made LifePO4 battery. Plenty of videos online provide breakdowns and details to support this.
Upgrades – SOK continues to raise the bar with Bluetooth and heating technology that works for about the same price as the previous battery.
Disadvantages
Service – If SOK offered the same service as quality, they would be a force. I sent them a few questions with a response 24 hours later that told me to join their FB group. What? I told them no, so they answered my question, which made no sense. In their contact section, they tell you to join FB or send them an email, and if they don't respond in 24 hours, then send them another email as a reminder. Hmmm…
Series Connection – SOK currently recommends you do not connect in series. This is probably because when heated, an imbalance is caused. Internet chatter indicates this will be corrected via the BMS in the next round of battery releases.
Purchasing
There are a few options when purchasing a SOK battery.
SokBattery

is a good choice if you are not worried about prompt service and want to order your battery directly.

ShopSolarKits.com

is a good choice if you want to talk to someone and get good after-purchase support. They are located in Nevada and pride themselves on customer service.
4. Renogy Battery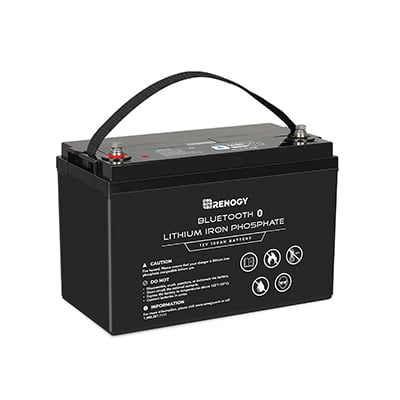 Renogy packs a lot of features into its Renogy 12V 100AH Battery Features like Bluetooth, a heated battery, pouch cells, DC Home Monitoring App, Display, and Hibernation Mode are only some of the features offered. They also have a reputation for innovation; this battery is a good example.
This battery receives good feedback and has one of the lower price points in this group. It is also one of the lighter batteries, and its specifications are comparable to its competitors.
The exterior is hard plastic with carrying handles. The battery uses M12 terminals instead of auto terminals, which is excellent for solar arrays and can be easily adapted for RVs and boats. There is also a port on the top of the battery for your Activation switch and a CAT cable connection for Bluetooth and display.
The interior of the battery has pouch cells, which are lightweight and becoming more popular with battery manufacturers. Heating pads are placed around the outside of the cells, and temperature sensors are placed inside the battery.
Battery technology includes a Bluetooth BT-2 module that you plug into the battery. A display that is connected at the same port is also available, although both cannot be used at the same time.
An activation switch is included to turn off the battery and BMS while the battery is in storage. This preserves the life of the battery and prevents over-discharge while the battery is in hibernation.
Advantages
Technology – Renogy is always innovating, and this battery has features like Bluetooth, display, monitoring application, heat, on/off switch, etc.
Price – This battery is at one of the lower price points in this group, and Renogy often has good

sales on its batteries

.
Hibernation – This unique feature allows you to turn/off the battery and BMS on/off. This allows you to store and prolong the battery's life when it is not in use.
Monitoring – The RS485 UP Communication Port allows you to view your data in real-time via a Renogy monitoring screen or by exporting the data with a Renogy Bluetooth Module BT2 to your phone.
Disadvantages
Connection – This battery cannot currently be connected in series.
Continuous Current – Unlike competitors with 100A of continuous charging, the Renogy battery only offers 50A. Check your use, though, because, in many cases, this may be plenty.
Bluetooth – The Bluetooth application is not built-in but uses the BT-2 module, which plugs into the battery. One disadvantage is that there is one plug, so you can't plug in the Bluetooth module and display simultaneously. I'm not sure you need to since both are used to monitor the battery.
Series Connection – Renogy also recommends you do not connect in series, but you can connect in parallel.
Purchasing
Amazon – Renogy sells many of its products on Amazon and sometimes has sales.
Renogy – There are frequent sales and discounts on Renogy's website.
What to Know When Choosing Your Battery
When choosing your battery, there are a few general items to remember.
Battery Voltage – The most common deep-cycle batteries are 12 volts. However, this is not the only size available. You can also purchase both 24V, 36V, and 48V batteries. Make sure that whatever size you buy matches the voltage on your inverter.
Battery Connections – You can connect batteries via series or parallel connections. This does not apply to all batteries, though. Some can only be wired in parallel.

Series – If you connect batteries in a series, you add the voltage for each battery. This means two 12V batteries = 24V and three 12V batteries = 36V, etc.
Parallel – If you connect the batteries parallel, then the amperage increases. Batteries connected parallel will retain the same voltage regardless of how many are connected. Three 12V batteries will still be three 12V batteries.

Battery Management System (BMS) – This is something you want your LifePO battery to have, so make sure you ask about the system before you purchase the battery. At a minimum, the BMS should be able to do the following.
Cold Weather Management – Most of these batteries should not be charged below 32 degrees, but some batteries have warming elements, so check before you make a purchase.
Communication/Bluetooth Technology – Battery technology is advancing quickly. Monitoring your batteries remotely is VERY convenient when you have them packed into a small space.
Summary – Best LifePO4 Battery
All of the batteries listed receive good feedback from consumers and are well-made. They have their differences, though; some may be better in different applications.
Battleborn is a quality battery with a very good reputation. It is a durable battery that is sealed and often found in marine and RV environments. Because of its dependability, it is often used off-grid and in remote locations.
Lion – This battery performs well in stable environments without much vibration and movement, although many users will tell you it is just fine in boats, RVs, etc. This is the lightest battery in this group and can sometimes be found on sale.
SOK has raised the battery bar for other manufacturers. This is a very well-made battery at the lowest price in this group, and if I were in the market for another battery right now, this is what I would choose. SOK was out of stock, but batteries are now available.
Some of the links in this post are affiliate links. This means that when you click on one of these links, I earn a small commission at no extra cost to you. Also, as an Amazon Affiliate, I earn from qualifying purchases.