---
Renogy vs. HQST vs. Eco-Worthy vs. Windynation – so many options when making solar panel comparisons! With the growth of solar energy, the number of solar panel manufacturers is growing.
Right now, six significant players sell reasonably priced solar panels primarily online. These manufacturers make similar panels, and preferences often depend on several factors.
Performance
Dimensions and Weight
Price
Service
Warranty, Guarantees, Return Policies
This article reviews each brand's pros and cons and then provides highlights for each panel. I've compared the 200W solar panels, so comparisons are equivalent.
Factors When Choosing a Solar Panel
As mentioned, there a several factors to consider when choosing a solar panel. Of course, this is not every factor but some of the main ones to consider.
Performance
Check the specifications. Volts and Amps are essential, and I constantly review the Vmp, Imp, VOC, and Isc.
If provided, also check the panel's efficiency or tolerance. An example is Renogy. Theirs is plus or minus 3%, but not all manufacturers offer this, so ask.
Finally, read any reviews you can find, and ask the opinion of others in the DIY solar and RV forums. Honest use feedback is great to have.
Dimensions and Weight
Much depends on where you want to put your solar panels.
How much room do you have on the roof?
How much do the panels weigh?
Will they be in the sun or shade?
If you purchase on Amazon, check the manufacturer's website for all specifications. Unfortunately, Amazon is often wrong.
Price
Price is always important, and many manufacturers have aggressive website sales. Renogy and Eco-Worthy are two good examples.
Always check Amazon, too, because once you add in coupons, shipping, etc., the manufacturers may not be less expensive, and Amazon's return policy is often better.
Service
Service is often a toss-up with some of these manufacturers. If you want to get an idea of the type of service you will get, then look at the answers to the questions on the Amazon page.
Some of the answers are bad, and not surprisingly, those are the same manufacturers with negative feedback.
Warranty, Guarantee, Return Policy
This is where they can all get a little tricky. There could be any number of reasons they void their warrantees, so read the tiny print closely.
Make sure you register the panels and keep your receipts/invoices.
Check the Guarantee and Return Policy. Some only give you a few days to register before these expire.
Some manufacturers make you pay for return shipping which may make it cost-prohibitive to return.
Renogy Solar Panels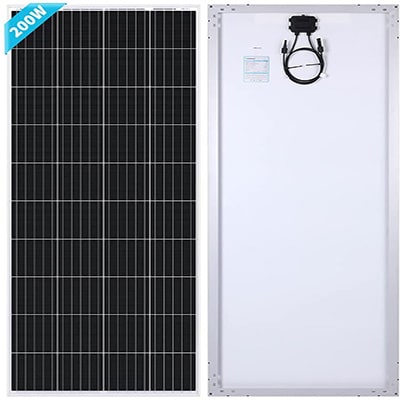 Renogy makes a popular panel and a favorite amongst the boating and RV crowd. This well-made, compact solar panel fits well in smaller spaces.
Pros
Price fluctuates somewhat
Efficient and performs as stated
Quality build
Cons
Shipping quality is not always good
No mounting hardware is a common complaint
Customer Service feedback is questionable
HQST Solar Panels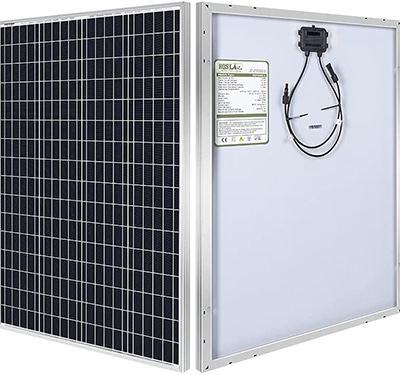 HQST has a reputation for producing a low-cost panel that performs. It is one of the few panels with little to no negative service feedback. Recently the newer panels have been made smaller and not communicated in the specifications, so you may want to check their website or confirm via phone.
Pros
One of the best-priced panels
Output is as stated
No negative service reviews are good in this industry
Cons
More recent panels are smaller than what is listed
Several complaints about components like cables being left out
Windy Nation Solar Panels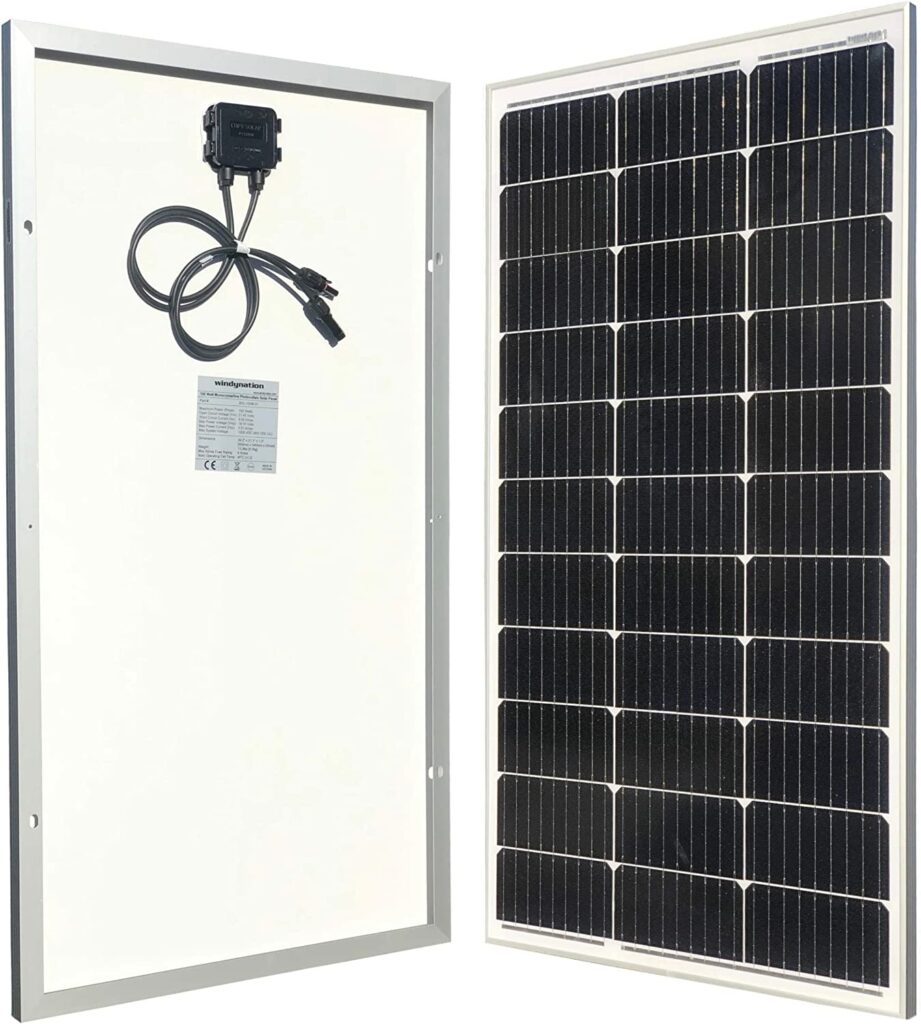 WindyNation makes polycrystalline panels that get excellent reviews, but there is not as much feedback on the monocrystalline panels. The few that are available are positive. The monocrystalline panels are less expensive and slightly smaller than the polycrystalline.
Pros
Excellent reviews
Performance/Efficiency as stated
Cons
Shipping and delivery sometimes result in damage
Monocrystalline panels are expensive
NewPowa Solar Panels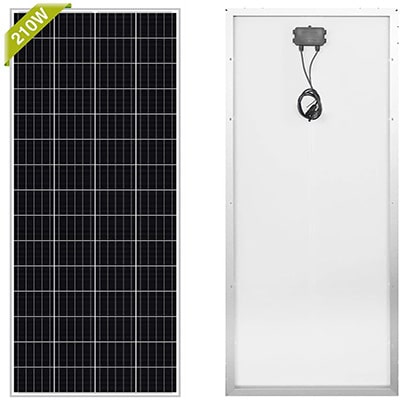 Newpowa receives good reviews on their panel performance, and they are one of the lowest-priced panels in this group. Feedback on their responsiveness and service is among the highest across forums and reviews.
These are larger than some competitors' panels, so check the specifications before purchasing.
Pros
One of the lowest-priced solar panels in this group
Excellent customer service
Consistent efficiency ratings
Cons
Heaviest of all the panels in this group
Packaging can be poor
No mounting hardware
Rich Solar Panels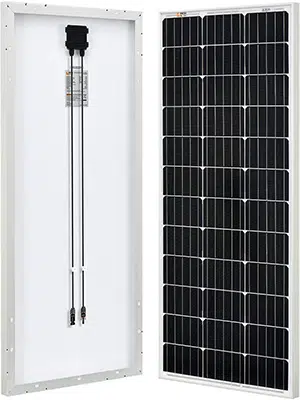 Rich Solar is mentioned often by purchasers of Renogy panels. It is a similar panel at a better price. This is a tall, narrow, heavier panel but is becoming a favorite among RVs and campers. The only consistent negative theme is around quality control – panels sometimes differ from listed specifications, and mounting holes on the back of the panels may vary.
Pros
Good quality alternative to Renogy at a better price
Good technical service
Sturdy, durable frame and panel overall
Cons
The inconsistent – panel received was different from the listed, and the mounting holes were also other.
Durability – there are a few complaints about MC4 connector quality
Shipping damages on occasion
Eco-Worthy Solar Panels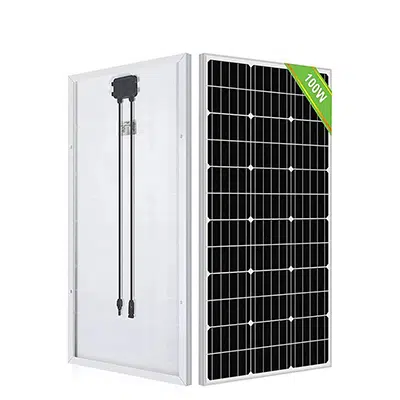 Like Renogy, Eco-Worthy is very popular among mobile users – RVs, Boats, Trucks, Campers, etc. This is a smaller panel in this list and is also lightweight. The panel is of good quality, and these were the least expensive panels at the time of this review. There have been some complaints about size consistency, but if you order directly from Eco-Worthy, this appears not to be an issue.
Pros
Currently, the lowest price on this list
Best value – quality vs. price
Consistently performs as rated
Cons
No mounting holes on the sides of the bracket
Panel size sometimes varies unless purchased from Eco-Worthy directly
Shipping damages on occasion
---
Final Thoughts
All of these panels are similar. They seem to struggle with the same issues, and each brand has its fans and haters. The best quality goes to Renogy, but not customer service. For service, you need to consider Newpowa or Rich.
Check out the answers to questions on Amazon. This gives you a good idea of who invests in service and who does not.
Mounting hardware is an issue across every manufacturer, which surprises me since NONE of these panels state they come with hardware. So if you're wondering – don't expect mounting hardware with most of these solar panels.
Shipping breakage is also an issue across the board, so check your panels as soon as you get them, call the manufacturer with any problems, or try to return them if you ordered them through Amazon.
Related Articles
Some of the links in this post are affiliate links. This means that when you click on one of these links, I earn a small commission at no extra cost to you. Also, as an Amazon Affiliate, I earn from qualifying purchases.