Some of the links in this post are affiliate links. This means that when you click on one of these links, I earn a small commission at no extra cost to you. Also, as an Amazon Affiliate, I earn from qualifying purchases.
---
Renogy vs HQST vs Eco-Worthy vs Windynation – so many choices! With the growth of solar energy, the number of solar panel manufacturers is growing.
Right now, 5 major players sell reasonably priced solar panels primarily online. All of these make similar panels, and preferences often depend on a handful of factors.
Performance
Dimensions and Weight
Price
Service
Warranty, Guarantees, Return Policies
In addition to the five main manufacturers, I've added Rich. They have been gaining a lot of traction and have a good reputation.
Renogy
HQST
Eco-Worthy
WindyNation
Newpowa
Rich
This article summarizes the differences in the panels and provides an overview of each one.
Quick Summary
For comparison, I have used 100W solar panels or a close comparable if 100W is not available for a certain manufacturer.
Check the manufacturer's site for specifications. Amazon is often incorrect.
See Eco-Worthy 100W Review & Solar Panel in the detail section below.
Factors When Choosing a Solar Panel
As mentioned, there a several factors to consider when choosing a solar panel. Of course, this is not every factor but some of the main ones to consider.
Performance
Check the specifications. Volts and Amps are important, and I always review the Vmp, Imp, VOC, and Isc.
If provided, also check the panel's efficiency or tolerance. An example is Renogy. Theirs is plus or minus 3%, but not all manufacturers provide this, so ask.
Finally, read any reviews you can find, and ask the opinion of others in the DIY solar and RV forums. Real use feedback is great to have.
Dimensions and Weight
Much depends on where you want to put your solar panels.
How much room do you have on the roof?
How much do the panels weigh?
Will they be in the sun or shade?
If you do purchase on Amazon, check the manufacturer's website for specifications – ALL specifications. Unfortunately, Amazon is often wrong.
Price
Price is always important, and many of these manufacturers have some pretty aggressive sales on their own websites. Renogy and Eco-Worthy are two good examples.
Make sure you always check Amazon, too, though, because once you add in coupons, shipping, etc., the manufacturers may not be less expensive, and Amazon's return policy is often better.
Service
Service is often a toss-up with some of these manufacturers. If you want to get an idea of the type of service you will get, then look at the answers to the questions on the Amazon page.
Some of the answers are really bad, and not surprisingly, those are the same manufacturers with negative feedback.
Warranty, Guarantee, Return Policy
This is where they can all get a little tricky. There could be any number of reasons they void their warrantees, so read the tiny print closely.
Make sure you register the panels and keep your receipts/invoices.
Check the Guarantee and Return Policy. Some only give you a few days to register before these expire.
Some manufacturers make you pay for return shipping which may make it cost-prohibitive to return.
Additional Detail
I've included additional feedback based on forum and retail feedback from consumers and my own research.
Renogy 100W Monocrystalline Solar Panel
Renogy is a popular panel and a favorite amongst the boating and RV crowd. It is a good panel but pay attention! This black-framed 100W panel on Amazon does not have the same specs as the silver-framed panel on their website. The silver is not sold on Amazon, but you can check it out on the Renogy site here.
Pros
Price fluctuates somewhat
Efficient and performs as stated
Quality build
Cons
Shipping quality Not always good
No mounting hardware a common complaint
Customer Service feedback is questionable
---
HQST 100W Monocrystalline Solar Panel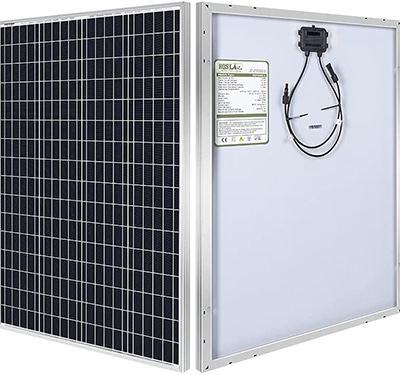 HQST has a reputation for producing a low-cost panel that performs. It is one of the few panels that have very little to no negative service feedback. Recently the newer panels have been made smaller and not communicated in the specifications, so you may want to check their website or confirm via phone.
Pros
One of the best priced panels
Output is as stated
No negative service reviews is good in this industry
Cons
More recent panels smaller than what is listed
Several complaints about components like cables being left out
No mounting hardware a common complaint
---
WindyNation 100W Monocrystalline Solar Panel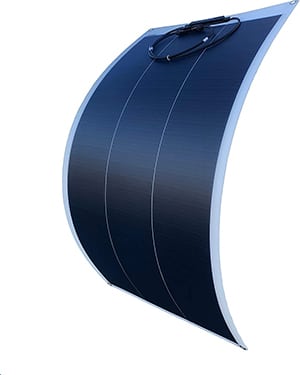 WindyNation makes a polycrystalline 100W panel, but the monocrystalline only comes in a flexible panel. There are not many reviews on this panel, but RV owners have some forum feedback. It is a good panel but not the most durable panel offered. There are still a lof RV and boating fans.
Pros
Flexible and light weight
Easy to use and mount on vehicles
Cons
Shipping and delivery sometimes results in damage
Some quality complaints about "fogginess" on cells after short period of time
---
Newpowa 100W Monocrystalline Solar Panel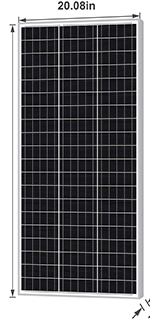 Newpowa does have many good reviews – like 5 star good, but they all have those. They also have a consistently high number of reviews stating that the panels don't provide 100 watts – many more than comparable brands. Newpowa's superhero skill seems to be customer service. Feedback on their responsiveness and service is high across forums and reviews.
Pros
The lowest priced of the 100W in this review
Good comments on service
Cons
Heaviest of all the panels
Quality – frames are not as durable as others, and some reported to have plastic corners though not confirmed.
---
Rich 100W Monocrystalline Solar Panel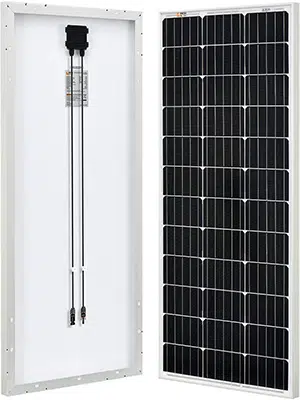 Rich Solar is mentioned more often by purchasers of Renogy panels. It is a similar panel at a better price. This is a tall, narrow, heavier panel but is becoming a favorite among RVs and campers. The only consistent negative theme is around quality control – panels differ from advertised (specs), and mounting holes on the back of the panels often vary.
Pros
Good quality alternative to Renogy at a better price
Good technical service
Sturdy, durable frame and panel overall
Cons
Inconsistent – panel received different from listed and mounting holes also different
Durability – there are a few complaints about MC4 connector quality
---
Eco-Worthy 100W Monocrystalline Solar Panel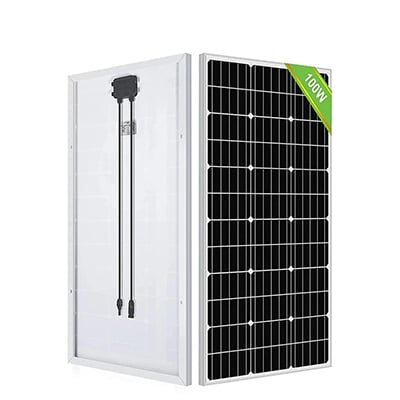 Eco-Worthy has been around since 2002, so you can find information on their products across forums and via many reviews. Panel quality is consistent, and the price is reasonable. Their products have good feedback from the RV group, and you can often find them on sale. However, shipping receives poor marks, so check them as soon as you get them!
Pros
Good service and a manufacturer that has been around since 2002
Well made and durable
Sturdy, durable frame and panel overall
Cons
Service not very responsive
Mounting hardware not included
Poorly shipped products
---
Final Thoughts
All of these panels are similar. They seem to struggle with the same issues, and each brand has its fans and haters. The best quality goes to Renogy, but definitely not customer service. For service, you need to consider Newpowa or Rich.
Check out the answers to questions on Amazon. This gives you a good idea of who invests in service and who does not.
Mounting hardware is an issue across every manufacturer, which surprises me since NONE of these panels state they come with hardware. If you're wondering – DON'T EXPECT MOUNTING HARDWARE!
Shipping breakage is also an issue across the board, so make sure you check your panels as soon as you get them, call the manufacturer with any issues, or try to return them if you ordered them through Amazon.
Accessories
Related Articles
(Visited 636 times, 1 visits today)