I installed a 200-watt solar panel in my home, and since then I have been researching solar panels.
To say I am becoming a solar energy enthusiast is probably an understatement. This Renogy Solar Panel Review is one of a few panels I have researched.
I believe that solar energy is the way to go when it comes to being energy efficient. After installing my first Solar Panel and researching way too many solar panels, there are a few things that I look for in a solar panel.
Anyone who is interested in buying a solar panel and is not a solar panel "expert" will benefit from this review of the Renogy 100W Monocrystalline Solar Panel. 
In this article, I also have a review of the Renogy 100W Monocrystalline Solar Panel Starter Kit.
Renogy Solar Panel Review -100 watts
Renogy does not only produce a 100 watt panels. They also produce a 200 watt solar panel, 300 watt solar panel and a 320 watt solar panel and some other variations. They also offer multiples of the 100 watt panels with the kit to connect them in series.
See the complete list of the different types of Renogy Solar Panels here
If you are new to the solar panel market and this is your first solar panel, then you may want to consider the Starter Kit. At the end of this review, I have included a review of the Starter Kit with a detailed explanation of all components.
How much Power?
This means you can use the solar panels to ideally supply 500 Watt hour of power to your battery or to any direct current load that may be connected to the panels. In my own case, I bought my solar panels to charge my 200Ah battery. It is more realistic to assume that the panels will only supply 80% of the max power rating even when you have an almost ideal situation. If however there is some shade, some cloud, or your placement does not allow for adequate sunlight to your panels the amount of power outputted will be affected.
Full 100 Watts
From my research, I discovered the the 100 Watt Renogy Solar Panels is known for their high efficiency. Several satisfied customers claim that they have been able to measure between 98 and 120 Watts output!. You will need a solar charge controller that measures power outputs to get the reading from your panels or learn how to do it with a digital multi-meter. Here is a good tutorial on How to measure the power output of your solar panels. These Solar Charger Tutorials are quite helpful for anyone who is new to the solar energy world!
Here is a video that will show you how to test the outputs of your solar panel.

What can a 100 Watt Renogy Solar Panel run? How long will it take to charge my battery?
The 100 watt Monocrystalline Renogy solar panel like most is shipped ready to charge a 12 volt battery. If you have a 24 or 48-volt battery array, then you will need to buy 2 solar panels for a 24v battery array and 4 panels for a 48V array. You will also need a solar charge controller to protect your batteries against overcharging, depletion at night and terminal reversal (that is when you connect the battery terminal wrongly). The Solar Charge controller does not come with the panels. However, if you choose to purchase the Renogy Solar Panel Starter kit, the Solar Charger is included!
The panel has diodes pre-installed in its junction box that also protect your batteries from being discharged when the sun goes down. This means that even without a solar charge controller, the Renogy Solar panels will never discharge your batteries.
So how long will this 100 Watt Panel take to charge your 100Ah Deep Cycle batteries? Here is how to calculate the duration.
Time to charge = (Battery Voltage x Battery Ah )/ Solar Panel Watts
If you have a 100 AH battery, theoretically with the sun shining directly on your panels it will take (12x100)/100 hrs = 12hrs.
However because the sun is not always going to be directly shining on the panels and other losses due to connections, it is safe to multiply the result by 2 or 2.5. This means that it will take about 24 – 30hrs of direct sunlight to fully charge a fully depleted 100Ah battery. If we estimate 5 – 6 hours of sunlight in a day, then we can expect this solar panel to charge your 100Ah battery in about 5 – 6 days. You will need 4 of these panels to be able to charge your 100AH battery within one day.
Installation – Do I have all I need?
If you are installing a new solar panel, it is important that you know that this product only comes with the panel and the connector which is already attached. You will need to purchase the materials for mounting your panels on a roof, extension cables, a solar charge controller, and the MC4 removal tool that you will need to unfasten the connectors if you connected them wrongly or you need to unfasten them for any reason.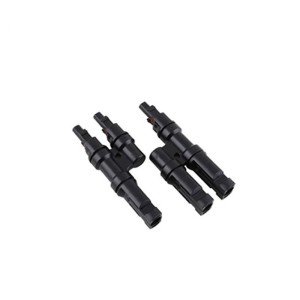 The Solar Panels come with MC4 connectors. These are the standard connectors that come with the solar panels. They are designed for easy connection without a tool, but they do not easily come apart. You will need a tool to pull them apart. This is so that they don't accidentally come apart once they are in place. I suggest that you estimate the distance between your batteries and the solar panel, and purchase an extension cable as needed. I have my panel installed on the roof so I needed about 50 feet of extension connector.
The extension can also be purchased on Amazon (Shop Heres here). They usually go for about $20-30 for the 50feet extension!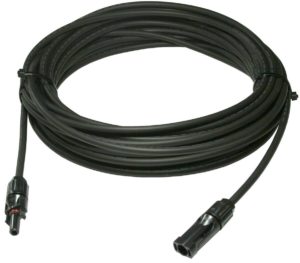 Here is a short video on installing the 100 watt solar panels! Watch this video before placing your order so you get all the accessories you need at once. Remember for this product, nothing is included. Although the video for the complete kit, it gives you an idea of what you need.
Applications
Where can you use the Renogy Solar Panel? You can use them in a variety of applications such as:
Off-Grid Rooftop / Ground Mounted
Residential / Rural
RVs, Trailers, Motorhomes, Caravans, Boats, etc.
12V / 24V / 48V Battery Charging (depending on the wiring method)
Part of a Solar Generator
How tough are they?
The panels can withstand high wind (2400Pa) and snow loads (5400Pa). They are designed to withstand the regular weather elements that they would be exposed to if they are mounted on a roof or on a stand outdoors. They are made with a resistant aluminum frame which allows the panels to last for decades. This makes them light to carry, and they would not get rusted when exposed to moisture.
Most panels in the market are similarly designed so this is not much of an advantage. The Renogy 100 Watt Solar panel is no exception and they guarantee that it will continue to be efficient for as long as 25years. With this in mind, the major consideration when choosing a solar panel will be cost-efficient. It all boils down to your budget and space for installation.
Warranties
25-year transferable power output warranty – The company guarantees that the solar panels will continue to output a peak power of about 80 watts for the next 25 years (that is at 80% efficiency). For the first 5 years, they guarantee that the Solar Panels will operate at 95% efficiency; The next five years it will operate at least at 90% efficiency. This means that you really do not need to worry much about the efficiency of a solar panel. What matters most is cost-efficiency.
10 -year material and workmanship warranty – You can expect that within the next 5 years if any part of the Renogy solar panels becomes faulty for any reason, the company will replace or fix it for you free of charge.
Weight and Dimensions
Weight of the Solar Panels – 16.5 lbs (7.5 kgs) – According to Amazon the shipping weight is 20lbs – 9.07kg.
Dimensions – 47 x 21.3 x 1.4 inches or 119.38 x 54.10 x 3.56 cm – Please take note that the Renogy Solar Panels do not have exactly the same dimensions as the panels from other manufacturers. The truth is that solar panels are not yet designed to come in standard sizes, each manufacturer has its own dimensions but that are not too far from one another. However, this should not stop you from switching to Renogy as long as the panels are of similar wattage. You may have some little problem with aesthetics though.
Accessories
There are no accessories included with the Panels. It comes with a short cable already attached to the junction box. You may need to purchase some accessories for installation such as:
Extra extension cable
Mounting brackets
An MPPT solar charge controller
If you do not have any of these accessories and you need them, you are better off purchasing the Starter Kit.
Customer service from renogy
According to reviews on Amazon.com, the customer service at Renogy is excellent. They answer their calls and are very helpful with guiding their customers through installations.
RENOGY SOLAR PANEL REVIEW – Pros
They are light and easy to install
They are well built and would last for a long time
There is adequate support from the manufacturers
It's one of the most cost effective solar panels in the market today.
RENOGY SOLAR PANEL REVIEW – Cons
From my research, there are just a few things to look out for with the Renogy Solar Panels. Some customers complained that the MC4 connectors were very difficult to unhook. Most of these users were able to eventually unhook the connectors though. My advice is that you get the tool for unhooking MC4 connectors and be prepared for some resistance if you need to unhook a connection. In my opinion, this is not much of a negative since solar panels are known to stay in place for many years without any need to unhook them. I also noticed that just a few of the reviews mention this difficulty, which implies that it is not a prevalent problem.
It is advisable to get the mounting Z brackets for your solar panels. If you get the starter kit, the Renogy Solar Panel Mounting brackets are included. If however you only got the solar panels then make sure you get the mounting brackets from Renogy. These brackets are a little expensive (hence my placing it as a negative) but according to reviews, they are worth the cost.
A few users also mentioned that you should be prepared to make larger holes in the brackets if you want to use larger screws. The screws that come with the brackets are adequate for most situations but a design that can handle larger screws may be better. Check here for the current price of the Mounting Z brackets.
Renogy Solar Panel Review – Consumer Ratings
On Amazon they have an average rating of 4.5 – 5stars. This particular 100 watts solar panel is the company's best selling product. There are over 500 reviews on Amazon.com for this particular panel. Most of these reviews are positive.
RENOGY SOLAR PANEL REVIEW – price
The Renogy 100 Watts solar panel is quite reasonably priced on Amazon. Prices have been dropping on solar panels for some years now but recently they have been stable.
Where are Renogy Solar Panels Made?
Here is what Renogy has to say about itself.
"Renogy started as a small project by students at Louisiana State University, With the help and support of the Louisiana Business and Technology Center, Renogy has grown into a healthy and flourishing company. At its inception, Renogy sold a limited range of solar products through Amazon, eBay!, and a handful of suppliers. It wasn't much longer until Renogy grew its product lines by creating innovative products to solve everyday problems. During the process, Renogy was able to increase our presence by expanding the number of online marketplaces, suppliers, and wholesale partners they worked with. Over the years, Renogy has received numerous awards and recognition, including a spot in Inc. 5000's top 500 fastest-growing private companies in 2016. Today, you can find Renogy all over the globe – and it's all thanks to the help and support we've received from Louisiana State University, hardworking Renogy employees, our suppliers, and of course, our amazing customers."
Well, this gives you the understanding that Renogy has a name to protect and they would mostly stand by their warranty.
So where are the panels made? Not in USA. Mostly in China. This is not a bad thing.
There are very many high-quality products that are manufactured in China, such as the iPhone and many high-quality smartphones. What matters most is that the Company in USA oversees the quality of the materials and the engineering of the finished product.
My suggestion
If you are ready to plunge into the world of renewable energy and you are ready to buy solar panels, then you won't go wrong with these panels. If you want to use them as a solar charger for your deep cycle batteries they will serve you well. There are not many differences between solar panels manufactured by different companies, so go for this one because it gives you excellent quality and a great price.
Additional Information on Renogy solar panels
How often do I need to clean my Renogy Solar Panel?
This depends a lot on the location of your solar panels. What you should be considering is whether the panels are being shaded from sunlight because of dust, snow, or other dirt. Most people clean once a year on average!
Renogy Solar Panel Installation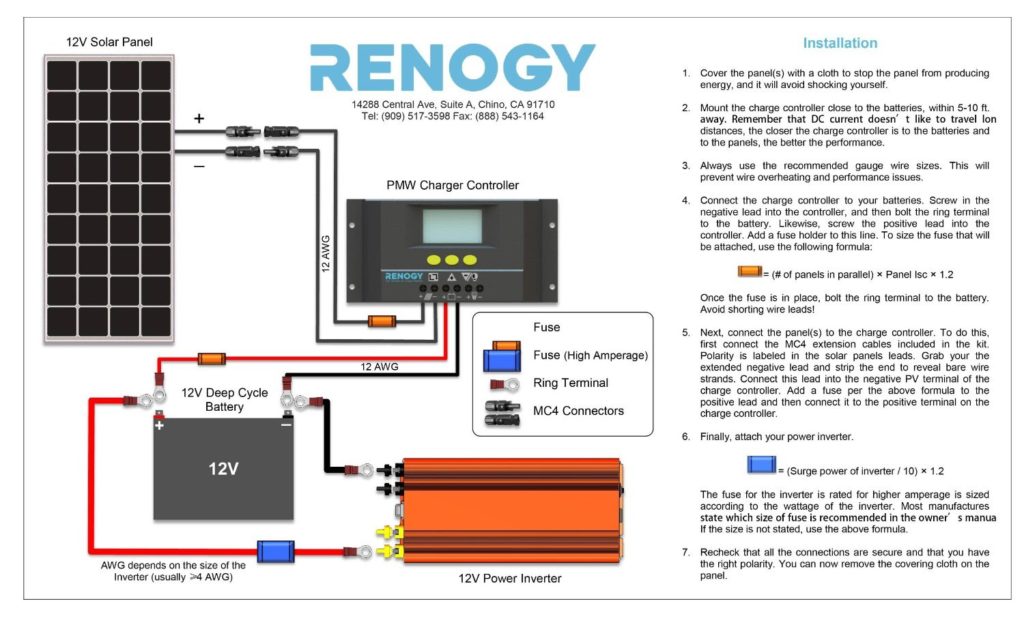 Renogy Solar Panel Certification
The Renogy Solar Panels meet the UL 1703 Standard.
This means that they have been tested by a Nationally Recognized Test Laboratory.
Officially published by Underwriters Laboratories, UL 1703 is the set of standards for safety for flat-plate PV Modules (aka the commonly used solar panels with the glass on the front).
This means that a manufacturer must send their solar panels to a Nationally Recognized Test Laboratory (NRTL) like Underwriters Laboratories, Intertek, TUV or CSA Group to have it tested. If it passes the test, that lab will provide a certification that the solar panel meets the UL 1703 standard. This process is also called UL listing and when the solar panel gets its official certification the manufacturer can say it is UL Listed
Would I buy a Renogy Solar Panel?
Yes I would. There are a few other competitions out there but Renogy is top amongst the affordable bunch. They have a strong presence in the USA and their solar panels produce close to and sometime equal to the rated power ratings.
Read my Comparison of Renogy Solar Panels with other Solar Panels
You may also read my Eco-Worthy Solar Panel Review
---
(Visited 927 times, 2 visits today)