---
A 500-watt solar panel kit will provide you with the tools and experience you need to take the next step towards a 1000 watt solar panel kit and system.
If your goal is to experience the joys of living completely off-grid, and you want to start by powering up a few appliances, then a 500-watt system is a good investment.
On the other hand, if you want power for your boat or RV, and require a less power than a house, then a 500-watt solar kit may be just what you need.
This article provides 500-watt kit options, followed by information needed to make a decision.
500-watt Solar Panel Kit Options
Actual 500-watt solar panel kits online, at a moderate price, are limited, I have included two good 600-watt solar panel kits.
ACOPOWER 500 Watts 12/24 Volts Polycrystalline Kit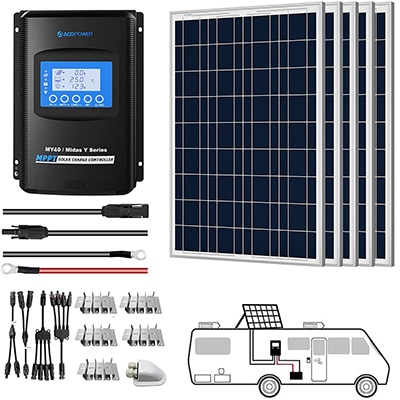 The Acopower 500-watt solar panel kit includes 5, 100-watt polycrystalline panels and many components needed for RV, Boat, camp, and off-grid set-up.
Components – 60A Charge Controller, 2 pcs 100Ah 12V Sealed Lead-Acid Battery, 1000W Pure Sine Wave Inverter, 3 sets Z Mounting Brackets, 2 set solar connectors, 2 pcs 16.4ft 12AWG Solar Cable, 6.56ft 13AWG solar cable with terminals.
Rating – 3.9/5
Pros
Customer Service is responsive
Dependable and reliable
Quality construction and build
Cons
Poor installation instructions
Good customer service and follow-up
---
ECO-WORTHY 600W Solar Panel Kit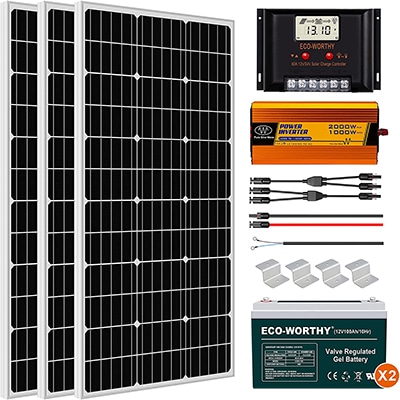 The Eco-Worthy kit is the most comprehensive of all the kits, including both a battery and inverter.
Components – 40A MPPT Controller, 1 pair 30ft 12AWG cable, 1pair 8FT 8AWG Tray Cable, 1pair 8FT 8AWG Tray Cable, Five set of z-brackets, 4 Pair PV T/Y Connectors
Rating – 4.3/5
Pros
Responsive customer service
Easy to install. Good since instructions are poor.
Complete kit with inverter and batteries
Cons
Components shipped seperately
Poor installation instructions
---
RICH SOLAR 600W 12 Volt Kit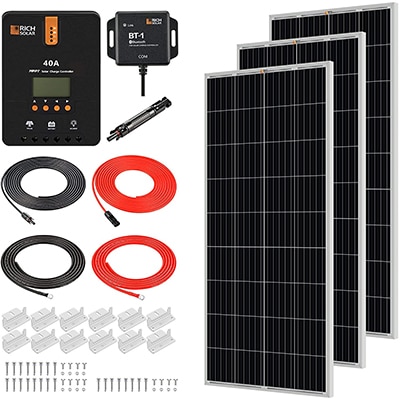 Rich Solar panels have developed a reputation as a well-constructed solar panel, and the same applies to the components in this kit.
Components – 40A MPPT Controller, Bluetooth Module, 1 x 20′ #10 Gauge Solar Extension Cable (Red), 1 x 20′ #10 Gauge Solar Extension Cable (Black), 1 x 10′ #10 Gauge Wire (Red), 1 x 10′ #10 Gauge Wire (Black), 3 x Mounting Z Brackets (one set of 4), 1 x 30A Inline Fuse Holder with Fuse
Rating – 4.3/5
Pros
Very well-made solar panels
Bluetooth technology
Complete kit with inverter and batteries
Cons
Mixed customer service reviews
Shipping damage reported on occasion
How Much Power Can a 500-watt Solar Panel Kit Produce?
A 500-watt solar panel system will deliver 500 watts to your batteries every hour the sun is directly over the panels. But, of course, we all know that the sun will not always be overhead. Depending on your location and time of the year, you may get an average of 4 -12 hours of sunlight daily.
This means that your 500-watt solar panel kit can theoretically deliver 2,500 to 6,000 watts of power to your battery bank. In practice, however, you may estimate for 50-70% of that since the sun is directly over your panels about one hour each day. The rest of the time, the sun is at an angle, and your panels will not deliver the full 500 watts.
What Can a 500-watt Solar Panel Kit Run?
A 500-watt solar panel will theoretically provide 500 watts of energy per hour, but there are a few things to consider.

1. Sun Hours – The amount of sun you actually receive. You will receive much more sun at noon than you will at 4PM. This also depends on location, season, panel tilt, weather, etc. You can use an irradiation map to determine your sun hours.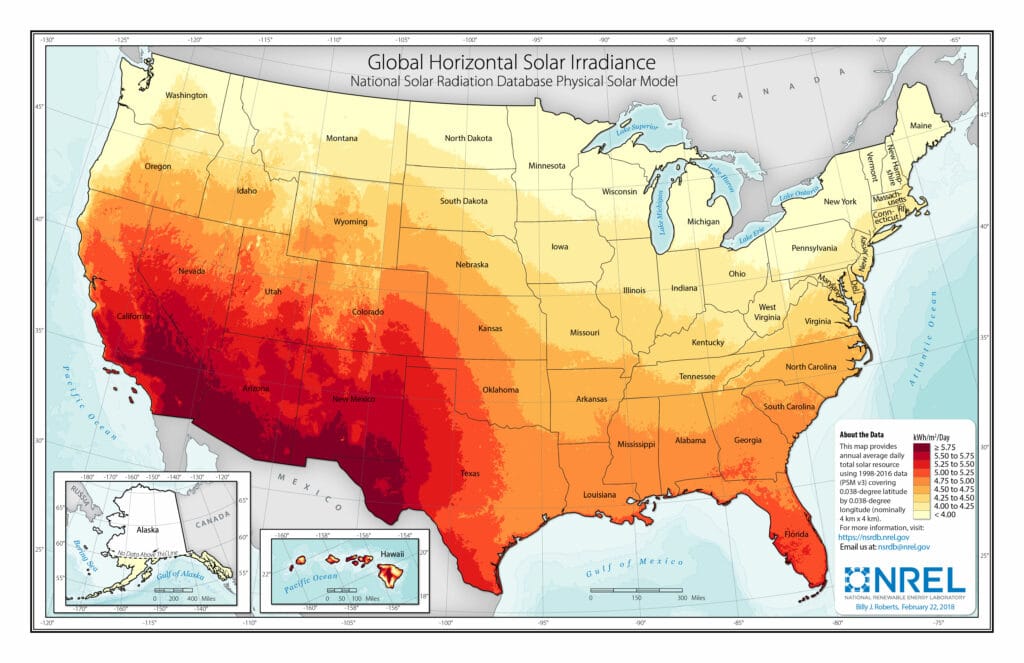 2. Calculation – Let us use 4 sun hours. A 100W panel x 4 sun hours will provide you 400 watts per day. Let's assume you lose 25% of your energy to voltage drop in the wires, dirt or snow on the panels, and multiply 400 x .75. This gives you 300 watt hours of energy per day. Finally, since you have 5 panels, multiply 300 x 5 and you have 1,500 watt hours of energy per day.
3. Appliances – Now lay out your plan, which should really be the first thing you do. How many watts do your lights, microwave, refrigerator, TV, computer, etc. use? Each one should have this information listed. If you are currently on the grid then you can look at your electric bill.
How Much Does a 500-watt Solar Panel Kit Cost?
The solar panel kits on this page cost $700 – $1,400, but the cost depends on the components included.
A good example of this is the Eco-Worthy Kit which contains both batteries and an inverter. Batteries are expensive, but if you want to run your power at night or cloudy, you will need them.
A full kit that you want to run after hours will likely include the components below, so there will be additional costs.
Solar Panel
Inverter
Controller
Batteries
Fuses
Wiring
Tools
Brackets
Panel Frame
Final Thoughts
Once you add up the watt-hours you use daily, you will probably realize you can power a few appliances, but you are not going to be able to live off-grid without a large bank of batteries. Batteries are expensive but will allow you to collect power for those times you don't have sun.
If you want to take your house off-grid immediately, consider hiring a professional to help you determine your needs. This is the safer method and will probably save you some expense in the long run.
If DIY is your goal, then consider a 500-watt solar kit. This kit is a great start as you dive into solar, and it is also a good kit for boats and RVs that may need less energy. In addition, solar kits will ensure you have the correct components and are a good way to save time and help you learn more about solar energy equipment.
Related Articles
(Visited 534 times, 2 visits today)
Some of the links in this post are affiliate links. This means that when you click on one of these links, I earn a small commission at no extra cost to you. Also, as an Amazon Affiliate, I earn from qualifying purchases.