Some of the links in this post are affiliate links. This means that when you click on one of these links, I earn a small commission at no extra cost to you. Also, as an Amazon Affiliate, I earn from qualifying purchases.
---
A 24 Volt Inverter is not quite as common as a 12V Inverter. They have the same mode of operation but operate at different input voltages.
This article reviews some of the best, moderately priced 24V inverters currently on the market and then reviews common criteria used for selecting an inverter.
I suggest that you use a 24-volt inverter or 36-volt inverter or 48-volt inverter when you need to power appliances that are over 3000 Watts.
Best 24 Volt Pure Sine Inverters
Inverters below are listed by Brand. A 3,000W inverter has been used for comparison purposes in dimension and weight.
Honorable Mentions
Not highlighted above but also offering very good options, are these brands.
Giandel 24V Inverters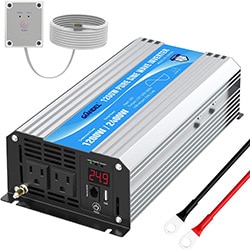 Giandel makes some of the most popular inverters on the market. This durable inverter with an LCD display, remote on/off switch, and numerous safety features is backed by an 18-month warranty.
Pros
18-month warranty
LCD Display
(2) 120 outlets and a USB port
Cons
Remote not wireless
Instructions need to provide more information
---
WZERLB 24V Inverters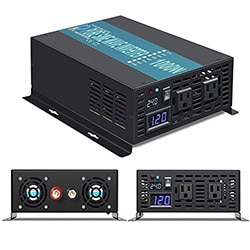 WZERLB makes a quality pure sine inverter that receives high ratings and positive feedback. This lightweight dependable inverter is popular with the off-grid crowd and a solid decision for reliable AC power.
Pros
Overall, the fans are quiet
Displays on these units are very accurate
Quality construction and build
Cons
Has a very brief manual
Weak customer service not always responsive
---
Victron 24V Inverter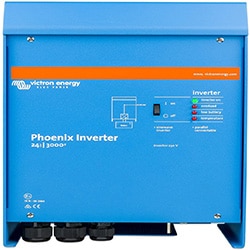 Victron is known for its high-end inverters and inverter chargers. If you have experience with inverters and want a quality inverter for off-grid or RV use then this may be the inverter for you. If you don't have experience then consider an electrician for installation.
Pros
Very well-made, quality inverter
Has all the bells and whistles with multiple safety features
Very good surge capacity
Cons
Expensive
Large size and heavy weight
---
EDECOA 34V Inverter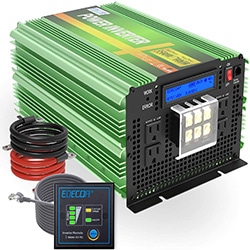 EDECOA is becoming more and more popular as its reputation continues to make waves. With more 120 and USB output outlets than just about any other inverter, features like a remote on/off switch and detailed digital display make this a very popular pure sine wave inverter.
Pros
Multiple 120AC and USB outlets
Remote on/off switch
Multiple safety features
Cons
Studs a little short on DC input
Weak technical support for questions
---
AEliussine 24V Inverter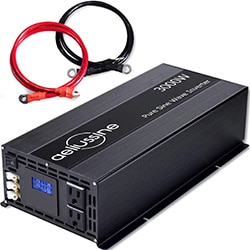 Aeiussiline provides a dependable, no-frills inverter. With the features and power you need in an inverter, it would still be nice to have USB outlets. If you are looking for an inverter at a lower price point then take a look at Aeliussine.
Pros
Quiet running unit
Good price point
Spare fuses provided
Cons
Difficult to contact manufacturer
No USB ports
Criteria for Choosing the Best Inverter.
Choosing the best inverter for your needs is important. To make the process as easy as possible for you, we have put together a list of key points to consider when choosing your inverter.
Inverter Type
Rating
Noise
Power Outlets
USB Ports
Safety Features
Size
Inverter Types
These typically include Pure Sine and Modified. A pure sine wave inverter provides power similar to what you receive from your electrical grid and works best with sensitive appliances and devices
Modified wave inverters are less expensive than pure sine inverters and while still very good inverters you will often find them used for running tools and less sensitive equipment.
Rating
It is important to determine the wattage required to operate the appliances being used. Although you may want to make sure you purchase an inverter large enough to run all your appliances and devices, why pay more than you need.
It is important to confirm the power requirements of the electrical appliances and devices you will be using at the same time. Do not underestimate normal usage. Doing so will only lead to disappointment and more expense. Below is a rating chart that provides guidelines.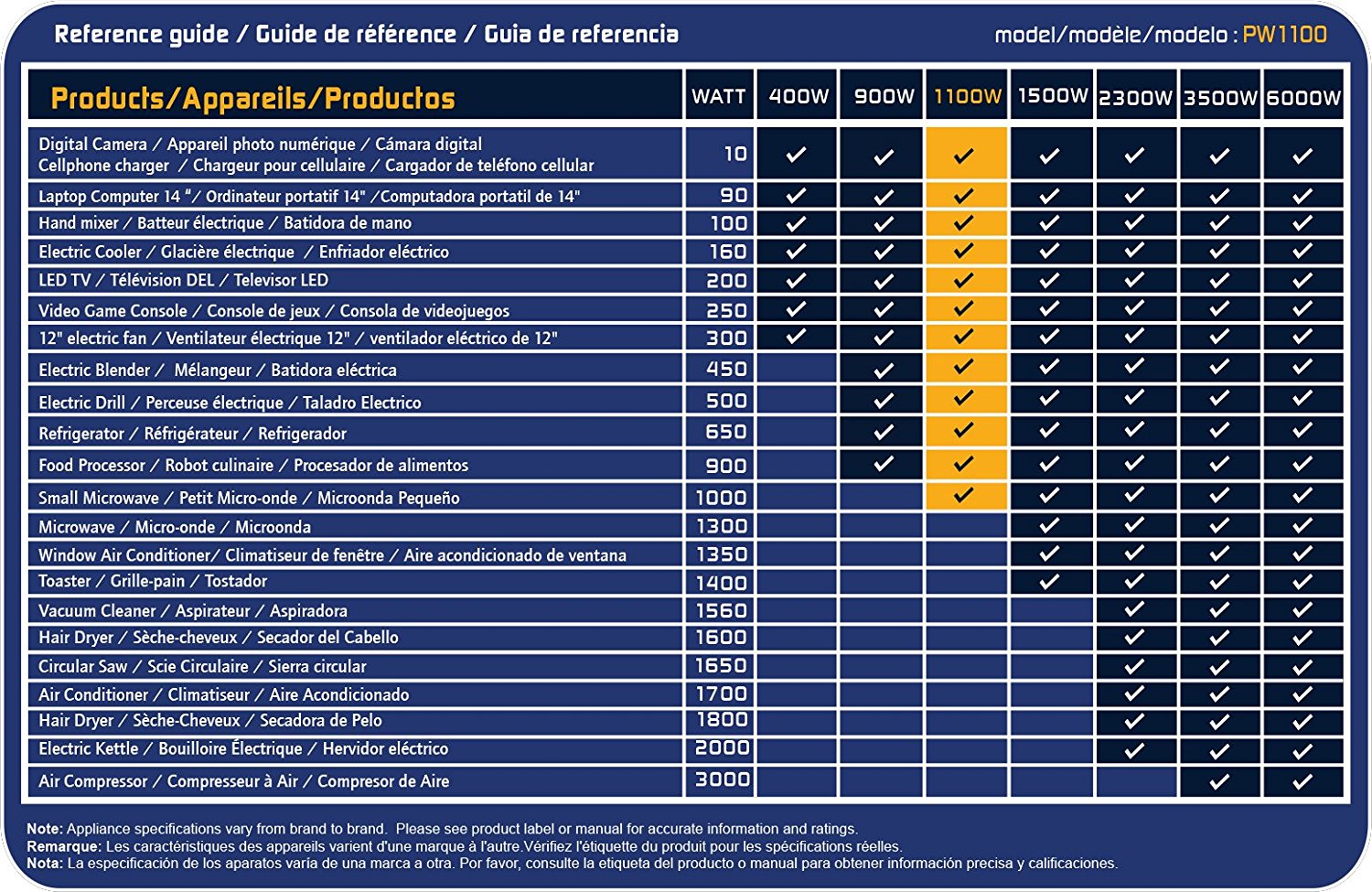 Noise
It is probably safe to say that if you are enjoying the outdoors you probably don't want to listen to mechanical noise. Choosing an inverter with little or no noise is important, so check reviews.
If however, you plan to use your inverter to power noisy tools, then you will not need to spend the extra money to buy a quiet pure sine inverter.
The number of power outlets
Power Inverters are available with single outlets to power one device and multiple outlets (two or three outlets) to power multiple devices simultaneously. You need to decide the number of power outlets you will need.
Many of the higher wattage inverters also come with hard-wire ports that let you connect the inverter to your cabin or home's power distribution system. In this case, you may not need the power outlets.
Keep in mind that you are splitting out power output between outlets.
USB Ports
Some power inverters come with Universal Serial Bus (USB) ports that allow you to power a wide range of electronic devices including cellphones, laptops, game consoles, etc., while in a car. They come in conjunction with the power outlets or without.
Having USB ports allows Smart phone, iPhones, Tablets, and other USB product users to charge their devices with ease, becoming truly mobile.
Safety Features
To prevent your battery from draining while charging and leaving you stranded, some inverters incorporate a safety feature that cuts off power to the inverter once certain internal temperatures are reached i.e. before the battery is completely dead.
Another important safety feature is the surge protector which cuts power if a power surge or overload is detected.
Most current inverters have multiple safety features, so you make sure you check before purchasing and choose what is right for you.
Size
In many cases, the inverter you purchase is determined by its size and weight. The room you have in your RV or cabin is not going to be what you need for your tractor-trailer or car.
Before purchasing, check the manufacturer's website for specifications. Amazon is not always accurate.
(Visited 554 times, 1 visits today)