---
A 24 Volt Inverter is not quite as typical as a 12V Inverter. They have the same primary type of operation but operate at different input voltages.
This article reviews some of the best, moderately priced 24V inverters currently on the market and then reviews standard criteria you should consider when selecting an inverter.
I suggest you use a 24-volt inverter, 36-volt inverter, or 48-volt inverter when you need to power appliances that are over 3000 Watts.
Criteria for Choosing the Best Inverter.
Choosing the best inverter for your needs is important. To make the process as easy as possible for you, we have put together a list of key points to consider when choosing your inverter.
Inverter Type
Rating
Noise
Power Outlets
USB Ports
Safety Features
Size
Inverter Types
These typically include Pure Sine and Modified. pure sine wave inverter provides power similar to what you receive from your electrical grid and works best with sensitive appliances and devices
Modified wave inverters are less expensive than pure sine inverters, and while still very good inverters, you will often find them used for running tools and less sensitive equipment.
Rating
It is important to determine the wattage required to operate the appliances being used. Although you may want to make sure you purchase an inverter large enough to run all your appliances and devices, why pay more than you need.
It is essential to confirm the power requirements of the electrical appliances and devices you will be using simultaneously. Do not underestimate normal usage. Below is a rating chart that provides guidelines.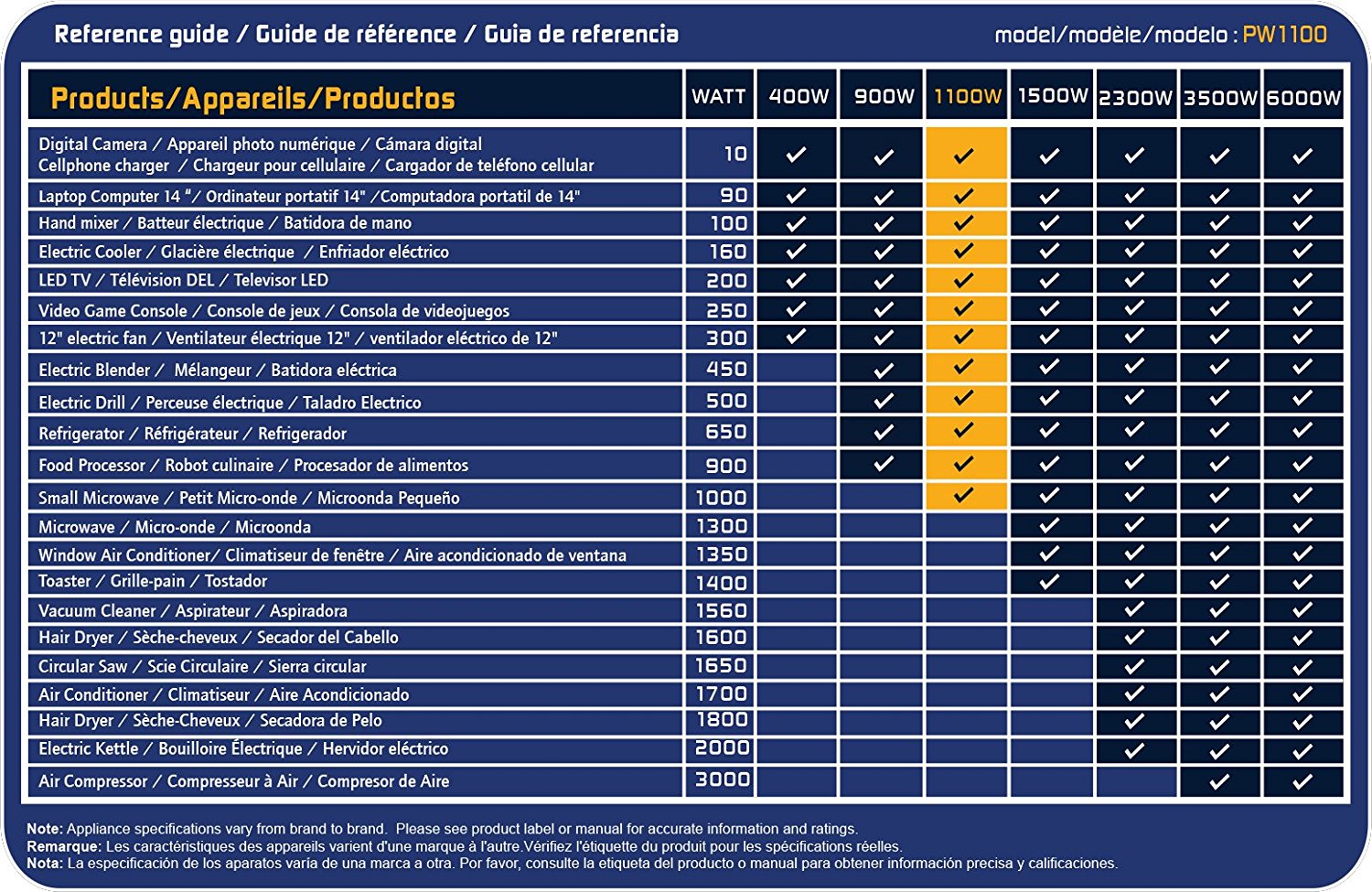 Noise
It is probably safe to say that if you enjoy the outdoors, you probably don't want to hear a mechanical noise. However, choosing an inverter with little or no noise is important, so check reviews.
If you plan to use your inverter to power noisy tools, you will not need to spend the extra money to buy a quiet, pure sine inverter.
The Number of Power Outlets
Power Inverters are available with single outlets to power one device and multiple outlets (two or three outlets) to power multiple devices simultaneously. First, you need to decide the power outlets you will need.
Many higher wattage inverters also come with hard-wire ports that let you connect the inverter to your cabin or home's power distribution system. In this case, you may not need the power outlets.
Keep in mind that you are splitting out power output between outlets.
USB Ports
Some power inverters come with Universal Serial Bus (USB) ports that allow you to power a wide range of electronic devices, including cellphones, laptops, game consoles, etc., while in a car. They come in conjunction with the power outlets or without.
USB ports allow smartphones, iPhones, Tablets, and other USB product users to charge their devices easily, becoming genuinely mobile.
Safety Features
To prevent your battery from draining while charging and leaving you stranded, some inverters incorporate a safety feature that cuts off power to the inverter once internal temperatures are reached, i.e., before the battery is completely dead.
Another important safety feature is the surge protector, which cuts power if a power surge or overload is detected.
Most current inverters have multiple safety features, so you make sure you check before purchasing and choose what is suitable for you.
Size
In many cases, the inverter you purchase is determined by size and weight. Therefore, your room in your RV or cabin will not be what you need for your tractor-trailer or car.
Before purchasing, check the manufacturer's website for specifications. Unfortunately, Amazon is not always accurate.
Victron Inverter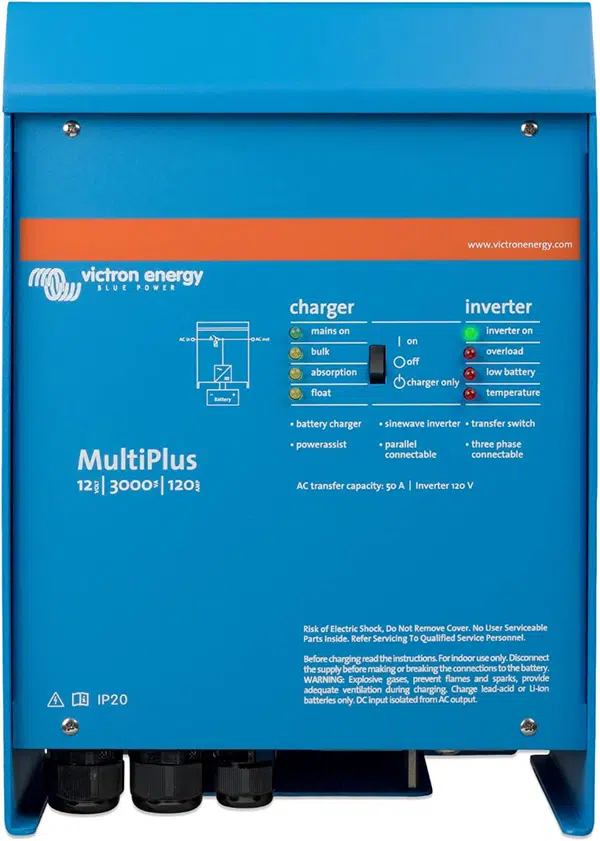 Pros
Very well-made, quality inverter
Multiple safety features
Excellent surge capacity
Cons
Expensive
Large size and heavyweight
More complex
Victron is known for its high-end inverters and inverter chargers. If you have experience with inverters and want a quality inverter for off-grid or RV use, this may be the inverter for you. If you don't have experience, then consider an electrician for installation.
AIMS Inverter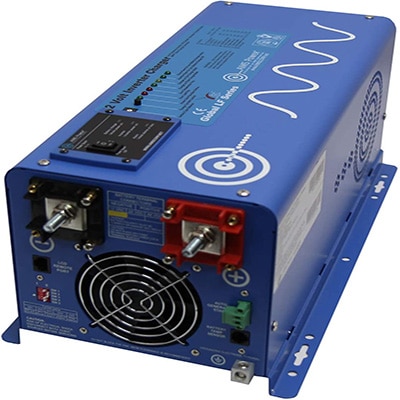 AIMS makes a heavy-weight, durable inverter made here in the United States. This is also one of the more powerful 3,000W inverters with a 9,000W surge or peak power. AIMS has been in business for over 20 years, and all technical and warranty support is based out of Nevada.
Giandel 3000W, 24V Inverter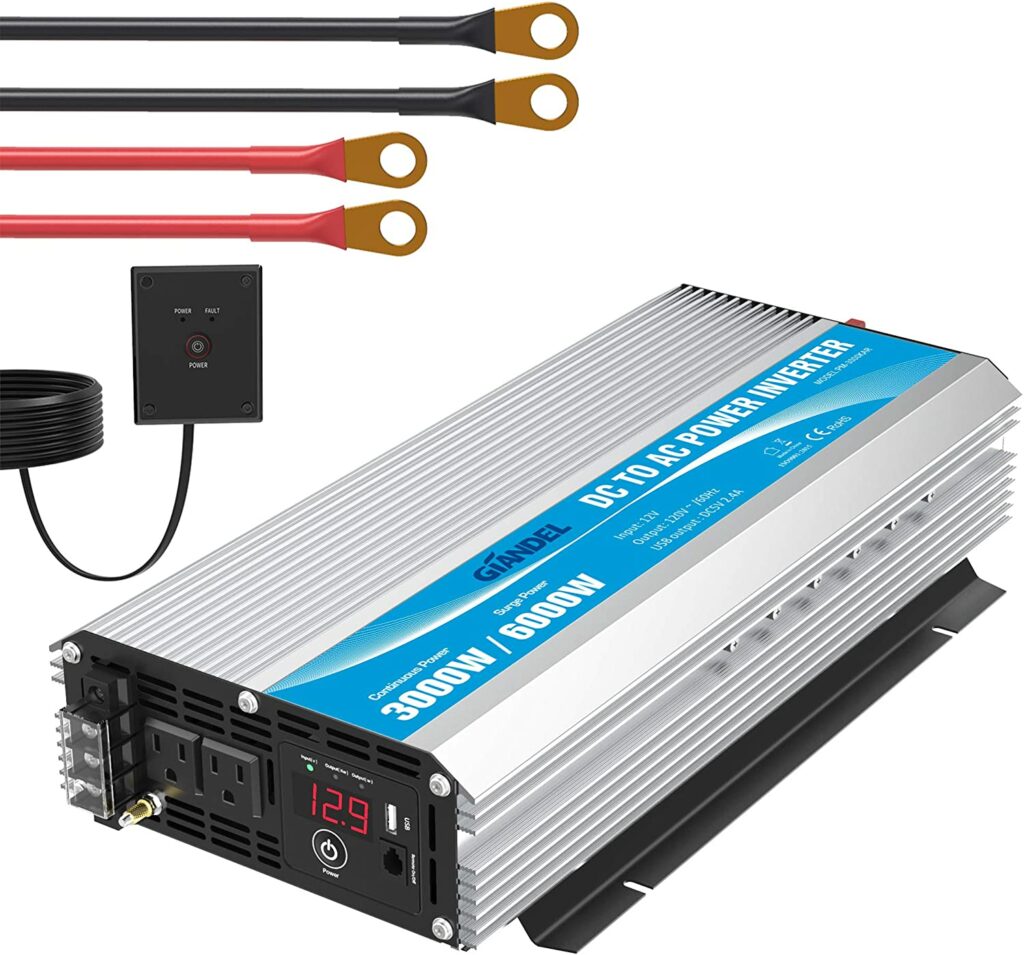 Pros
18-month warranty
LCD Display
(2) 120 outlets and a USB port
Cons
Remote not wireless
Instructions need to provide more information
I would like a digital display
Giandel makes some of the most popular inverters on the market. This durable inverter with an LCD display, remote on/off switch, and numerous safety features is backed by an 18-month warranty. Based on reviews, customer feedback, and price, the Giandel inverter is the Editor's choice.
WZRELB 3000W, 24V Pure Sine Inverter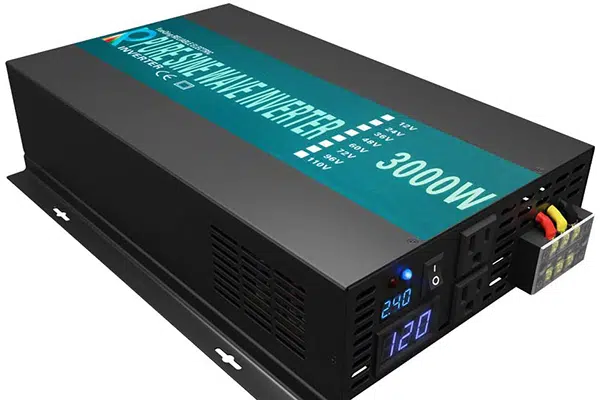 Pros
Overall, the fans are quiet
Displays on these units are very accurate
Quality construction and build
Cons
It has a very brief manual
Weak customer service not always responsive
WZERLB makes a quality pure sine inverter that receives high ratings and positive feedback. This lightweight, dependable inverter is popular with the off-grid crowd and is a solid decision for reliable AC power.
EDECOA 3500W, 24V Pure Sine Inverter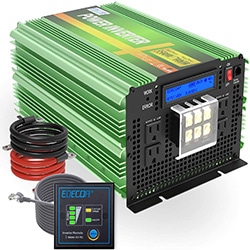 Pros
Multiple 120AC and USB outlets
Remote on/off switch
Multiple safety features
Cons
Studs are short on DC input
Weak technical support
Will probably need heavier cables
EDECOA is becoming increasingly popular as its reputation continues to wave. With more 120 and USB output outlets than any other inverter, features like a remote on/off switch and detailed digital display make this a popular pure sine wave inverter.
Summary – 24-Volt Inverter
Take your time before purchasing a 24-volt inverter, and make sure it is the right inverter for your power needs. Buying an inverter should come after you lay out the plan for your system.
Related Posts
Some of the links in this post are affiliate links. This means that when you click on one of these links, I earn a small commission at no extra cost to you. Also, as an Amazon Affiliate, I earn from qualifying purchases.