---
You are on the right page if you are in the market for a 48-volt inverter. My goal is to help you reduce the time needed for research by highlighting the best 48-volt inverters online.
Why Buy a 48-volt Inverter?
What is a 48 Volt inverter? It is a device that converts 48V Direct Current to 120V (110v) Alternating current. In other words, it is a device that can take current from a bank of batteries (48V) and convert it to the type supplied in the grid to power your appliances and devices.
I suggest you use A 24-volt inverter or 36-volt inverter or 48-volt inverter when you need to power appliances over 3000 Watts.
You may decide to use them even for appliances that are 2000Watts.
When you use a 48-Volts inverter, you can use regular and more flexible connectors to connect the inverter to the battery bank. This is so because the thinner the wire, the higher the resistance. And if your DC voltage is lower, you will pass more current through the wires, and they can get very hot, and you lose a lot of battery power.
Find below a list of 48-volt inverters available online and more information about different types of inverters.
Criteria for Choosing the Best Inverter for Your Use
Picking the right inverter is a very critical choice. To make the process as easy as possible for you, we have put together a list of key points to consider when choosing your inverter.
Rating: It is important to determine the wattage required to operate the commonly used appliances. Although it may seem convenient to purchase an inverter large enough to run all desired appliances and accessories, the drawback will be the inverter's added cost. It is essential to confirm the exact power requirements of all electrical appliances and accessories you will be used simultaneously. Do not underestimate normal usage. Doing so will only lead to disappointment and more expenses. Here is a rating chart that will help you choose.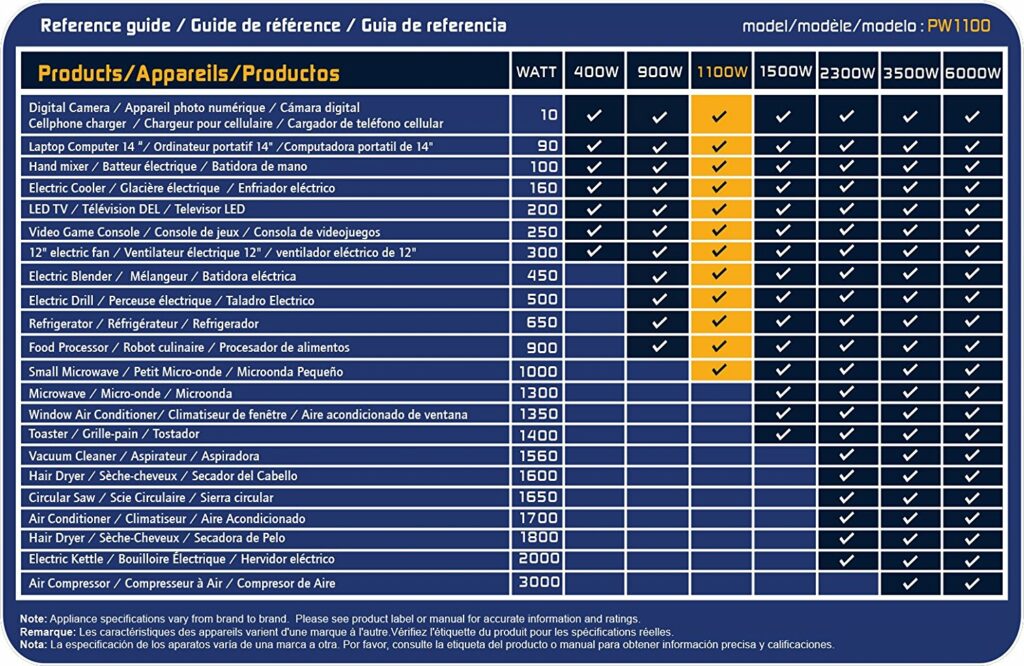 Noise: It is safe to say that noise is not a pleasant sound for anyone, primarily when more people work at home and need little or no distraction. Choosing an inverter with little or no noise is a suitable choice that should not be ignored. If you plan to use your inverter to power noisy tools, you will not need to spend the extra money to buy a quiet inverter.
The number of power outlets: Power Inverters are available with single outlets to power one device and multiple outlets (two or three outlets) to power multiple devices simultaneously. You need to decide the number of power outlets you would require.
Many higher wattage inverters also come with hard-wire ports that let you connect the inverter to your cabin's or home's power distribution system. In this case, you would hardly need the power outlets.
The number of USB Ports: Some power inverters come with Universal Serial Bus (USB) ports, which allow you to charge a wide range of electrical and electronic appliances, including cellphones, laptops, game consoles, and power tools, and other household products, while in the car. They come in conjunction with the power outlets or without. In addition, the USB port feature allows smartphones, iPhones, Tablets, and other USB product users to charge their devices easily.
Safety Feature: To prevent your battery from draining while charging, leaving you stranded, some inverters incorporate a safety feature that cuts off power to the inverter once a specific internal temperature is reached, i.e., before the battery is completely dead. Another important safety feature that is beneficial and is available in some models is the surge protector, which cuts power if a power surge or overload is detected.
Size: The inverter's size is determined by the space in your boat, RV, or home area. Make sure the inverter fits into the place you have made for your inverter.
Typer of Inverters
Modified Sine Wave Power Inverter
This inverter type is a reliable, economical choice capable of running most devices and fundamental household appliances. They cost way less than the true sine wave inverters. However, they can damage sensitive devices over a period of time. For example, microwave electronic control panels often will not function properly on a modified sine wave inverter. The more sensitive the device, the less likely it will work on a modified sine wave. Many users have complained that their CPAP machines do not function properly with a modified sine wave inverter. Watch the video below for more.
Pure Sine Wave Power Inverter
The pure sine wave inverter is more efficient than the modified sine wave inverter and almost twice as efficient when used to power certain appliances. Therefore, they are perfect for running appliances and powering sensitive electronics such as microwaves that pull a large current. They are, however, more expensive than the modified sine wave power inverter. Please watch the video below to learn more about the pure sine wave inverter.
Two Types of Pure Sine Wave Inverters
There are two types of pure sine wave inverters. The low-frequency (LF) pure sine wave inverters and the high-frequency (HF) pure sine wave inverters.
The LF inverters use a big copper transformer, which is bigger, heavier, and more expensive. They are also better with equipment that requires high starting power, such as compressors and air-conditioners, primarily if you regularly use this equipment for long periods.
The HF inverters use smaller transformers and electronic components. They are lighter in weight and are less expensive. These are good for the occasional user. There is no need to spend so much on an inverter if you only use it for a few hours a week. These inverters are also perfect for electronic equipment and smaller devices, even when used for several hours daily.
As you choose your pure sine wave inverter today, make sure you choose the one most suitable for your needs. The more expensive ones are the LF inverters, and the less expensive ones are the HF inverters.
The Best 48-volt Inverters
Related Posts
Some of the links in this post are affiliate links. This means that when you click on one of these links, I earn a small commission at no extra cost to you. Also, as an Amazon Affiliate, I earn from qualifying purchases.