---
There are many 3000 Watt inverters on the market right now, so before you make a decision, let me help you narrow down your choices.
This article will provide general criteria and functions and then offer what are currently good inverters on the market. I'll also provide a "Heads Up" on what to look out for with each inverter. It is important to understand the types of inverters available and the features these inverters provide.
Inverter Overview
There are over 30 types of inverters on the market, and they can come in 4 main input voltages and 2 main output voltages. There is a lot to consider when choosing the inverter you need.
You can check out the guides below if you already know what you need. The inverters listed get good reviews, and all have good feedback.
The most common inverters sold generally include the following categories below, and in this article, I'll review four popular Pure Sine Wave inverters. You will see five listed, but as you read further, you will understand why it is four.
Input Voltage – 12V, 24V, 36V, 48V
Output Voltage – 110/120V or 220/240V
Waveform – Pure Sine Wave or Modified Sine Wave
Functionality – Inverter or Inverter Charger.
What Size Inverter Do I Need?
If you are reading this article on 3000W inverters, you have probably already determined the size inverter you need for your system. Let me quickly review the data you need to determine to ensure you have chosen the right size inverter. We are going to exclude any battery requirements.
The inverter will need to handle two types of power, typical and surge.
Typical – Continuous power or what a device or appliance uses regularly. The power needed after the first few seconds of a start-up is typical power.
Surge – The maximum amount of power an inverter can supply for a second or two is its surge. Appliances and equipment with electric motors often have surges almost twice the typical output of an inverter. This needed to start compressors, pumps, air conditioners, etc. Check the specifications on your inverter to see what the surge rating is and how long it lasts.
Determining the size of your inverter requires knowing how many watts your appliances and equipment will use. Below is an example. In this case, we have added the wattage and multiplied it by two to account for the start-up surge. You will need a minimum of 3,160 watts. Typical power is 1,580 watts.
| Item | Watts |
| --- | --- |
| Lights x 3 | 180 |
| Refrigerator | 500 |
| Microwave | 800 |
| TV | 60 |
| Fan | 40 |
| Total x 2 (Surge) | 3,160 |
If you are wondering where to find the appliance wattage, it is typically found on the back of the appliance or stamped on the nameplate. It is the maximum amount needed.
A couple of things to keep in mind when deciding on the wattage you need are efficiency and equipment and appliance ratings.
Efficiency – Inverters will typically state the efficiency at which they run. This can be impacted my temperatures. If an inverter runs 90% efficiency, it may drop to 80% or even 70% in the winter, so keep this in mind when calculating your wattage needs.
Ratings – Your equipment or appliances will declare their wattage needs, but this is not always correct. I have used 800-watt microwaves that end up using 1000 watts.
If you decide you need a smaller inverter, you can check out our articles on 1,000-watt inverters and 2,000-watt inverters.
Criteria for Choosing a 3,000 Watt Inverter
Picking the right 3000-watt inverter requires knowledge and time. However, the key points below will assist when making a choice.
Noise: Most 3,000-watt inverters have automatic cooling systems that start a cooling fan once the temperature of the inverter becomes dangerously high. Some of these cooling fans can be quite noisy. The noise won't bother you if you use your inverter for power tools. If you are using the inverter at night or in a location where you need quiet, be conscious of the fan in the inverter you choose.
The number of power outlets: Inverters are available with single outlets to power one device or multiple outlets to power multiple devices simultaneously. You will need to decide on the number of power outlets you need.
The number of USB Ports: Some inverters come with USB ports that allow you to charge a wide range of electrical and electronic appliances, including cell phones, laptops, game consoles, power tools, etc.
Safety Features: Common inverter safety features include overload sensors, alarms, temperature sensors, short circuit protection, etc. How and where you use the inverter will dictate what you need.
Dimensions: Ensure the inverter fits in your space since inverters come in various sizes and weights. You can take the measurements of your previous inverter if you are replacing one or take the measurement of the space in your RV or home where you would like to place the inverter.
Hardwire Port or Kit: This is important if you plan to use your inverter in an off-grid application like a shed, cabin, or backup power for your home. The hardwire port enables you to connect your inverter to the circuit you already have to use your appliances without connecting them directly to the inverter.
Pure Sine Inverters
Voltworks 3000W, 12V Pure Sine Inverter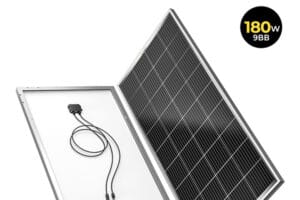 Voltworks makes a good inverter, supported by some of the highest consumer reviews in this group. This inverter is durable and flexible, providing a remote start, numerous connections – 4xAC, 2xUSB, etc., and an AC terminal block to hardwire appliances. With numerous electronic safety features, this inverter is a solid choice.
Pros
Dependable with heavy loads
Cons
Preference for hard on/off switch
The Voltworks inverter is durable and provides versatility with plenty of connection options – four AC, 2USB, and a hardwire terminal for appliances like refrigerators, air conditioning, etc.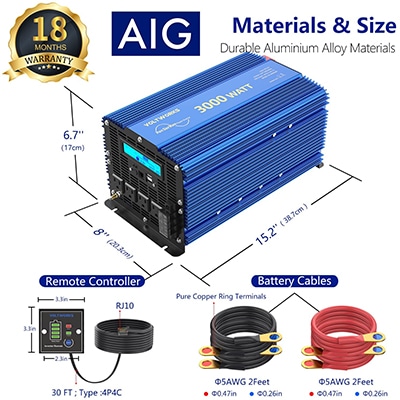 This inverter has an aluminum housing and numerous cooling flange, benefiting the inverter in tight spaces.
This is a large, heavy inverter (8 x 15.2 x 6.7 in) and is best mounted in place for stability. There are multiple locations for mounting the inverters with screws.
On the front of the inverter, you will find an LCD that provides input, output, battery level, safety outputs, and you also have the power switch, which I prefer on the front for easier access.
The front also has the terminal to wire your remote, which comes with a 30-foot cord, and a block of AC terminals to hardwire devices.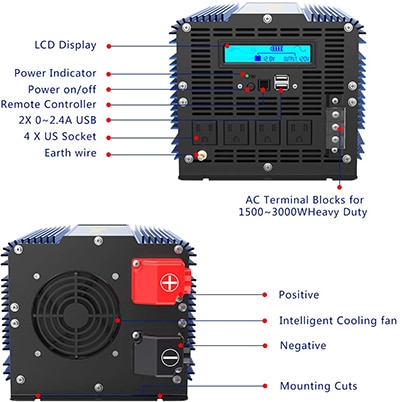 Finally, you have 4xAC outlets, 2xUSB-A ports, and one input port on the front. You have many connection options with this inverter.
The back of the inverter has positive and negative input terminals, which are covered for safety. There is also a fan, sized well for keeping the temperatures stable.
This inverter comes with battery cables, and Voltworks backs up this inverter with an 18-month warranty.
Heads-up: Other reviews state the surge is 3300. This is overload protection. Voltworks claims the surge is 6000W for less than .1 second, but I think they mean 1 second.
Giandel Inverter
Giandel 3000W, 12V Pure Sine Inverter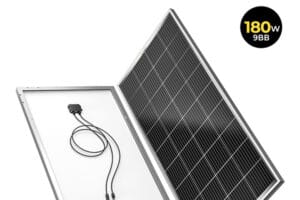 Giandel is a very popular brand, even more so than Voltworks, but I believe they are produced by the same manufacturer (See Below for Details).
Pros
Dependable with heavy loads
Cons
Preference for hard on/off switch
Voltworks vs. Giandel 3000W – I think they may be the same inverter and be produced by the same manufacturer. They have striking similarities.
They look almost exactly alike and have the same features.
The websites are very similar, down to the outdated chat functions.
The price is almost the same on Amazon $439.98 vs. $439.96.
The accessories are the same, even the remote.
They change the pictures and aesthetics, but unless someone tells me differently, I believe you are getting the same inverter no matter which one you purchase.
Renogy Inverter
Renogy 3000W, 12V Pure Sine Inverter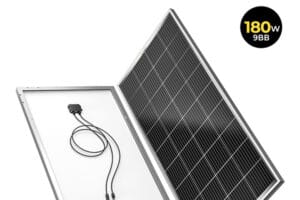 This Renogy inverter is compact and comes with a remote on/off switch, making it a good inverter for tight spaces like vehicles, trucks, RVs, etc. Two high-speed fans will also help keep it cool in those same spaces. With multiple connections and 6000W of surge for start-up, this is a good choice for DIY applications.
Cons
Weak Service. Use email for communication
Hard-to-reach mounting screws
Renogy is very popular with the DIY crowd, especially RVs and trucks. The inverter offers a lot of power, at 3000W and 6000W of surge, in a compact package. This inverter has two fans, protected connectors for safety, and is engineered for smaller spaces.
This inverter is 18.9 x 9 x 4 inches and only weighs 12.5 pounds, so it can be placed up under a shelf or down behind a seat. Mounting holes are located on the sides, but they may be tough to reach up under the heating flange on the sides of the inverter.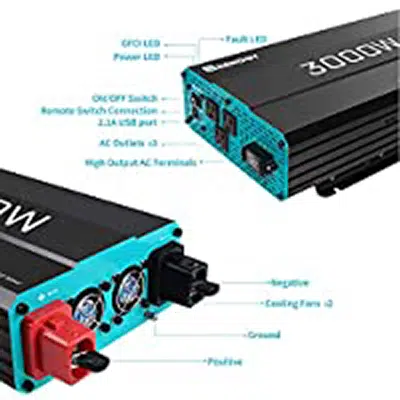 The front of the inverter does not have a digital or LCD display, but it does have LED indicator lights for power, fault, and GFCI. In addition to the hard-on/off switch (my preference) and remote switch connection, there are three AC outlets, one 2.1A USB port, and AC hardwire terminals.
There are not as many ports and connections as some other inverters, and I would prefer a 2.4A USB port, but these should be fine for most needs.
The back of the inverter has two cooling fans, a ground connection, and your positive and negative input terminals. The terminals have caps for safety.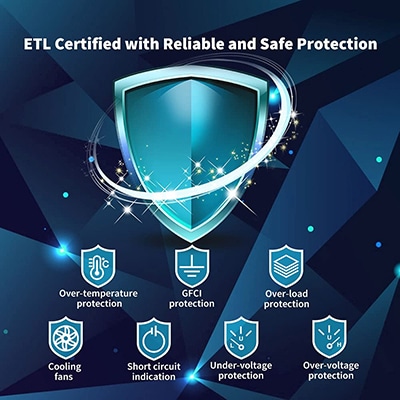 This inverter comes with a 19.8 cord for the remote but does not include battery cables, so you will need to purchase these.
This renogy inverter offers a good selection of features at one of the lower price points in this group. In addition to the features above, numerous safety features protect your inverter and system – overheating, GFCI, over-load, short circuit, etc., along with a 12-month warranty.
Heads-up: As mentioned above, customer service is one of the biggest complaints about Renogy and its warranty process. Customer service appears to have improved recently, but reviews are still mixed. Renogy also has a "30-Day No-Hassle Returns" policy.
AIMS Inverter
AIMS 3000W, 12V Pure Sine Inverter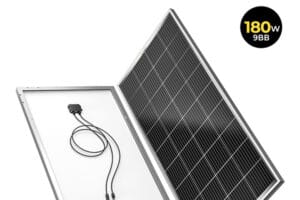 AIMS has been making inverters and specializing in the solar industry for over 20 years, reflected in their 3000-watt inverter. This inverter is more "bare bones" regarding accessories, but it is a powerful, quality-made inverter with what you need to run your equipment and appliances dependably.
Pros
Lifetime tech. and warranty support out of Nevada
AIMS has been in business for over 20 years, and its headquarters, warranty, and technical teams are located here in the US to answer any questions you have about their products. Their 3000-watt inverter does not have as many accessories as some of its competitors, but it has very good reviews and is a durable inverter that you can depend on when traveling or off-the-grid.
The aluminum casing on this inverter is durable and has plenty of cooling flange to dissipate heat. The inverter is 21.5 x 9.5 x 3.8 inches and weighs fifteen pounds, making it close to the 16-pound Giandel but shallow enough at 3.8 inches to fit on shelves and under truck seats.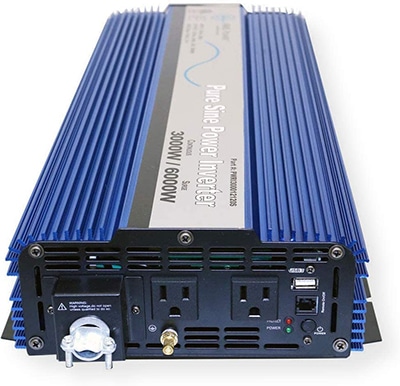 The casing has screw mounts on the side that are easily accessible so you can floor or wall mount the inverter.
The front of the inverter has an AC direct connect block for hard wiring and a ground terminal to protect against shorts. There are two AC outlets, a USB port, and a connection for the optional on/off starter switch. Power and fault LED indicators are included on the front by the on/off switch.
The back of the inverter has two DC terminals mounted in the center of the inverter. A cooling fan is located on each side of the terminals with plastic guards to separate the connections. I still prefer the terminals separated on either side of the inverter.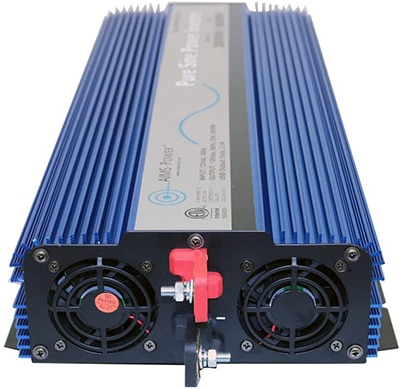 The AIMS inverter has multiple protections – overload, over temp, high voltage, low voltage, short circuit, internally fused, low and high voltage alarm, and states 90% efficiency.
This inverter also does not come with battery cables, so you will need to purchase them.
Heads-up: As mentioned, the on/off switch is optional, and I think having that flexibility is worth the $34. It would be nice to have it included in the price of the inverter, but unfortunately, it is not.
Go Wise Inverter
GOWISE 3000W, 12V Pure Sine Inverter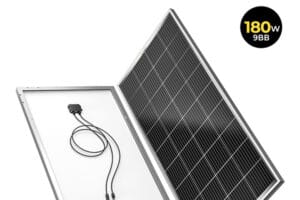 GOWISE users are very loyal and swear by the performance of their GOWISE inverters. This inverter is more expensive than the others but includes battery cables and an on/off switch with the inverter
Pros
Best service & warranty support in thsi group
Large size but light weight
Includes remote starter and cables
GoWise is another well-known manufacturer, and their popular 3000-watt inverter includes a remote on/off switch and battery cables. I'm not sure the cables justify the increased price, but I'll discuss that later in the review. This inverter receives good performance feedback and is dependable and durable.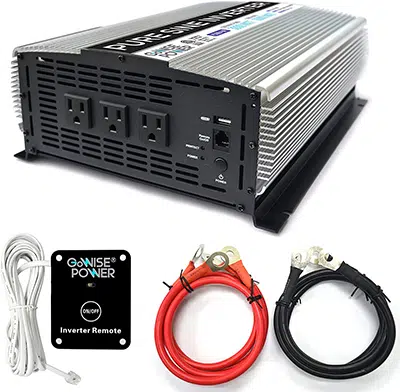 The GoWise is 9.9 pounds and 22 x 9.3 x 4 inches. This is a big inverter for 9.9 pounds, so the durable aluminum casing must house a lot of air. I'm not sure why they would not make the inverter smaller, but it is a good weight for mobile use.
The aluminum body has plenty of cooling flange to keep the unit from overheating, and screw holes along the sides are easy to access for mounting the inverter.
The front of the inverter has three AC outlets, one USB port, and a port for the on/off switch. There are two LED lights for Power and safety faults. Finally, there is a power switch on the front but no AC Direct block for hard wiring your appliances.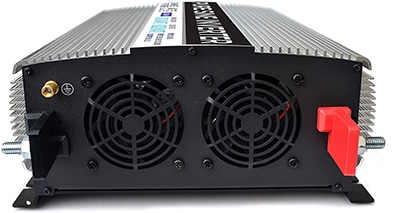 A ground terminal and your DC terminals are located on the back of the inverter, along with two cooling fans.
Heads-up: This inverter includes an on/off switch and battery cables, but the battery cables will be too small for what you use, the 3000-watt inverter to power. You also don't have an AC block, so you will not be able to hard wire this inverter, but they do carry a version you can hardwire.
3000W Inverters – Final Thoughts
The Pure Sine Wave inverter is the right choice if you use your inverter for sensitive equipment and have the budget. However, the Modified Sine Wave Inverters have their uses also.
I have both types of inverters, and they serve me well. However, I don't believe spending money on a Pure Sine Wave inverter is needed when all you need is a Modified Wine Wave Inverter.
Related Posts
Some of the links in this post are affiliate links. This means that when you click on one of these links, I earn a small commission at no extra cost to you. Also, as an Amazon Affiliate, I earn from qualifying purchases.