---
I have a 3000 watt inverter but I have never used it to run equipment up to 2000 watts. I believe most users can make do with a 2000 watt inverter. Some people also use it to power their off-grid cottages. However, I would suggest a 3000-watt pure sine wave inverter for an off-grid cottage. If you are looking for the best 2000 watt inverter, here are our unbiased reviews of the best selling 2000 watt inverters online.
I like to divide inverters into 3 broad groups
Modified sinewave inverter (usually cheaper)
Pure sinewave inverter (HF)
Pure sinewave inverter (LF) / Inverter charger
Don't worry. I will explain the difference later. For now, here are the top inverters for these categories.
Apart from these distinctions, you need to know what input voltage and output voltage you want. Most systems use 12V inverters but for larger systems you may prefer a 24V, 36V or 48V.
And there are 2 types of outputs that you can have. You can have the regular 110/120V for most applications in USA and Canada, or 220/240V that you can use for devices that require 240V (such as electric cookers, clothes dryers etc.)
Top inverters – (12 Volt DC to 120 Volts AC)
Top 2000 Watt Inverters – Pure Sinewave
These pure sine wave inverters will give you better and cleaner power output. You can use them for sensitive equipment. They are best suited for RVs, boats and other mobile applications. These are High Frequency 2000 watt Pure sine wave inverters.
Top 2000 Watt inverters – Modified Sinewave
Top 2000 Watt inverter chargers – Pure Sinewave LF
There are many 2000 watt modified sine wave inverter manufacturers in the market. However, I find that most of these inverters and made in China and as such they don't seem to last very long in the market.
From my experience, it is alright to buy them since the marketers are in the USA. The downside though is that some of them are here today and after a few years, they are not around anymore. The good thing is that the companies usually stay around. Above are the best 2000 watt modified sine wave inverters available in the market today (Oct. 2020)
I have one of these inverters that I have been using it since 2014. It has served me well in my home in Kuje where the power supply is quite unreliable.
The 2000 watt inverter comes in very handy for many users. It's capacity is beyond the regular 200 -500 watt inverters that you would use in your car. With a 2000 watt inverter, you can run almost all your household appliances and as such, it is very good for your RV or boat. A 2000 watt inverter can also power most power tools. sometimes it not the continuous running power of the tool that is high. Some tools require a very high starting power. Most 2000 watt inverters have up to 4000-watt peak power rating so they can handle most power equipment.
---
Criteria for choosing a 2000 Watt Inverter.
So you have decided that a 2000 watt inverter is what you need. You have also decided what waveform you are going for. Picking the right 2000 watt inverter still requires some skill. To make the process as easy as possible for you, we have put together a list of key points to consider when choosing your inverter.
Noise: Check how noisy the cooling fan is. Most 2000 watt inverters have automatic cooling systems that start a cooling fan once the temperature of the inverter becomes dangerously high. Some of these cooling fans can be quite noisy. If you will be using your inverter for power tools mostly, then the noise would not bother you. If however, you will be using the inverter at night when you would like it to be quiet, then take note of the noise.
The number of power outlets: Power Inverters are available with single outlets to power one device and multiple outlets (two or three outlets) to power multiple devices simultaneously. You need to decide the number of power outlets you would require. Take note that on some inverters, the power outlets can only power a fraction of the rated power. For example, a 2000 watt inverter that has 2 power outlets would only have to capacity to power a piece of equipment that requires 1000 watt each for each outlet.
The number of USB Ports: Some of the power inverters come with USB ports which allow you to charge a wide range of electrical and electronic appliances including cell phones, laptops, game consoles, power tools, and other household products while in the car. They come in conjunction with the power outlets or without. Having the USB port feature allows Smartphone, iPhone, Tablets and other USB product users to charge their devices with ease. You will need to choose an inverter based on
Safety Feature: Check what type of safety features are available. Some common ones are Overload, Temperature, and short circuit protection.
Size (Form Factor): You may want to be sure that your inverter can fit into the space you have for it. Inverters come in various sizes and weights. You can take the measurements of your previous inverter if you are replacing one or take the measurement of the space in your RV or home where you would like to place the inverter.
Types of 2000 Watt Power Inverters.
Generally, there are two types of power inverters that you can choose from. They include;
Modified Sine Wave Power Inverter:
This inverter type is a reliable, economical choice capable of running most types of devices especially basic household appliances. They cost less than the true sine wave inverters.
If the equipment an inverter will serve can run on modified sine wave current, you may as well save money and buy a modified sine wave inverter. They may cause equipment that requires pure sine wave to begin to operate inefficiently and exert more pressure than needed thus causing the equipment to wear prematurely and unexpectedly fail during operation in the long run.
Despite its shortcomings, this inverter is still considered a good choice for those who cannot afford the very expensive price of the pure sine wave inverter.
Pure Sine Wave Power Inverter:
When powering sensitive electronics such as microwaves, pure sine waves inverters are the best choice. They are a perfect choice for running appliances that pull a large amount of current. They reduce audible and electrical noise in fans, fluorescent lights, audio amplifiers, TV, fax and answering machines. They are more expensive than the modified sine wave power inverter but can run a wider range of appliances efficiently.
Best 2000 Watt Modified Sinewave Inverter.
KRIEGER 2000 WATT 12V DUAL POWER INVERTER
The Krieger KR2000 is a heavy-duty, compact 2000 Watt power inverter capable of powering the most demanding loads. It connects directly to a 12 Volt DC battery to power televisions, home electronics, power tools and other appliances in your car, truck, boat or RV.
This unit features a dual AC outlets and dual USB charging ports to keep your device charged. It also features a convenient LCD display showing output wattage, input voltage, battery level and warning indicators, to keep you updated on its operation. This inverter has all the protective features you will need including low voltage, high voltage, overload, temperature and short circuit shut down.
The Pros of this inverter includes
With the amount of power dissipated by this inverter, it is still slow to overheat. It has a lot of positive reviews from customers who have purchased and used it.
Installation kit that contains an ANL fuse kit that protects the batteries from accidental DC cable shorts, which can cause the batteries to explode, a wired remote control, and 3ft battery cables.
Ultra-silent thermal fan. A very quiet inverter.
Warning indicators and an awesome LCD readout that displays input voltage or output wattage and battery level, thus making it easy for the user to dictate what is going on.
USB ports for powering your smartphones and tablets.
They have a good customer service quality. They have the best warranty plan for labor and parts which are valid for 3 years.
The cons of this inverter
It is not as portable as the Bestek 2000W power inverter.
With this inverter, you will never be left without power when you need it.
TOP 2000 WATT PURE SINE WAVE INVERTERS
There are 2 types of pure sine wave inverters. The low-frequency (LF) pure sine wave inverters and the high-frequency (HF) pure sine wave inverters.
The LF inverters use a big copper transformer, so they are bigger, heavier and more expensive. They are also better with equipment that requires high starting power such as compressors and air-conditioners, especially if you use these equipment regularly and for long periods.
The HF inverters use smaller transformers and electronic components. They are lighter in weight and are less expensive. These are good for the occasional user. There is no need to spend so much money on an inverter if you will only use it for a few hours a week. These inverters are also perfect for electronic equipment and smaller devices even when using them for several hours daily.
As you choose your pure sine wave inverter today, make sure you choose the one most suitable to your needs. The more expensive ones are the LF inverters and the less expensive ones are the HF inverters.
Although the pure sine wave inverters are relatively expensive, it is highly recommended for you to get one if it is within your budget scheme. Prolonged use of demanding appliances such as microwave, on the modified sine wave inverter can cause your device to begin to wear out gradually and fail unexpectedly. Pure Sine Wave inverter eliminates this risk. Based on research, here are the top pure sine wave inverters that can run your devices smoothly.
XANTREX PROWATT 2000 WATT INVERTER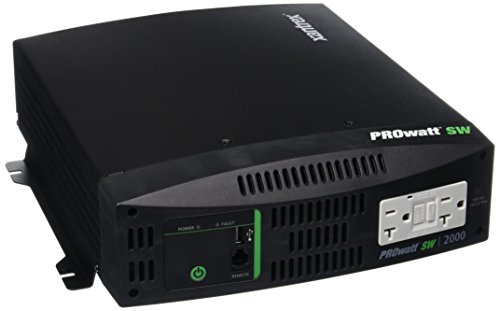 Xantrex ProWatt 2000 Inverter is a compact inverter that provides the necessary current to start up demanding electrical loads. It is equipped with a variety of safety features like the overload protection, thermal protection, high and low voltage shutdown. It has the option of a wired remote control panel which gives this inverter the ability to provide automatic ignition lockout. You can shut down the inverter when not in use to prevent unnecessary battery drain.
It comes with a full 2-year warranty.
PROS
It has LCD display unit which lets you monitor system performance at a glance.
You can safely power loads directly from 2 GFCI-protected AC outlets on the front panel.
The optional PROwatt Remote Panel lets you control the inverter from a convenient location, up to 25ft.
It is an ultra-silent inverter as its fan are very silent while running.
CONS
No hardwire port which means that you cannot connect directly from the inverter to your home circuit box.
It does not have settings that allow you to change your frequency between 50-60Hz depending on which frequency is in operation in your location.
A lesser number of USB ports than some of the similar rated pure sine wave inverter.
---
GOPOWER 2000 WATT INVERTER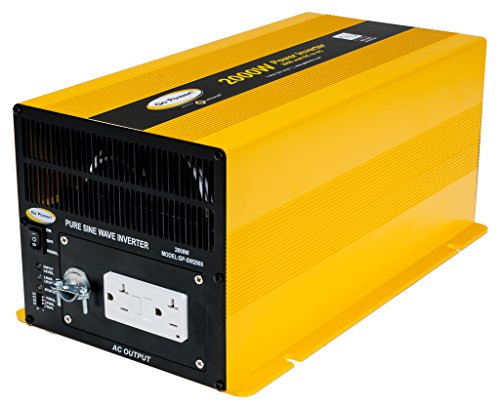 The GP-SW2000 Go Power is one of the most powerful inverters in the market. It is an excellent choice for sensitive loads & large loads that demand a clean, pure source of AC power. With 2,000 watts of continuous power and a surge rating of 4,000 watts, this unit provides reliable pure sine electricity that is just as good as the energy from a local utility. making it suitable even for equipment and appliances with a high draw load on startup. It features 2 GFCI protected outlets and hardwire port and protection features such as over-voltage, under-voltage, and overload protection. It is a Low-frequency unit.
PROS
The AC ports are GCFI protected. You can safely connect your equipment to the inverter even in wet locations and not stand the risk of getting electrically shocked.
Hardwire port which allows you to connect directly from the inverter to your home.
A ultra-silent inverter as its fans is also very silent while running.
It has settings that allow you to change your frequency between 50-60Hz depending on which frequency is in operation in your location.
It is a low frequency unit
CONS
It does not have an LCD display unit which would have been a much better substitute for the LED lights.
An absence of USB ports which is a huge problem if you forgot to bring your charger along while on a trip or at work.
A little more expensive
---
CONCLUSION
All the pure sine wave inverters on this list are very efficient and reliable. You should make a choice based on your need and budget. However, I'd recommend the Xantrex ProWatt 2000 Inverter which has the most buzz and positive reviews from the past and present customers on and off Amazon. It is a safe, reliable and portable choice of power for your RV, trucks and other marine applications. Its safety features keep power in check and notify you in the event of a problem. I believe that getting this inverter will be a great choice for you and your electrical conveniences.
The other inverters on this list are great choices as well and can power up a variety of appliances and electronics efficiently. Whatever your choice inverter is, be sure to buy an adequate battery so that you can enjoy your product to the fullest.
(Visited 605 times, 1 visits today)
Some of the links in this post are affiliate links. This means that when you click on one of these links, I earn a small commission at no extra cost to you. Also, as an Amazon Affiliate, I earn from qualifying purchases.