---
There are many suitable 4,000W inverters on the market right now, and this post will help you narrow your search.
If you are looking for a 4000W inverter, then you are probably looking for an inverter to power your off-grid cabin, larger boat, or RV. If this is the case, you probably want to include more sensitive appliances and electronics.
I'm going to assume this is probably the case and focus on pure sine inverters. So first, I'll review some of the basic functionality and then provide you with the options.
If you want to dive deeper, look at this post on inverters and how to choose what you need.
Inverter Categories
Let me briefly explain the different types of inverters and how to narrow down your choices.
Input Voltage – 12V, 24V, 36V, 48V
Input voltage is the power required to operate an inverter. The power you want and need is really up to you. When sizing your inverter, you are considering your nominal battery voltage and AC output voltage.
Output Voltage – 110/120V or 220/240V
The output voltage is the AC output. The power is the same, with differences were often seen in efficiency and resistance losses. Example: A pump is located far from a house. Because of the distance and load, the owner may use smaller wires and 240V.
Waveform – Pure Sinewave or Modified Sinewave
These are the most common types of waveform inverters sold. Modified is rougher power and typically used for less complex tools and equipment. Pure Sine inverters provide cleaner energy, similar to what you find from utility companies. These run cooler and cleaner for more complex, sensitive electronics and appliances.
Design – Low-Frequency vs. High-Frequency
Low-frequency inverters handle higher power spikes better over more extended periods. However, they are also often more expensive, larger and heavier inverters.
Functionality – Inverter or Inverter Charger
Inverter chargers are more expensive because they will charge your batteries when powered through a standby generator. This is good when you plan to use your inverter as a backup for short power outages and don't want to bother with solar panels.
Modified Inverter
There are two main output waveforms for Power Inverters – the modified sine wave inverter and the pure sine wave inverters.
Best 4000 Watt MODIFIED Sinewave Inverters
Below are two of the market's most popular modified sine wave inverters.
Kreiger 4000W, 12V Modified Inverter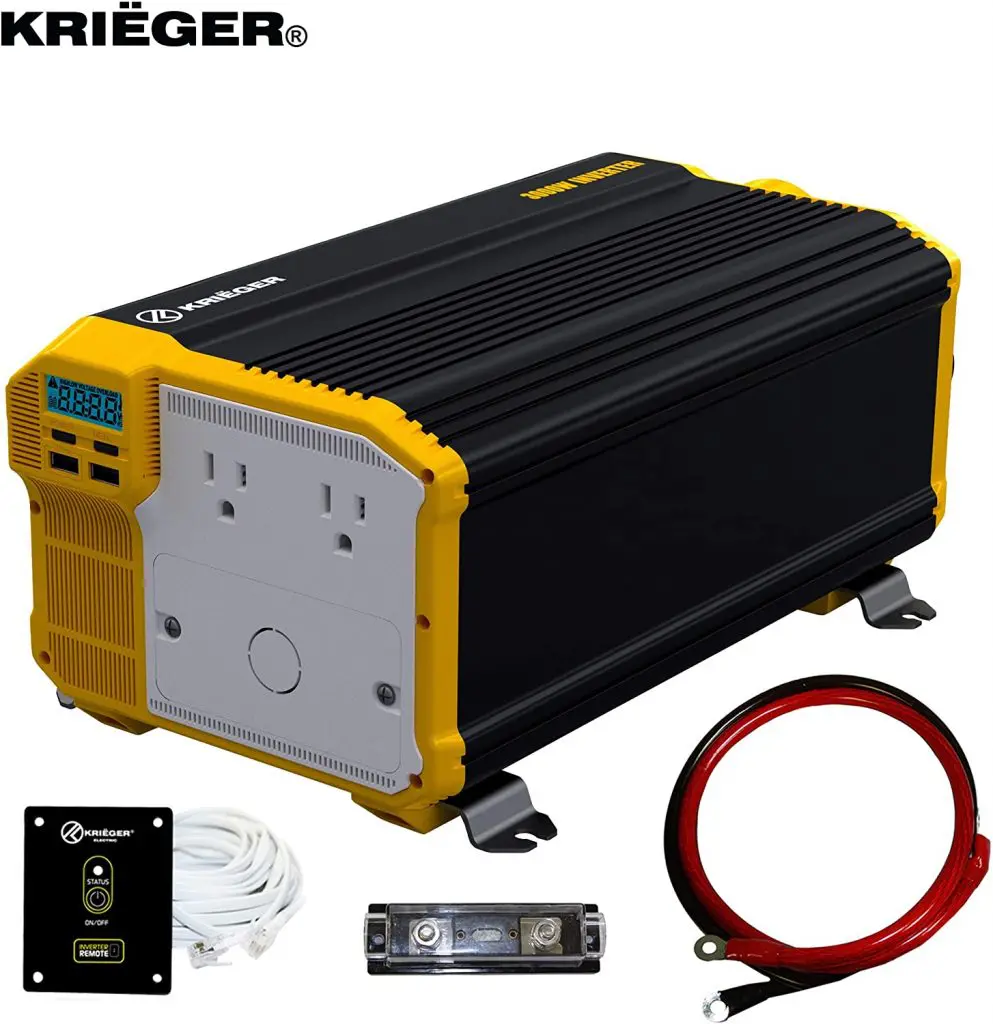 Pros
3-Year Warranty
Excellent reputation & reviews
Cons
Battery cables are a little short
Connectors are small
Kreiger makes one of the most popular modified inverters on the market right now, and they back their inverters with 3-Year parts and a labor warranty.
This inverter is easy to wire and use and provides a wired remote control which is very convenient when the inverter is tucked away. In addition, the inverter offers 8,000 watts of peak power and numerous safety features.
Features: 2x 110 AC outlets, 2xUSB Outlets, Quiet Fan, 3′ battery cables, Dimensions: 15.5 x 7.62 x 5.5 inches, Weight: 11.4 pounds, ANL inline Fuse, Built-in hardwired kit for applications larger than 15 Amps, Safety Protections (Overload, over-voltage, under-voltage, high temperature, and short circuit), ETL Approved Under UL STD 458
Energizer 4000W Modified Inverter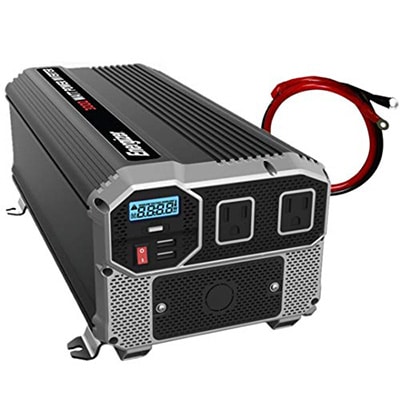 Pros
2-Year Warranty
User-friendly inverter
Cons
No external fuses
USB ports are a little close together
Energizer 4000 watt Inverter
The energizer brand is well-known and has a good reputation. The Energizer 4000-watt inverter is one of the most popular modified sine wave inverters currently available online. We have listed its features for you to make your decision easier.
The Energizer offers 2-Year parts and labor warranty which is still very good for its category. It also has a wired remote, but in the case of the Energizer, it will need to be purchased separately.
Features: 2×110 AC outlets, 2xUSB Outlets, 8,000W Surge, ired remote is purchased separately, Quiet Fan, 3′ battery cables, Dimensions: 15.2 x 7.6 x 5.5 inches, Weight: 11.5 pounds, Safety Protections, (Overload, over-voltage, under-voltage, high temperature, and short circuit), Hardwire Kit, ETL Approved Under UL STD 458
Best 4000 Watt PURE SINEWAVE Inverters
There are two types of pure sine wave inverters. The low-frequency (LF) pure sine wave inverters and the high-frequency (HF) pure sine wave inverters.
The LF inverters use a big copper transformer, which is more extensive, heavier, and expensive. Therefore, they are also better with high starting power equipment, such as compressors and air-conditioners, mainly if you use them regularly and for long periods.
The HF inverters use smaller transformers and electronic components. As a result, they are lighter in weight and are less expensive. As a result, these inverters are suitable for electronic equipment and smaller devices when using them for several hours daily.
Best 4000 watt Pure Sine Wave Inverter – 12 Volts
The three 12-volt inverters below have good reputations and very good feedback. They also provide the features I look for when purchasing an inverter.
AIMS Power 4000W, 12000 Surge Pure Sine Inverter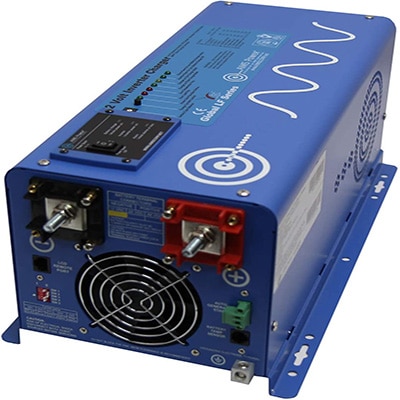 Pros
Heavy-duty low-frequency inverter
It runs quietly, but fans do run with heavy loads
Well-made, quality, and durable
Cons
Keep in mind it draws a good bit of idle power
Heavy inverter, but it is low-frequency
1-Year Warranty is shorter than I would like to have
This low-frequency inverter is a beast and a choice for a few reasons. First, AIMS is located in Nevada, has been in business for over 20 years, and offers a good warranty and technical support. Second, inverter manufacturers go online, and I always lean towards established ones.
This inverter can handle up to 12000W of surge for up to 20 seconds, and the features and protections it provides at this price are exceptional.
If you are looking for a heavy-duty inverter for your industrial truck to run tools, an RV, or an off-grid cabin, this inverter should be on your list of top inverters for consideration.
Note that the price I have listed is for ShopSolarKits.com. It is the same as the Amazon price. The benefit of buying from SSK is customer service. You get the expertise of AIMS and excellent support from SSK.
Features: 12,000W surge, 33 AMPS, low frequency, auto transfer switch,115A smart battery charger, supports eight battery technologies – Lead, Gel, AGM, LiFePO4, etc., Protections (overload, over temp, high voltage, low voltage, short circuit, internally fused, low and high voltage alarm, cooling fan, isolated ground neutral, etc.), AC direct connect terminal, current control dial, priority switches, auto-gen start, coated, power save mode, battery temp sensor, 72 pounds, dimensions: 23.5 x 8.59 x 7.05 inches, remote starter (optional), control panel (optional)
GIANDEL 4000W Pure Sine Inverter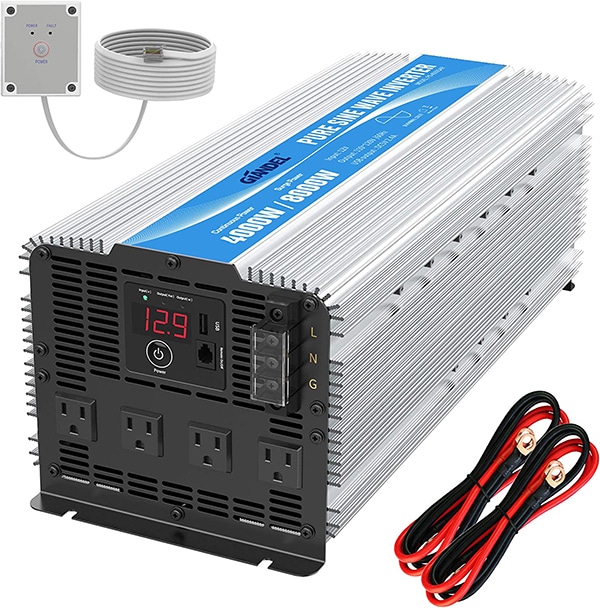 Pros
Very durable construction and is relatively quiet
Can replace fuses inside the inverter
Cons
You will need to upgrade AWG cables for heavy loads
I can only contact the company via email, but they are responsive.
Giandel makes a reliable inverter with many features for this price point. This makes this an excellent versatile inverter for work, home, or camp.
This may be a small detail for other users, but I like the durability of the inverter. It has a solid aluminum casing that allows me to move it where I need it without worrying about being overly careful with it.
Features: 8,000W peak surge, LED Display, 4x Battery Cables, Internal fuses:16*30A, 12V AC120V, high frequency, 4xAC Outlets, 1×2.4A USB port, remote control w/30 ft. cable, Protections (Over voltage, Low voltage, Overload, Short circuit, Overheat, polarity reverse protection(fuse). Auto-restart function & GND protection from leakage of electricity (lightning strike). Intelligent cooling fan, Isolated Input/Output Design, Soft start tech, 24.3 pounds, dimensions 18.9 x 7.8 x 6.1 inches.
WZRELB 4000W, 12V Pure Sine Inverter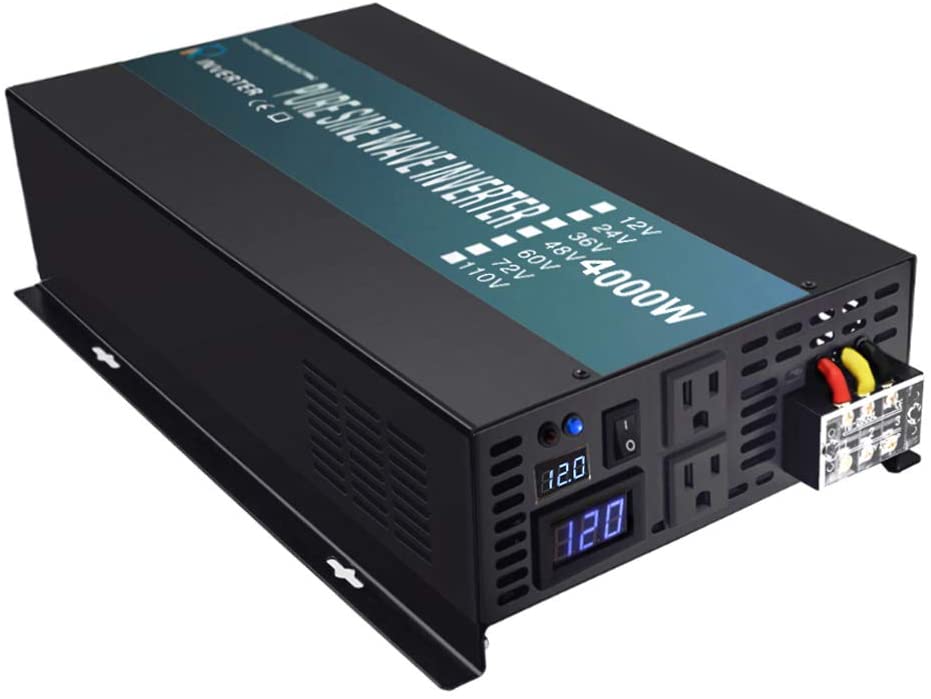 Pros
Good price point
Thick PCB board for capacity
External fuses
Cons
No remote option
No USB ports
Prefer side-by-side AC output
The WZRELB inverter provides a good combination of quality and price. You get an excellent pure sine inverter at what is currently the best pure sine price on this list.
This is a compact converter, so if you want something that fits behind or under your seat while still providing an impressive amount of power while running quietly, then this is a good choice.
Features: 8,000W peak surge, LED Display, 4x Battery Cables, 12V AC120V, high frequency, 2xAC Outlets, 1×2.4A USB port, remote control w/30 ft. cable, Protections (low voltage alarm, overload, over current, surge power, reverse connection, short circuit by fuse). Intelligent cooling fan, 15.9 pounds, dimensions: 18.11 x 8.15 x 3.66 inches
The Best 4000 Watt Inverters – Final Thoughts
The 4000-watt inverter is a good choice because it gives you capacity for appliances that may require high starting or surge power.
However, if you are looking for a low-budget inverter and don't have sensitive equipment to control, such as a CPAP and other sensitive equipment, then consider the Kreiger or Energizer Modified Sinewave Inverters.
If you have sensitive equipment or are concerned about the long-term effects of modified sinewaves on your equipment, then the Giandel and WZRELB are good Pure Sinewave Inverters.
If you want a powerful low-frequency inverter, AIMS is an excellent inverter.
Related Posts
Some of the links in this post are affiliate links. This means that when you click on one of these links, I earn a small commission at no extra cost to you. Also, as an Amazon Affiliate, I earn from qualifying purchases.