---
Solar Panel Kit Overview
A 1000-watt solar panel kit with the right size inverter and battery bank will provide an off-grid solution for small cabins, RVs, boats, etc.
There are several reasons to consider a solar kit.
New to Solar – A kit is an excellent place to start if you are new to solar.
Compatible – Ensure all your components are compatible
Cost – You can potentially reduce the cost of purchasing pieces separately.
This post discusses planning for a 1000W system and items to consider before purchasing. Planning is a critical step and can be the difference between a system that works and one that wastes your time and money.
Finally, I'll recommend a few solar kits currently on the market.
Why a 1000 Watt Solar Panel?
You do not need a 1000-watt solar panel kit to start your journey off-grid, but a kit this size is a good start. This size solar panel kit will provide enough power during the day while also charging batteries to be used at night.
If a 1,000-watt kit is more than you think you need, you might consider a 500-watt solar panel kit.
How Much Energy Will a 1,000-Watt Kit Generate?
Many solar panel kits are 24-volt systems. While you can use a 1000-watt solar panel system with a 12-volt system, the downside is that you will draw more current from your batteries and may lose power when your battery cables heat up.
A 1000-watt solar panel system will deliver 1000 watts to your batteries every hour the sun is directly over the panels. So, depending on your location and time of year, you will get an average of 5 – 12 hours of sunlight daily.
This means your 1000-watt solar panel kit can theoretically deliver 5,000 – 12,000 watts of power to your battery bank. In practice, estimate 50-70% of that amount. The sun is only directly over your panels for about 1 hour daily. The rest of the day, the sun is at an angle, and your panels will not deliver the total 1000 watts.
You will also need to consider other factors when planning your system output.
Weather – There will be cloudy days when you receive very little sun.
Time of Year – Depending on the season, you may have less sunlight.
Efficiency – Knowing the efficiency of your equipment is important – solar panels, inverters, charge controllers, etc. They don't operate or provide output at 100%.
What Size Solar Panels Should I Consider?
Right now, there are no single 1,000-watt solar panels on the market. Instead, there are a few 400-watt solar panels on the market, and recently single 500-watt solar panels hit the market. This article is from 2020, but the size of 500W panels still makes them practical for industrial uses and not personal home use.
How, then, would you get your 1000-watt solar panel system? You can combine and purchase efficient solar panels that generate increased output in a smaller footprint.
With a combination of solar panels, you can achieve a 1,000-watt system.
There are a few things to remember as you choose your solar panels.
Space – The amount of space you have for solar panels is important. Less space will require more efficient panels.
Expansion – Do you plan to expand your solar system in the future? There is a good chance you will if this is your first system.
Durability – This is important if you will be remote. Check the warranty and make sure your panels meet durability standards.
How Many Batteries Do I Need for a 1000-watt Solar System?
I suggest you consider at least a 200AH battery bank. This means you can run 12 x 200 watts of power for 1 hour or 200Watts for 12hrs. This also depends on how deeply you deplete your batteries. Most deep-cycle batteries can only be drained up to 50% of their rating. This means you can run 100 watts for 12hrs on a 200AH battery bank.
A new type of deep cycle battery called the LiFePO4 battery can be depleted deeper and still be charged. As a result, they are more expensive but more efficient.
A 200AH Battery bank can be achieved with two 100AH batteries or four 50AH batteries. You can also purchase a 24V, 200AH battery.
Planning Your Solar System Needs
Planning your Solar System needs is essential, and if you are trying to narrow down exactly what you need, I've included what I consider one of the better videos below.
The video is about 15 minutes long and will help you size your system and its components.
The 800W Solar Panel Kit from Renogy is a comprehensive solar kit with the components needed to start your solar project.
Renogy 800W Solar Kit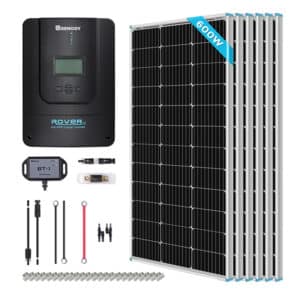 Components: 8 × 100W panels, Rover60 MPPT Charge Controller, BT1 Module, 8 × Mounting Z Brackets, 1 Pair x Solar Y Branch Connectors, Cables: 20ft 10AWG Adaptor Kit, 8ft 4AWG Tray Cable, 2ft 4AWG Fuse Cable, Fuses: 15A In-Line FUSE, ANL 60A FUSE
The MPPT Rover60 Solar Charge Controller has multiple safety features (reverse polarity, overcharging, overload, short-circuiting, reverse current, etc.), a convenient LCD screen, and can detect 12V, 24V, 36V, and 48V systems.
The BT-1 Bluetooth Module allows you to communicate with and monitor your system. This can be done on your phone up to 82 feet away, making this a convenient system.
The 8 x 100W Monocrystalline solar panels are high-quality with IP65, and IP67-rated junction boxes and connectors, making them highly weather-resistant.
Advantages and Disadvantages
Renogy makes good products, and this is an excellent solar panel kit. The Rover is a powerful MPPT Charge controller, and the 100W solar panels are some of the best in their category.
Bluetooth technology is convenient, especially if you want to monitor your system outside your vehicle or cabin. Of course, you still have to be pretty close to use the technology, but it is better than squeezing it into the closet.
Although not a con, this kit does not come with other primary components like an inverter, batteries, etc. You will also likely need more cabling (and larger), installation tools (crimping), additional fuses, etc., so make sure you lay out your plan before starting the job.
Finally, always check prices at Amazon, Renogy, and ShopSolarKits.com. Right now, the lowest price can be found at ShopSolarKits.com, but these are constantly changing. For example, there is less cable in their 24V version.
ShopSolarKits.com 1200W DIY Kit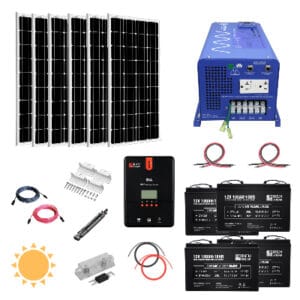 This comprehensive solar kit provides everything you need for an installation except mounting brackets and rails. The components are also high-quality – 24V, 3000W Inverter, MPPT Charge Controller, Monocrystalline solar panels, and a Bluetooth module.
Pros
Most complete system in this group
Comprehensive Installation Instructions
Very good customer service
Cons
Expensive but comprehensive
Components are quality made, and they have three distribution centers here in the United States, where their corporate headquarters are also located, so faster ship times and reduced damages are an advantage.
This is an excellent system for small off-grid cabins, power backups, or a mid-size RV / mobile business office. This kit comes with a 3,000W Inverter / Charger 120V Output / 24VDC + [5.12kWh-7.68kWh Lithium Battery Bank] + 6 x 200W Solar Panels.
Advantages and Disadvantages
You will pay more for a ShopSolarKits.com system, but you will also get more for your money.
Some of the best support and customer service in this business. This includes the after-support once you purchase one of their systems. They also provide the best installation guides and schematics available.
They use quality components for all their kits and will help you put together exactly what you need.
They are located here in Nevada, as is their technical and warranty service. If you have any questions at all, call them, and they will actually answer the phone.
Although comprehensive, there are still a few things you may need. This includes cabling, fuses, and crimping tools for installation. Don't worry; they are there to help you figure out what you need if you need assistance.
Rich Solar 1200W Kit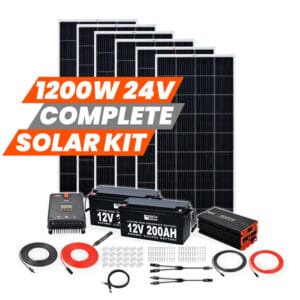 Rich provides batteries, an inverter, and a charge controller. They also provide the hardware needed for installation, which many competitors do not. Rich is not new to solar, but in the last few years, they have vaulted to the top due to price, quality, and reputation.
Pros
Free shipping and returns
30-Day Money Back Guarantee and Lifetime Support
Cons
Expensive but comprehensive
The components in this kit are all produced by Rich, and they are all compatible and capable of expansion with other Rich parts.
Components: 6x 200W 12V Panels, 1x 60A MPPT Charge Controller, 2x 200AH 12V Lithium Battery, 1x 3000W 24V Inverter, 6x Z Brackets, 1x 2 AWG Battery Interconnect Cable, 1x 30′ 10 AWG Solar Cable – Panel to Controller, 1x 10′ 4 AWG Battery Cable, 1x 30A Inline fuse holder, 1x Y Branch Parallel Adapters
Advantages and Disadvantages
Unlike some manufacturers, Rich Solar Does not hide their Warranty and Guarantees on a supporting page or in the fine print. These are right there on the page with their products.
Rich also guarantees their products and provides a number for you to call them, and not just a chat box that MIGHT get a response the next day.
Their products are quality made, produced by Rich, and you can pick them up if you live in CA or anywhere if you want to make the drive. This is a BIG plus for me since shipping and breakage are the most significant issues for solar panels. You can also talk with a live person!
Rich is also expensive, but like ShopSolarKits.com, you get more hands-on service, quality components, and comprehensive kits than some other solar kits.
Summary – How I Rated these Kits
Since I can't purchase all of the solar kits, I try hard to gather reviews from those that have purchased them. I also spend hours in forums getting feedback on the manufacturers and their products.
These solar kits have some of the best feedback and reviews. Solarkits.com received some of the highest scores because of its service, support, and quality feedback. On the other hand, although Renogy makes quality products, their support and instructions are their Achilles' heal.
I will say that over the last couple of years, it appears that Renogy has begun to strengthen its support and service from a technical perspective, but they are still hard to reach unless you use email.
Rich Solar is interesting. They are somewhat of a new kid on the block, and their star is rising fast. They make good products at a reasonable price and support them with good service.
These solar kits are a good choice, but they all have different components, strengths, and weaknesses. They are not inexpensive either, so make sure you lay out your system plan and research each one before making a purchase.
FAQ
Can I purchase and install my solar panels?
The simple answer is yes. There are many things to consider before you purchase your system. What size do you need? What components are required? How much room do you have for panels? These are just a few questions, but it is becoming easier to do it yourself with more resources to consult with the evolution of Solar Technology.
How much will a DIY solar system cost?
The 1,000k kits above cost anywhere from $1,500 – $3,300, and prices vary based on components included – panels, battery, charge controller, Inverter, etc. In addition to these system parts, you will need racking for the batteries, cabling, etc. These can add up, so plan and price your system before purchasing.
Do you save money with solar panels?
Solar panels will save you money on your electric bills, depending on your location (peak sun hours) and what type of system you install.
Related Posts
Some of the links in this post are affiliate links. This means that when you click on one of these links, I earn a small commission at no extra cost to you. Also, as an Amazon Affiliate, I earn from qualifying purchases.