---
Just in case you're wondering why anyone would need to read an elaborate article on the best RV battery; we should probably point out that finding the best RV battery might be the only difference between; whether you thoroughly enjoy your RV experience (especially when you're off the grid) or whether it feels you with such deep seethed misery that you decide never to do it again (by 'it' we mean going off the grid with your RV – or even driving the RV at all)
Face it. Electricity is the life and bane of human existence. Okay, it may not be that serious, but it surely is a basic need; and you cannot entrust the task of providing electricity to just any battery. So, here is a collation of our top recommendations on the market, as well as a few tips and tricks for navigating the market and finding the best RV battery.
Battery Tender Lithium Battery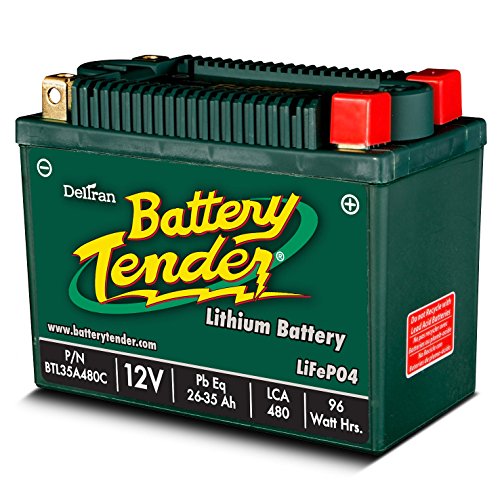 Manufacturer: Battery Tender
Model: BTL35A480C
Weight: 20 pounds
Dimensions: 6.5 x 3.4 x 5.1 inches
For an RV battery that weighs merely 20 pounds, the Battery Tender BTL35A480C packs a surprising punch – however, in contrast to the manufacturer's claim that it produces five times more power and life than the typical lead acid battery (minus the acid), it doesn't deliver in terms of durability – mainly if used for extended periods at a time.
Notwithstanding, the battery delivers a few thousand deep cycles until it reaches 20% – as well as fits easily into most RV battery boxes thanks to its foam spacers and Quad terminal configuration feature that allows it to be mounted in virtually any direction.
To top things off, it is lightweight and doesn't stall because of its cranking power. It certainly doesn't need any liquids or gels – thereby eliminating the safety hazard often associated with using batteries that require such liquids.
Pros
Lightweight – and still packs a punch
It can be mounted in any direction and fits into most battery boxes
No hazard of using liquid or gels
Quad terminal configuration feature
Cons
There is no information on using the charger for winter storage – if you're looking to use it for the winter.
Dimensions lower its chances of fitting in a big battery box.
Odyssey PC680 Battery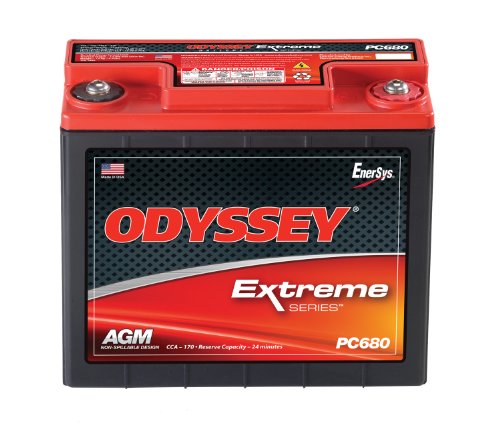 Manufacturer: Odyssey
Model: PC680
Weight: 15.4 pounds
Dimensions: 7.9 x 7.8 x 3.8 inches
One of Odyssey's biggest perks is its ability to withstand extreme temperatures and its vibration resistance feature that protects the battery chassis from vibration-related shock and extends durability.
The battery also delivers on the manufacturer's promise to recharge quickly – and boasts one of the most rapid recharge efficiencies of sealed lead batteries on the market.
It has a long cycle life and yields up to 400cycles even at 89% discharge depth. Overall, the Odyssey is an excellent buy except for the small deception you'll find in its ad that suggests that you might need to buy L terminal adapters separately – well, if you do, you might have an additional set of L terminal adapters because – surprisingly, the battery comes with its adapters.
Pros
This is a dry cell battery – which often means easier maintenance.
Provides up to 70% longer cycle life when compared with other deep cycle batteries
No need to purchase terminal adapters.
Cons
There are a few size issues when used with some RVs
Optima Batteries Deep Cycle Marine Battery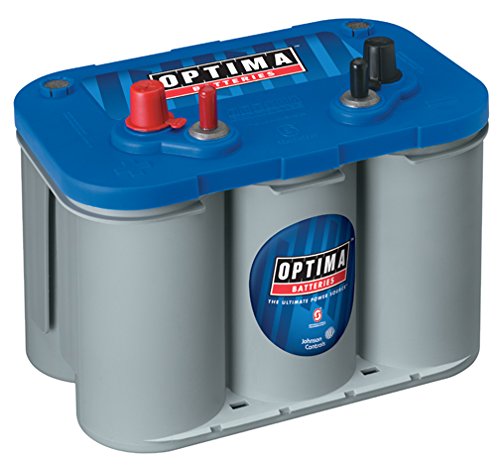 Manufacturer: Optima
Model: 8016-103 D34M
Weight: 43.5 pounds
Dimensions: 10 x 6.9 x 7.8 inches
If we had to have a favorite RV battery – it would be the Optima 8016-103; and it's not just because it comes highly recommended, with users raving about its excellent performance – it is because Optima batteries are generally impressively designed such that they are a notch higher than the typical batteries.
For one, this optima D34M is designed to function both as a deep cycle battery and a starting battery so that users that choose this battery will be guaranteed a battery that is both maintenance-free and that won't stall.
The battery also boasts a high reserve capacity and offers a long shelf-life and sufficient power – even in bad weather. The optimum D34M also tops the chart where vibration resistance and fast recharge time. Moreover, it can maintain optimum performance because of its unique Spiral Cell design, thanks to the formation of continuous lead plates.
Pros
It has dual functions – as a starting and deep cycle battery
Fast recharge
It is lightweight and durable.
Cons
Unlike the Battery Tender, its battery is not in well-protected packaging. And its dimensions are not one-size-fits-all, so remember to use the verification button on its Amazon page.
UPG Sealed Lead Acid Battery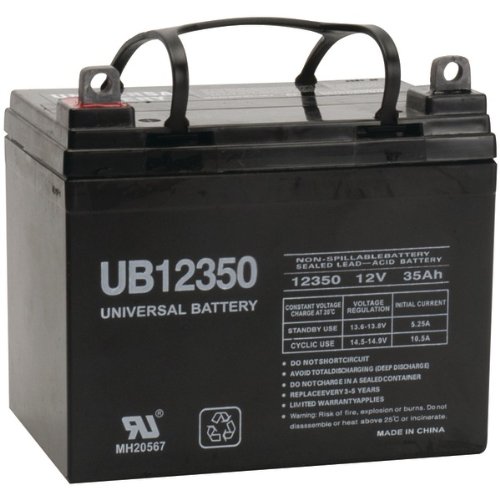 Manufacturer: Universal Power Group
Model: D5722
Weight: 22.4 pounds
Dimensions: 8.1 x 8.1 x 5.9 inches
Apart from the fact that the performance of this battery can be improved to be about ½" longer – such that it can accommodate more than the already allowed two connections per terminal without running out of thread – it is a clear winner.
The motor has an excellent performance rating (deep-cycle), cranking up to 13.6 volts, and the battery is multifunctional and can be used for various functions. This model might be the perfect battery for outdoor enthusiasts.
The battery is also designed to be installed in any direction – making mounting a breeze. It is also shock resistant, and its vibration-resistant capacity can be regulated using a valve. Overall, you will find the battery's longevity and versatility quite impressive.
Pros
Durable and versatile
Multifunctional and delivers an exceptional deep cycle performance
Cons
Stainless steel hardware does not allow for more than two connections.
Vmaxtanks AGM Deep Cycle Rechargeable Battery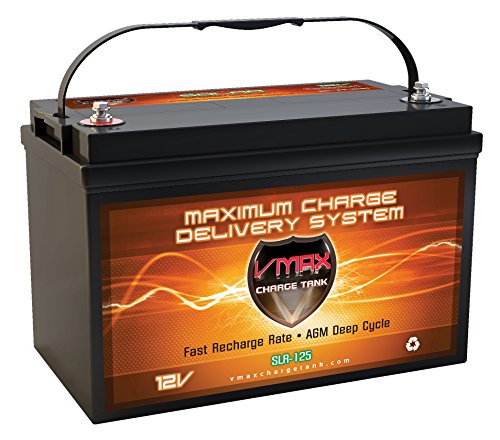 Manufacturer: Universal Power Group
Model: D5722
Weight: 22.4 pounds
Dimensions: 8.1 x 8.1 x 5.9 inches
The VMAX battery is explicitly made to function for solar panels, smart chargers, wind turbines, and inverters. So, if you have solar panels for your RV, this is one of your topmost options.
It is designed to last for long drives and is ideally crafted to withstand shock as its body has hex screws in its terminals and is made of military-grade plates. It is both multifunctional and environmentally friendly. Please take note, however, that while it is a deep cycle battery, it is safest for the battery not to be deep-cycled too frequently, and it is best to use up to 25% of the battery before charging it fully again.
Pros
Better power than most other batteries
Comes in excellent packaging.
Cons
Quite heavy compared to its counterparts
Steep price.
ExpertPower Rechargeable Deep Cycle Battery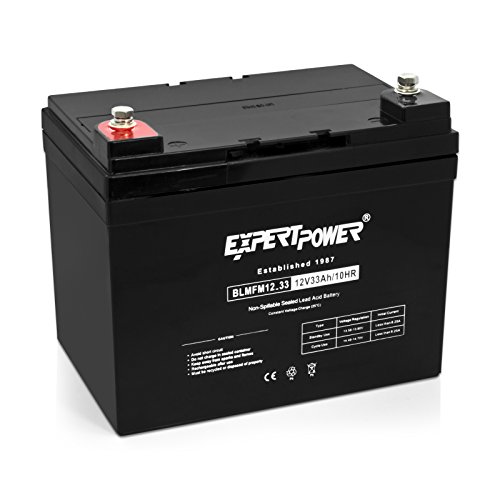 Manufacturer: Expert Power
Model: EXP12330
Weight: 23.2 pounds
Dimensions: 7.7 x 5.2 x 6.3 inches
Expert Power is a 12V deep-cycle lead-acid battery that utilizes AGM technology and is hands-down one of the most efficient batteries that can be used for the mobility of your machine. It is user-friendly and versatile and requires minimal maintenance – not to mention; it is enclosed in a durable casing with the acid sandwiched in-between plates that are immobilized by fiberglass.
It runs efficiently regardless of weather conditions and is accompanied by a spill-proof valve regulator so that the battery can be placed at virtually any position and remain without any leaks.
Certainly a winner.
Pros
Sturdy and well designed
Versatile and lightweight
Performs regardless of the weather.
Cons
Compared to other lead-acid batteries, the battery doesn't last very long.
Related Posts
Some of the links in this post are affiliate links. This means that when you click on one of these links, I earn a small commission at no extra cost to you. Also, as an Amazon Affiliate, I earn from qualifying purchases.