---
Solar Pool Heater
Solar Pool Heaters were not common when I moved to Connecticut from South Carolina years ago. I was excited my new house had a swimming pool. It was the middle of July and the perfect season for swimming!
That first leap into my Connecticut pool was memorable.
I think the exit from the pool was faster than the jump into the water!
Back then, there were few solar pool heater options other than solar covers, but now solar pool heaters are a great way to extend your swimming season and reduce energy costs.
In this article, I'll go through the basic information needed to decide on a solar pool heater and provide a few options.
What is a Solar Pool Heater?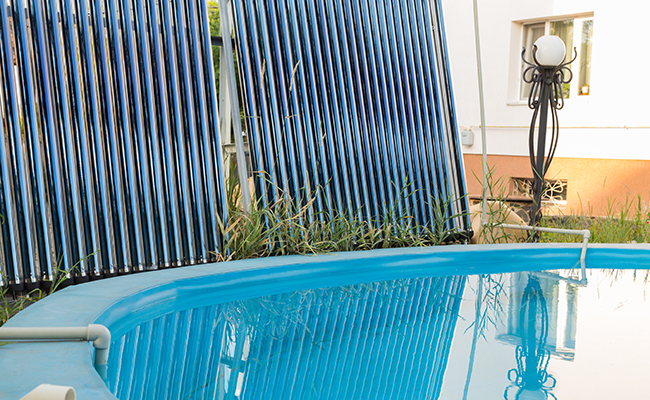 A solar pool heater uses the sun's energy to warm your pool water and can raise the water temperature 5-10 degrees.

This allows you to extend your swimming season and enjoy your pool longer.

A solar pool heater also eliminates traditional heater and fuel costs.

In summary…
The pump transfers water through a filter to remove debris.
A check valve sends water to collectors or bypasses the collectors. These can be manual or automated.
Water is warmed and sent back to the pool.
It is a pretty simple process. Water can even be cooled at night!
What are Your Solar Pool Heater Choices?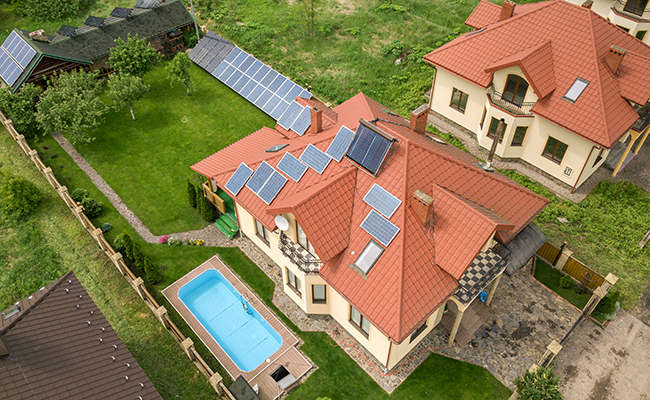 Once you decide on the solar pool heater you need, you can hire someone to install your solar heater or go the DIY Solar Pool Heater route.
DIY solar pool heaters run in the range of $100 – $3,000. There are a lot of choices!
Depending on the state and town you live in, it might be easier to hire someone. You may have to consider permits, electrical, incentives, etc. The whole process can become a little overwhelming, so do some research before making a choice.
Sometimes you will hear solar pool heaters referred to as "above-ground pool heaters" or "in-ground pool heaters." A solar heater for an above-ground pool is often the same one you will use for an inground pool, especially if you build it yourself.
If you want to use your pool year-round, consider combining a solar heater with traditional heaters.
Glazed vs. Unglazed collectors
Glazed collectors are encased in glass and built using metals like copper and aluminum. These collectors are more complex and expensive. They also are more efficient and require less space. They are better suited for colder climates or pools that run for longer seasons.
Unglazed collectors are often made of plastic and black rubber. They are not as efficient and less expensive than glazed collectors. These collectors are suitable for warmer climates and extending your swimming season.
Is a Solar Pool Heater Worth the Cost?
Heating your pool with conventional methods such as propane or electricity can be costly. Maintenance and fuel costs continue well after installation.
Energy.gov states that the payback on pool heater costs of a $3,000 – $4,000 system is 1.5 – 7 years, depending on fuel costs, system size, etc. It will probably be much less if you order or build your system.
I like the thought of building my system, not paying for fuel, and using solar energy. I like lower energy bills.
What are the requirements for a Solar Pool Heater?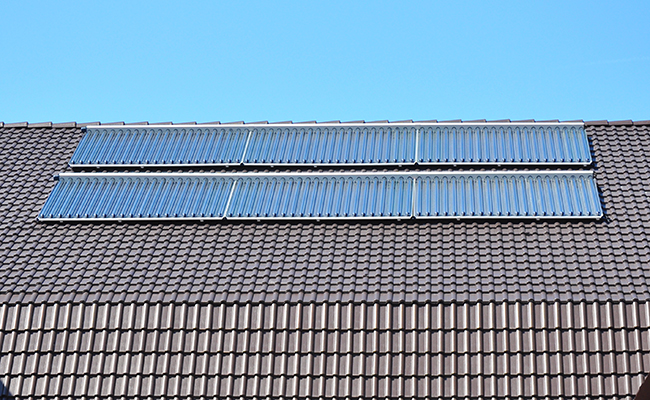 As part of the planning for your solar pool heater, there are a few things you should take into consideration.
Space for the system is important. Do you have room for the system you want to purchase, and does it have the correct exposure? You need room around or above your pool. Ideally, you want southern exposure for as many hours as possible, so consider the tilt and angle of the collectors.
Knowing the size of your pool determines the size of your solar pool heater. A common rule of thumb is your collectors need to be 50% of your pool surface. If you want to extend your swimming season, then expand your number of collectors.
Consider the size pump you need to move the water. If you replace the current conventional pump you already have in place, you may need a larger pump. You may also decide to get a smaller pump just for the collectors. Consider the size of the conduit to the collectors before purchasing the pump.
System storage is often overlooked. When you shut down the pool at the end of the swimming season, you often need to drain and store many solar heating systems. Make sure you have a good place to keep the system that is above 40 degrees. Extreme cold can damage and crack polypropylene and some plastics.
Permitting and building codes should be taken into consideration. Local ordinances can sometimes make building structures on your roof or adding electrical wiring difficult, so make these checks part of your planning.
Solar Pool Heater Options
The solar pool heater options below are what I would consider for my pool. After hours of review and conversations with friends who own a pool company, I consider the DIY Pool Heater options below the best for the price.
There is no such thing as a perfect Solar Pool Heater, but these are the best options for raising your water temperatures with the least amount of headache to install and maintain.
Final Thoughts
Below are a few tips to keep in mind.
Make sure you have all the parts you need. Many solar pool heaters don't have the necessary parts to install a full system. You will probably get panels and maybe connectors if that is what you decide to purchase.
Ensure that when you take down your solar system at the end of the season, you store it in above 40-degree temperatures. Freezing temperatures may cause cracks and damage.
Many people lay their panels on the ground. They don't have to be racked or mounted on roofs.
Related Posts
Some of the links in this post are affiliate links. This means that when you click on one of these links, I earn a small commission at no extra cost to you. Also, as an Amazon Affiliate, I earn from qualifying purchases.