---
Solar water pumps often become popular when the price of oil increases and everyone begins at alternative energy sources. This occurred in the late 70s, but as soon as oil prices dropped, the popularity of solar pumps declined.
A solar water pump is a device used to transfer water from one point to another. The pump is powered by converting solar energy from the sun into a direct current, which powers the water pump.
This article discusses how these pumps work, their types, their uses, and the good options currently on the market.
How a Solar Water Pump Works
A typical solar water pump consists of two primary sections – the solar panel, which converts the sun's energy into direct current, and the DC Water pump, which operates with 12 or 24 volts of direct current.
A solar power pump operates on electricity from solar panels or the thermal energy provided by collected sunlight instead of conventional electricity. Some solar power water pumps use a battery charged by solar power throughout the day so that the pump can be run overnight.
Solar water pumps convert solar power from the sun into electrical power to run a water distribution pump. Cells on solar panel systems are covered in a semi-conductor material that transforms the sun's energy into direct-current power. DC travels through electrical wires to power the pump, moving water.
The Benefits of Solar Water Pumps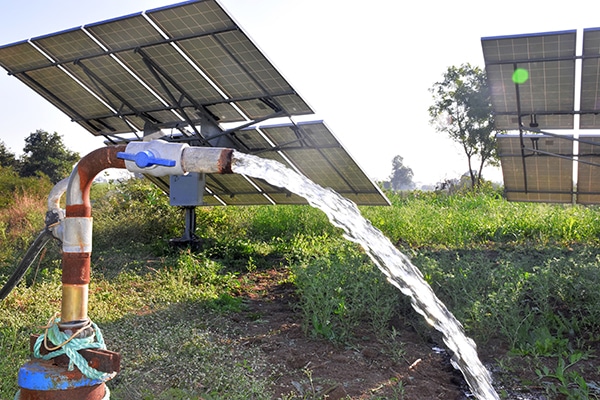 Solar Water Pumps have several benefits.
The running of solar water pumps is affordable because of lower operating and maintenance charges.
There are decreased environmental impacts simply by not using combustion engines.
Solar is helpful when no electricity is available, and the wind does not provide enough power.
A good alternative in rural areas where electricity is not available.
More efficient for water features, allowing you to place them where you want in your yard.
Types of Solar Pumps
There are two main types of solar power pumps.
Surface pumps are placed above the ground surface and move water via pipes. These are useful for moving large volumes of water at a gradual speed. Surface pumps are generally found on farms or where large irrigation systems are used, and water must be transferred from a lake or other body of water to landscaping or fields.
Submersible solar power water pumps are installed underground, but the panels are connected above the ground surface. Submersible water pumps transfer water from inside wells to the ground's surface.
How Solar Water Pumps are Used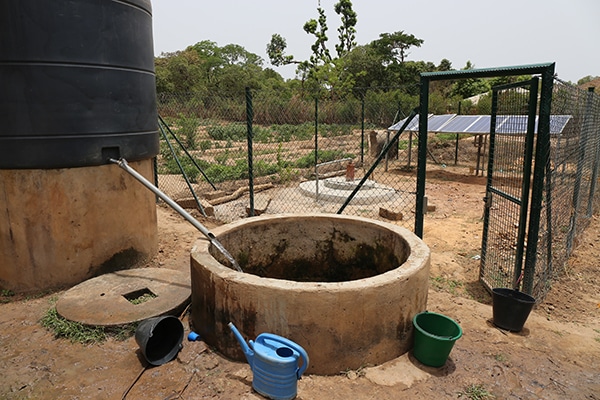 Solar water pumps have many popular uses due to their convenience and low maintenance.
Solar water pumps run fountains, swimming pools, and farm projects.
These pumps are useful in places where water sources are far away, fuel costs are high, or power is lacking.
Livestock watering is a common everyday use of solar water pumps.
Solar power water pumps are suitable for bringing water to rural areas like cabins or campgrounds.
Many people use solar drip irrigation for homes and gardens. This innovation has been around for many years, is cost-efficient, and there are many government subsidies and utility rewards for using it.
Solar pumps are used year-round in temperate areas. In addition, solar power water pumps are inexpensive to power and build.
Remember that water pumps using solar energy move smaller quantities of water over a long distance than traditional AC-powered pumps.
Solar Pump Options
There are many different solar pump options. Listed below are what I think are currently your best options to purchase online.
In addition to the options below, RPS is a good option for solar pumps.
Jenenseries
Jenenseries makes a perfect stainless pump with good reviews. You can support the pump with batteries when there is no sun, and it has a water protection sensor that shuts it off if there is no water available. Note that the pump is 3″, so you will need larger PVC piping due to attachments on the pump.
Features/Includes: Stainless steel deep well submersible pump, battery supported, but battery not included, intelligent water shortage sensor, NSK bearing with magnet brushless synchronous motor, MPPT technology, LED display, 7.9 gallons per minute, MPPT controller, float switch, spare screw, accessory kit, users manual.
Pros
7.9 gallons per minute
Quality MPPT controller
Water sensor technology
Cons
solar panels not included
Pumplus
Pumplus has a good reputation, specializing in solar pumps and offering a complete solar pump kit. This system is suitable for lawn irrigation, household tap water, swimming pools, cistern tank filling, water fountains, industrial and farming water supplies, and agricultural irrigation.
Features/Includes Deep Well Submersible Pump, 1HP, 1300L/H,50M Head, 5″ or more extensive well, long life, low and entire system sensors for full automation, high strength stainless steel water pump, 4x100W solar panels, MPPT controller, two batteries, cabling, and connectors.
Pros
6.5 gallons per minute
4 Monocrystalline solar panels
Max Head is 164 feet
Cons
More expensive than others but includes batteries and solar panels
Solar river
This is a dependable pump for a surface water pond, significant water feature, cattle trough, greenhouse, etc. If unsatisfied, the pump has a one-year warranty and a 100% money-back guarantee. This durable pump is a good value, with 20,000+ hours of run-time and numerous other features listed below.
Features/Includes Brushless magnetic pump, dry-run protection, removable pre-filter that prevents debris clogging, non-toxic to aquatic life, maximum lift 10 feet, 2×35 watt solar panels, 16 feet of tubing; note that there is no battery with this system.
Pros
Two well-made 35W solar panels included
Good customer service and response
100% money-back guarantee
Cons
Sensitive solar panels that need direct sunlight
Other Water Feature Options
If you are looking for a small solar pump kit for your water feature, Amazon has several options. These kits are relatively similar and generally range from $20 – $100.
Consider purchasing your components if you want a more durable system that will last you longer. This includes the pump, solar panels, etc.
Final Thoughts – Solar Water Pumps
There are many solar water pump choices. Whatever you choose, make sure it can handle your well-depth and the quantity of water you want to use.
If you choose to use solar, remember that you will need a battery to store your power to run the pumps at night. Pump pumps get bad reviews because "they quit running at night." This is because solar panels and MPPT controllers don't store power.
Related Posts
Some of the links in this post are affiliate links. This means that when you click on one of these links, I earn a small commission at no extra cost to you. Also, as an Amazon Affiliate, I earn from qualifying purchases.