---
Whether you are camping, traveling, or simply driving, there is no doubt that you'd want your electrical conveniences powered and ready for use. This is why you need a power inverter to power them while in your car. The Krieger 4000 Watt Inverter, one of the best 4000 watt modified sine wave inverters available in the market, is a heavy-duty, portable 4000 Watt power inverter capable of powering the most demanding loads efficiently and provides a backup automotive power supply. If you want to power a microwave oven, a TV, a laptop, or other similar electronic devices and home appliances, this inverter can do so smoothly. With this inverter, you have power on the go for your cars, trucks, boats, or RVs.
Why a Modified Sine Wave Inverter?
Although pure sine wave inverters are a more preferred choice due to their ability to produce clean power and run your electrical conveniences smoothly, the modified sine wave inverter can also be an excellent cost-effective choice for you, especially if you do not have too much load to run. This inverter type is perfect for running equipment on non-sinusoidal currents, such as your electric heaters and bulbs. The significant advantage of purchasing this inverter type is that it is less expensive than the pure sine wave inverters, and they run simple systems efficiently. If your equipment in your inverter will run well on a modified sine wave current, you may as well save money and purchase this inverter type.
Kreiger 4000W Modified Inverter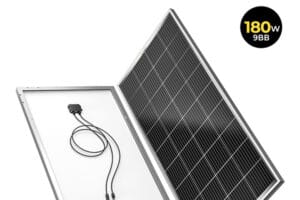 Like all of their inverters, Kreiger backs this workhorse with a 3-Year Warranty. With plenty of protections and an 8000W surge, this is perfect for any off-grid cabin, equipment, etc.
Technical Specifications
Model: KR-4000
Color: Black
Weight: 16 pounds
Product Dimensions: 20.2 x 9.8 x 8.3 inches
Continuous output power: 4000 Watts
Surge power capability [peak power]: 8000 Watts
Output Wave Form: Modified Sine Wave
DC Input Voltage: 12V
Input Voltage Range: 10.5V – 15.5V
AC Output voltage: 115V
AC Output Voltage Range: 110V – 120 V
Rated Output USB: 2 * 5V/max 2.1A (iPad)
Cooling System: Thermostatically Controlled Fan.
METLAB approved to UL and CSA standards.
The Krieger KR-4000W Inverter package includes these items: KR-4000W Power Inverter and an installation kit which include: a 3ft. two gauge AWG battery cables, remote switch with a 20ft cable, in-line ANL fuse kit, and user manual.
Features of the Krieger 4000 Watt Inverter

Power Rating
With 4,000 watts of continuous power, this inverter is guaranteed to run any of your appliances and equipment within its wattage range as long as the load is not greater than 4000 Watts. It also has a surge capability of 8000W, which helps to kick-start those appliances such as your microwave that require a large amount of power on startup. Before purchasing this inverter, you need to check your device's maximum continuous and surge rating. Do not purchase this inverter if your device's power rating exceeds this inverter's power rating.
Dual 3-prong 120V Standard North American AC Outlets
These outlets are the "Type B" North American NEMA 5-15 standard. They supply 120VAC to your appliances. If your appliances do not match the shape of these sockets, you will need a travel plug adapter to plug in. However, they are not GCFI protected like the pure sine wave inverters.
5V/max, 2.1A (iPad) Shared Dual USB Ports
This inverter features two 5VDC and 2.1A (iPad) USB ports. This allows you to power one or two single 2.1A-compatible tablet devices or two 1A USB-charging devices, such as your cellphones, while on the go.
Built-In Digital Display
It provides valuable information that helps you monitor the status of the inverter while in operation. For example, you will be able to know when the battery needs recharging, its input voltage, output power, and temperature shutdown. This feature is a huge benefit of purchasing this inverter as most similarly rated inverters do not have this visual feature.
LED Indicators
These indicators also work with the LCD to give you a status update on your inverter. A green LED indicates that the unit is on and receiving power. The green LED remains on whenever a shutdown occurs due to an error. A red LED indicates an error or alarm condition such as high voltage, low voltage, and voltage overload.
Heavy Duty Terminals
This feature lets you connect your batteries easily and accommodates large electrical loads. It has large positive and negative terminal lugs to supply the high current needed for this power inverter. A separate ground lug is also provided for the safe delivery of power.
Ultra-Silent Thermostatically Controlled Cooling Fan
The two small internal fans keep the unit cool while operating under heavy loads, so proper ventilation is required for reliable operation. Like the similarly rated inverters, they are thermostatically controlled, meaning they only come on when the temperature rises above the normal temperature range for this inverter.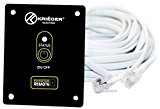 Remote Control Outlet
This port allows direct connection to the remote panel accessory, allowing you to control the inverter from about 25ft. You can turn it off and on without even having to move an inch. However, this port is not wireless, so you must connect the remote control using a communications cable.
Accessories for the Krieger 4000 Watt Inverter
ANL Fuse Kit:
This kit helps to protect the batteries from accidental direct current (DC) cable shorts that can cause the batteries to explode. You must install an ANL fuse close to the positive battery bank terminal for safe operation.
Remote Control Switch
This switch allows you to control and monitor the inverter from inside your motorhome easily. However, the connection process is not wireless. Instead, you connect this panel to the inverter via the remote cable that comes prepackaged with this inverter.
Protective Features for the Krieger 4000 Watt Inverter
Low Voltage Shutdown
The LED illuminates RED and automatically shuts down the inverter when the battery voltage drops below 10±0.5VDC, thus protecting the battery from being completely discharged.
Low Voltage Alarm
This feature is an indication that your battery needs a recharge. The alarm goes off whenever the battery voltage level has become discharged to 10.5±0.5VDC. It allows you to disconnect your devices before the inverter shuts down completely.
Over Voltage Shutdown
The LED illuminates RED and automatically shuts down the inverter if the input voltage rises to more than 15±0.5VDC to prevent devices from getting damaged.
AC Overload Protection
The LED illuminates RED, and the inverter will automatically shut itself down when the equipment's continuous draw or the surge draw exceeds the rated capacity. It prevents possible damage to the inverter and equipment connected to it in the event of a power overload.
Thermal Protection
This feature turns the inverter off if its temperature rises above or below an acceptable level. The LED will illuminate RED, and the inverter will automatically shut down when the temperature exceeds the limit.
Short Circuit Protection
The inverter will automatically shut down until the short is removed. It helps to prevent malfunction or system failure when there is low resistance.
Krieger Inverter Video
Cost and Warranty
The cost of this inverter on Amazon is a reasonable price for a modified sine wave inverter. It costs more than some similar rated modified sine wave inverters but comes with an installation kit. This means that you do not have to spend extra cash on accessories. They also have a great warranty plan of 3 years for parts and labor.
PROS – Krieger 4000 watt Inverter
Its dual USB ports are compatible with charging your tabs, iPads, and cellphones.
It has a combination of an interactive digital display and LED notification lights to keep you updated without stress on the status of your inverter.
The ultra-silent thermal fans make this inverter a quiet one.
The installation kit with this inverter saves you the trouble of purchasing extra accessories like in other similar-rated inverters.
CONS – Krieger 4000 Watt Inverter
It has fewer AC outlets when compared to some other similar-rated inverters.
It does not produce clean power as the pure sine wave inverters do.
Although heavy-duty equipment is not best suited for your sensitive and power-demanding appliances over a long period. This is because the power produced by this inverter causes these appliances to wear and tear with time and can cause them to fail unexpectedly.
Customer Reviews – Krieger 4000 Watt Inverter
Even for a modified sine wave inverter, this inverter has a lot of positive reviews. It has over 2,000 reviews on Amazon as of this review. It has received an average rating of 4.3 out of 5 stars, considered a good one. In addition, some users commented that this inverter could run silently and is very efficient.
The installation kit, another bonus for this product, is said to be very handy and of high quality. However, the shortcoming of this inverter that some customers complained of is that this inverter is not a pure sine wave inverter and, as such, is not trustworthy for use with sensitive appliances over a long period. In addition, others complained of the delivery of faulty units on the purchase.
Summary – Kreiger 4000W Modified Inverter
The Krieger KR-4000W, even with its modified sine-wave characteristics, is an excellent choice for your power needs if you don't use it for sensitive equipment.
It is quiet and nice on the budget. However, to enjoy this unit, it is essential to identify the loads your inverter will be powering and how much you will use them between charges. Once you know how much power you will be using, you can determine how much battery capacity you need.
With this inverter, you will never be left without power when needed.
Related Posts
Some of the links in this post are affiliate links. This means that when you click on one of these links, I earn a small commission at no extra cost to you. Also, as an Amazon Affiliate, I earn from qualifying purchases.