---
Solar lighting has made my yard a safer place to spend time, which is important to my family and me.
Have you ever missed that last step as you carried groceries into the house after a long day at work, wishing you had just a little bit of light to guide your steps?
The last time I tried to find the rope to tie up my boat, I remember muttering in frustration as I fumbled around in the pitch-black dark!
Then I discovered easy, passive solar lighting.
My Favorite Outdoor Solar Lights
The 4 types of solar lights included in this article include those commonly found in many yards. If you want the quick and dirty, then the four below include my favorite one from each group.
You can continue reading for more details on outdoor solar lights, including Solar Step & Deck Lights, Solar Fence Lights, Solar Path Lights, and Solar String Lights.
Types of Outdoor Solar Lights
Solar lights come in all different shapes and sizes. They are used for many reasons, and in many cases, people choose what they want based on personal preferences.
There are Fence Lights, Security Lights, Spot Lights, Garden Lights, String Lights, etc. Rather than take you through every type of light and what I think are the best in each group, I'm going to split this into three articles.
Outdoor Solar Lights
Solar Garden Lights
Solar Security Lights
I know that if I had to read more than 1,200 words on outdoor solar lights, I would probably cry.
Before describing each type of light and highlighting some of the top products, let me briefly explain what a solar light is and how it functions.
What is an Outdoor Solar Light?
A solar light receives light during the day when the sun is out, stores it in a rechargeable battery, and releases the stored energy at night as light after the sun goes down.
A solar light does not need to be connected to a power outlet, and it does not need its battery often replaced because it usually comes with a rechargeable battery. In some instances, the manufacturers build the batteries into the lights, and they cannot be replaced.
Simply put, the solar light provides light for you at night when the sun is down with little or no maintenance.
How Do Solar Lights Work?
Solar lights consist of 3 main parts.
A solar panel
A rechargeable battery
A load – Light Source (LED)
Basically, Photovoltaic cells in the solar panels absorb sunlight during the day, charging the battery and lights the bulb at night.
How to Choose an Outdoor Solar Light
Regardless of the type of Outdoor Solar Light you Choose, there are basic requirements you should consider before making a purchase.
Battery Power – In regards to battery power (mAH), the higher the mAH the better the battery. What you really want to know though is how long your light will stay on after it gets dark, or how long a full charge will last you.
Brightness – Every manufacturer will tell you they have the brightest solar light. Check the lumens. Other than Solar String Lights, they should be listed. Point of Reference – 40 lumens = 400 watt light bulb.
Your choice will depend on where you use the lights, but below are some general guidelines.
Step lights: 12-100 lumens
Hardscape lights (on walls): 50-185 lumens
Landscape lights: 50-300 lumens
Path lights: 100-200 lumens
Landscape spotlights: 120 lumens
Lamp posts: 120-180 lumens
Pond/pool lights: 200-400 lumens
Motion sensor lights: 300-700 lumens
Floodlights: 700-1300 lumens
LED Bulb – Most good outdoor solar lights now use more efficient LED bulbs. These produce a bright white light so consider tinted glass or a cover. Larger bulbs and high-quality photovoltaic cells produce better light.
Charging Rate (Watts) – Solar panels are rated in watts, and higher is better. If your lights don't fully charge during the day, it does not matter how long they hold a charge at night. If your lights are in a shaded area, place a solar panel in a sunny area and wire it to the lights.
Weather Resistance – Many manufacturers claim their lights are waterproof or weather resistant. Look for common ratings – IP44, IP65, IP66, etc. The higher the rating, the more resistant the light.
For more information, use this IP rating checker.
---
Solar Step & Deck Lights
Solar Step Lights and Solar Deck Lights are often used for the same purposes, so I have combined these groups.
These lights come in many shapes and sizes. They are often used to light up outdoor steps, handrailings, decks, boat docks, etc.
The small lights don't always give off a great deal of light, but they easily fit into small dark spaces where light is welcome.
Like any device also used as a decorative fixture, there are many choices, and shape and size can vary a great deal.
---
Solar Fence Lights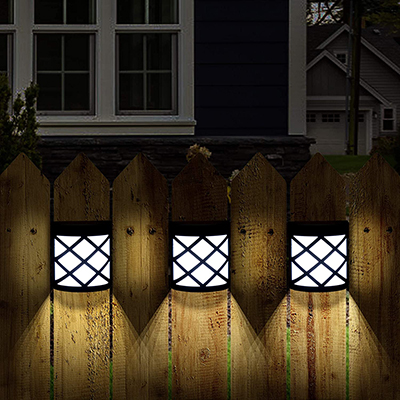 Fence lights often come in two styles. They can be mounted on the sides of a fence, or they are fence caps that secure to the top of a fence post.
Solar fence lights mounted to the fence are often more decorative and secured with typical screw mounts or adhesive. The solar post caps are mounted with screws, and usually, the base slides down over the top of the post a few inches.
---
Solar Path Lights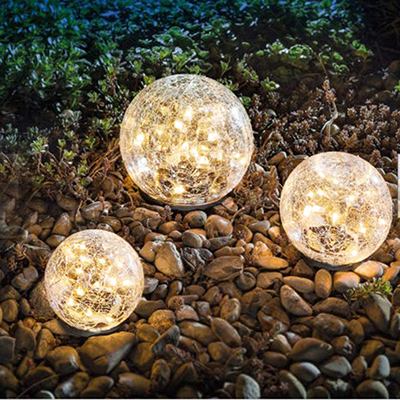 Solar path lights are cost-efficient and easy to install along pathways in your yard. Higher-priced solar path lights are made of higher quality metals and glass.
Path Lights are usually installed by simply pushing them into the ground like a wooden stake. They can be quite decorative and like some other outdoor solar lights, they also come with multi-colored lights.
Based on the criteria above, I have listed the lights that I would use in my yard.
---
Solar String lights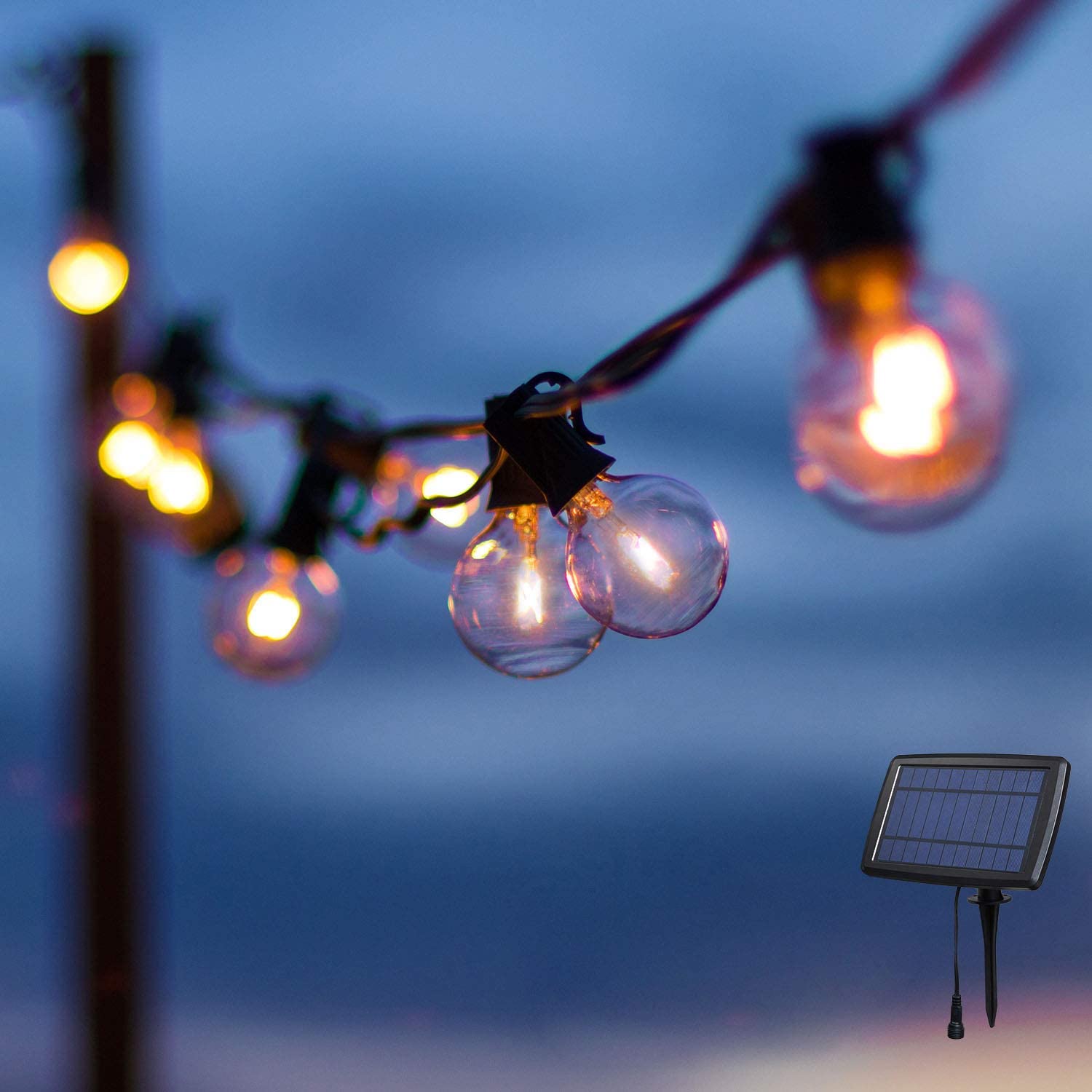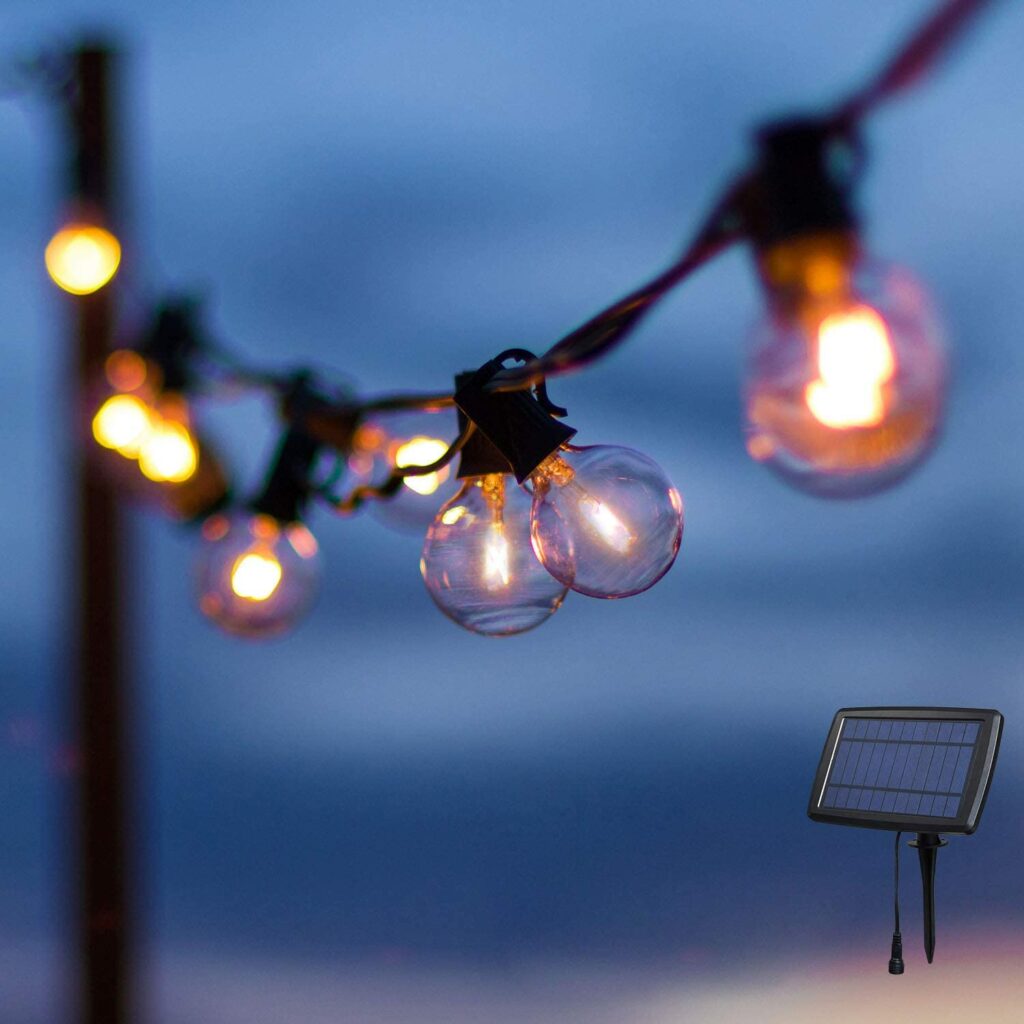 Solar String Lights add an enchanting atmosphere to any yard. Solar-powered string lights are often seasonal and come in a multitude of colors for the holidays.
When purchasing Solar String Lights it is important you review the length of the lights. If this is not provided, you can usually find the number of bulbs and the distance between them. Six feet of cord is often provided to connect to the solar panel.
Solar String Lights also come in lanterns and baskets, and I have included what I prefer in the Best 5 below.
Conclusion
Outdoor Solar Lights provide safety, ambiance, and beauty to any yard. You can provide subtle touches of color or light up areas where you need access and visibility.
With so many options and the cost-effectiveness of many options, there is no reason you should not consider Outdoor Solar lights. The lights will enhance your yard and make sure the yard is safe and well-lit.
FAQ
Are outdoor solar lights worth it?
Good outdoor landscaping lights can be expensive, but solar energy is free, and over time they pay for themselves. They also require very little maintenance.

What are brightest solar lights?
The brightest solar lights are typically security or spot lights, but more power means they don't last as long.
Do outdoor solar lights work in the winter?
Yes, although they will usually not get as much of a charge during the day.
Related Posts
(Visited 113 times, 1 visits today)
Some of the links in this post are affiliate links. This means that when you click on one of these links, I earn a small commission at no extra cost to you. Also, as an Amazon Affiliate, I earn from qualifying purchases.