---
This is a Power TechON (GoWise) inverter review for the 2000-watt inverter. Power TechON is also known as GoWise. The brand has a range of inverters in the market. If you are thinking of buying a Power TechON inverter or a GoWISE inverter, then please read on.
If you are looking for an above-average pure sinewave inverter with no frills at a relatively reasonable price, then this is an inverter to consider. In addition, this inverter is ETL certified to the UL468 standard.
The Power TechON PS1003 (GoWise) Pure Sine Wave Inverter is inexpensive for powering your home electronics, sensitive equipment, and power tools. In addition, its portable nature makes it easy for you to install this unit in your cars, RVs, worksites, camping sites, and vessels.
This inverter can provide power in mobile and permanent installations, a reliable backup for power failure emergencies. However, there are pros and cons to consider before purchasing this inverter.
GoWise Power 2000W Pure Sine Inverter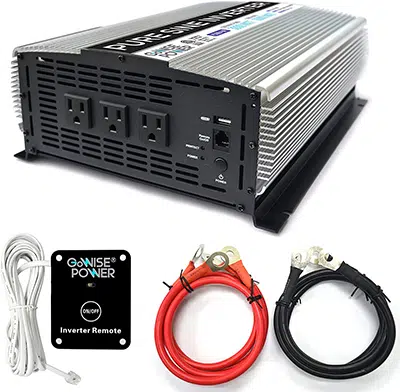 Technical Specifications
Model: PS1003

Color: Silver

Weight: 5.44kg

Product Dimensions:

21 x 11 x 6.2 inches

Continuous output power: 2000 Watts

Surge power capability [peak power]: 4000 Watts

Output Wave Form: Pure Sine Wave

DC Input Voltage: 12V

AC Output voltage: 120V

Output frequency: 60Hz

Cooling: Thermostatically Controlled Fan

Remote Port Option: Yes
What is Included in the Package?
The Power TechON PS1003 Pure Sine Wave Inverter package includes the PS1003 Inverter unit, black and red cables with ring terminals, a remote switch, and a detailed instruction manual.
Features – Power TechON PS1003 (GoWise) Inverter
This no-frills inverter has all the features you need for any application – boat, cabin, camper, etc.
Power Rating
With 2,000 watts of continuous power, this inverter is guaranteed to run any of your appliances and equipment within its wattage range as long as the load is not greater than 2000 Watts. It also has a surge capability of 4000W, which helps to kick-start those appliances such as your microwave that require a large amount of power on startup.
You need to check the maximum rating of your devices before purchasing this inverter. For example, do not purchase this inverter if your device's power rating exceeds this inverter's power rating.
Three 120VAC Outlets
This inverter has a total of 3 AC outlets which allows you to connect more of your equipment directly to the inverter. This has more AC outlets than most similar rated pure sine wave inverters.
However, these outlets are not GCFI protected. This means that they do not provide a safe and convenient way of powering your devices nor protect you from electric shock and accidental fire outbreaks, especially when you use the inverter in wet locations.
Display Unit
The Power TechON PS1003 (GoWise) inverter does not have a visual display, but it does have led indicators. You will need to read your load and battery levels with an external LCD Display which you can purchase on Amazon.
LED Indicators
There are LED notification lights that indicate the status of the inverter during operation.
Built-in USB port
This convenient 5V USB port allows you to conveniently power your cell phones and other modern USB-enabled devices.
Soft Start, Low Interference Technology
The soft-start feature helps reduce the load's starting current and smoother the startup of your appliances. This is one of the benefits of this inverter and a feature that makes the inverter stand out. Likewise, the hard-starting devices connected to the inverter will start smoother with low harmonic distortion.
Heavy Duty Terminals
This feature lets you connect your batteries easily and accommodates large electrical loads. It has large positive and negative terminal lugs to supply the high current needed for this power inverter. A separate ground lug is also provided for the safe delivery of power.
Thermostatically Controlled Cooling Fan
The two small internal fans keep the unit cool while operating under heavy loads, so proper ventilation is provided for reliable operation. Like similarly rated inverters, they are thermostatically controlled, meaning they only come on when the temperature rises above the normal temperature range for this inverter. However, unlike the modified sine wave inverters, the ultra-quiet fans will not disturb you.
Remote Port
This port allows direct connection to the remote panel, giving you access to control the inverter from about 25ft. However, this port is not wireless, so you will need to connect the optional remote panel using a communications cable.
Safety Features
This inverter has multiple safety features.
Low Voltage Shutdown
This inverter automatically shuts down if the battery voltage drops below 10±0.5VDC, protecting the battery from being completely discharged.
Low Voltage Alarm
This feature alerts you whenever the battery voltage level has become discharged to 10.5±0.5VDC. In addition, it allows you to disconnect your devices before the inverter shuts down completely.
Over Voltage Shutdown
This feature shuts the inverter down automatically if the input voltage rises to more than 16±0.5VDC.
AC Overload Protection
This feature prevents overheating and possible damage by shutting the unit down automatically if a short circuit occurs or the loads attached to the inverter exceed the operating limits.
Thermal Protection
This feature turns the inverter off if the temperature rises above or below an acceptable level.
Short Circuit Protection
It helps to prevent malfunction or system failure when there is low resistance.
Warranty
This unit has a 1-year warranty plan starting from the date of purchase.
Pros –
Power TechON PS1003 Pure Sine Wave Inverter
The biggest reason for considering this inverter is the price. It is very economical for those who want a relatively inexpensive inverter. It's also suitable for those who want something affordable for backup.
The inverter has three AC output sockets and a USB Port.
The remote switch lets you control the inverter from a convenient location, up to 25ft, while the inverter is mounted out of sight and close to the batteries.
ETL (UL468) Certification – Among the inexpensive inverters I reviewed, the Power TechON or GoWISE Inverter (PS1003) is one of the few inverters tested and certified to operate safely within the Standards in the USA and Canada.
Cons –
Power TechON PS1003 Pure Sine Wave Inverter
An absence of a hard-wire port means you cannot connect directly from the inverter to your home circuit box or distribution box.
It does not have settings that allow you to change your frequency between 50-60Hz, depending on which frequency is in your location. Therefore, it can only be used within America at its operating frequency of 60Hz.
There are fewer USB ports than other comparable inverters.
Customer Reviews
This inverter has received over 400 reviews on Amazon, with the vast majority being positive. Customers commended the efficiency of the power supplied by this inverter and how well the inverter runs its appliances, including microwaves and other hard-starting devices.
However, a few reviewers complained about the wires that come with this inverter and suggested that anyone planning to purchase this inverter also plan to buy cables.
Summary
The Power TechON inverter is ETL certified, which sets it apart at this price point, but there are now other comparable inverters that are less expensive. So review your other choices before making a purchase.
Related Posts
Some of the links in this post are affiliate links. This means that when you click on one of these links, I earn a small commission at no extra cost to you. Also, as an Amazon Affiliate, I earn from qualifying purchases.