---
There is no denying that you are not willing to give up your electrical conveniences, even while off the grid. However, without shore power, an alternate source of energy is needed to adequately power your variety of electronic appliances and accessories. The Xantrex PROWatt SW 2000 pure sine wave inverter which is an easy to use, easy to install power inverter provides you with an economical way of handling all of your power needs. With its pure sine-wave output, it provides clean power for all types of electrical conveniences including power tools, advanced electrical appliances, and power demanding home appliances. Its portable design makes it a perfect choice for use in commercial trucks, RVs, and marine applications.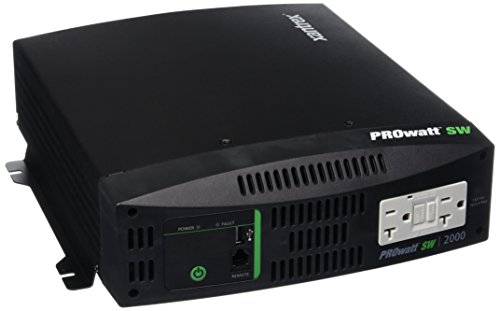 WHY PURE SINE WAVE INVERTER
To best suit, your power needs, the pure sine wave inverter is a more efficient choice than the modified sine wave inverter. This is because they produce clean power like utility-supplied electricity which helps to run your power demanding appliances quieter, faster, and cooler than the modified sine wave inverter. They are better at running more appliances efficiently without wasting energy. All your devices including printer, microwave, and any other power demanding appliance, will work properly with this inverter and do not stand the risk of getting damaged or failing unexpectedly as seen in the modified sine wave inverter. However, the pure sine wave inverter is more expensive than the modified sine wave power inverter. This inverter is considered a 2000 Watt inverter, but it is really an 1800 Watt Pure Sine Wave Inverter.
TECHNICAL SPECIFICATIONS
Model: PROwatt SW 2000

Color: Black

Weight: 5.26kg

Product Dimensions: 16.6 x 13.8 x 7.2 inches

Continuous output power: 1800 Watts

Surge power capability [peak power]: 3000 Watts

Output Wave Form: Pure Sine Wave

DC Input Voltage: 12V

DC Input [Operating] Voltage Range: 10.5V – 15.5V

AC Output voltage: 120V

Cooling: Thermostatically Controlled Fan

AC Receptacle: Dual GFCI

USB Port: Yes

LCD display: Yes

Remote Port Option: Yes

Compliant with the UL 458 regulatory standard, CSA regulatory standards, and FCC requirements.
The Xantrex PROwatt SW 2000 Inverter package includes these items: PROwatt SW 2000 Inverter unit and Owner's Guide.
Xantrex PROWatt SW 2000 Features
Power Rating
Similarly rated inverters state that they have a continuous power rating of 2000W and a peak surge capacity [output power to kick-start appliances that require a large amount of power on startup power] of 4000W. However, the information provided by these inverter companies is somewhat misleading because an inverter that is rated 2000W does not actually mean that you can run a 2000W continuous output load on the inverter or run appliances that require a startup power of 4000W. Xantrex is the only company that I am aware of that is honest enough to state otherwise. Their ProWatt inverter has a continuous output of 1800W and a peak surge capacity of 3000W. This sounds very realistic to me and is one of the reasons I'd go for this inverter. It is important for you to check the maximum rating of your devices before purchasing this inverter. Do not purchase this inverter if the power rating of your device exceeds the power rating of this inverter.
120VAC Dual GCFI AC outlets
This outlet, unlike other similar rated pure sine wave inverter, is equipped with a standard Ground Fault Circuit Interrupter (GFCI) device for safe operation. This feature provides a safe and convenient connection that allows you to safely power your electrical home appliances directly from these outlets. They protect you from electric shock and accidental fire outbreaks especially when you use the inverter in wet locations. It is important to note that these outlets are rated 16.6 amps maximum i.e. 8.3 amps for each outlet.
Built-in USB port
This convenient 5V USB port allows you to conveniently power your cell phones and other modern USB-enabled devices. Most inverters feature this USB but while some are dual, this inverter has just one 5VDC, 500mA USB port.
Built-In Digital Display
It provides you with useful information that helps you monitor the status of the inverter while in operation. You will be able to know when the battery is in need of recharging, its input voltage, output power, and error code information. This feature is a huge benefit of purchasing this inverter as most of the similarly rated inverters like the Go Power 2000W inverter do not have this visual feature.
LED Indicators
These indicators also work with the LCD to give you a status update of your inverter. A green LED indicates that the unit is on and receiving power. Whenever a shutdown occurs due to an error condition, the green LED remains on. A red LED indicates an error or alarm condition.
Remote Switch Port
This inverter has an option for a PROwatt remote panel which is purchased separately. This port allows connection directly to the remote panel accessory which gives you access to control the inverter from about 25ft. You can turn it off and on without even having to move an inch. However, this port is not wireless so you will need to connect the optional remote panel using a communications cable.
Heavy duty terminals
This feature allows you to connect your batteries easily and it accommodates large electrical loads. It has large positive and negative terminal lugs to supply the high current needed for this power inverter. A separate ground lug is also provided for the safe delivery of power.
Thermostatically Controlled Cooling Fan
The two small internal fans keep the unit cool while operating under heavy loads so proper ventilation is required for reliable operation. Like the similarly rated inverters, they are thermostatically controlled which means that they only come on when the temperature rises above the normal temperature range for this inverter. The fans are ultra-quiet and will not be any disturbance to you unlike the modified sine wave inverters
Xantrex PROWatt SW 2000 Accessories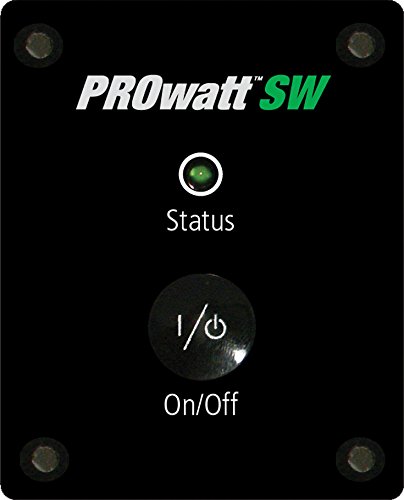 PROwatt Remote Panel with Ignition Lockout: You can control and monitor the inverter with ease from inside your motorhome via this panel. The automatic ignition lockout allows you to remotely shut down the inverter when the vehicle is not running, to prevent unnecessary battery drain. However, the connection process is not wireless. A 25ft communication cable must be purchased with this panel.
Inline Transfer Relay: This plugs into the front of the inverter and allows you to pull one circuit from the breaker box to supply power to an appliance from the inverter.
PROTECTIVE FEATURES
Low Standby Battery Demand ensures that you do not have to worry about the excessive drain on your battery if you leave the inverter on for a few days. When the inverter is on but no power is being supplied to a load, the inverter draws less than 800 mA from the battery.
Low Voltage Shutdown: This automatically shuts the inverter down if the battery voltage drops below 10.5VDC, thus protecting the battery from being completely discharged. Within five minutes after shutdown, the unit recovers automatically once the battery voltage reaches above 11.5VDC. After five minutes, the unit turns itself off.
Low Voltage Alarm: This feature alerts you whenever the battery voltage level has become discharged to 11V or lower. It allows you to disconnect your devices before the inverter shuts down completely.
Over Voltage Shutdown: This feature shuts the inverter down automatically if the input voltage rises to more than 15.5VDC, to prevent devices from getting damaged. Within five minutes after shutdown, the unit recovers automatically once the battery voltage falls below 15.5VDC. After five minutes, the unit turns itself off.
AC Overload Shutdown: This feature prevents overheating and possible damage by shutting the unit down automatically if a short circuit occurs or if the loads attached to the inverter exceed the operating limits.
Over Temperature Shutdown: This feature turns the inverter off if its temperature rises above an acceptable level. Within five minutes after shutdown, the unit recovers automatically once the temperature of the unit cools down. After five minutes of operating at high temperature, the unit turns automatically.
Ground Fault Circuit Interrupter (GFCI) Protection: This protects you from electric shock by cutting off electricity in the AC circuits when it senses a change in direction in the flow of current.
COST & WARRANTY
This inverter sells on Amazon. It also comes with a full 2-year warranty.
---
PROS OF XANTREX PROWatt SW 2000
It has an LCD display unit that lets you monitor system performance at a glance.
You can safely power loads directly from the dual GFCI-protected AC outlets on the front panel.
The optional PROwatt Remote Panel lets you control the inverter from a convenient location, up to 25ft.
It is an ultra-silent inverter as its fan are very silent while running.
CONS OF XANTREX PROWatt SW 2000
No hardwire port which means that you cannot connect directly from the inverter to your home circuit box.
It does not have settings that allow you to change your frequency between 50-60Hz depending on which frequency is in operation in your location.
A lesser number of USB ports than some of the similar rated pure sine wave inverter.
CUSTOMER REVIEWS
This product has a current rating of great ratings on Amazon and has received a lot of positive reviews. Many customers expressed their satisfaction with this inverter, being able to run all their appliances and devices smoothly. Some commended the high surge capacity of this inverter which will help kick start your power demanding appliances. However, some critical reviews offered by dissatisfied clients were geared towards the fact that the power rating stated by the company was false because it was not able to power most of their devices or it failed after a few months of use. Some responses to their complaint refuted this claim, stating that the problem for this fault may be as a result of inaccurate battery cabling, battery size, or battery type. A few others complained about receiving faulty units that broke down some days after use.
CONCLUSION
This inverter has received a high number of positive reviews, compared to other similarly rated inverters. Xantrex PROWatt SW 2000 is a highly functional inverter and a great investment when it comes to cost and efficiency. Its safety features keep power in check and notify you in the event of a problem. I believe that getting this inverter will be a great choice for you. To enjoy this unit, it is essential that you identify the type of loads your inverter will be powering and how much you will be using them between charges. Once you know how much power you will be using, you can determine how much battery capacity you need.
If you are looking for a quality true sine wave power inverter for mobile or marine use, I'd recommend you spend a little and purchase this inverter. You owe it to yourself to do that.
Other 2000 Watt Pure Sine Wave Inverter
(Visited 553 times, 4 visits today)
Some of the links in this post are affiliate links. This means that when you click on one of these links, I earn a small commission at no extra cost to you. Also, as an Amazon Affiliate, I earn from qualifying purchases.