---
Gone are the days when all you needed to survive in the wilderness was water and a blanket – a solar panel will certainly make that list in this day and age. Why? Because electricity is a basic need as well. The days when solar panels were such bulky devices are also over, mainly because you can't cart with your 50-ton panel to that wilderness – and with technology advancing, all you need do is find the best portable solar panel.
To find the best portable solar panel, you would generally have to wade through a couple of thousand options – from which you can choose, and seeing as you probably have a life to pursue, we have done you the favor of skimming through options to find your best portable solar panel with power rating between 5 and 60 Watts in 2017.
5-19 Watt Portable Solar Panels
Doradus 12V 5W
PolyCrystalline Cells Solar Panel
This Doradus 12V 5W PolyCrystalline Cells Solar Panel is the embodiment of convenient, not to mention – top-notch performance. Its solar cells are encased in an Anodized alloy aluminum frame, guaranteeing efficient performance and durability in varying conditions.

Its alligator clip wire accompanies the Panes along with four mounting holes, which make it perfect for various functions – and you can be confident that its block diode (which manages to stop reverse discharge) aids in ensuring maximum performance regardless of light conditions.
Pros
It comes with Aligator clips
suitable for a variety of equipment
Cons
No information is provided regarding the warranty of the product
Instapark 10 Watts Solar Panel Portable Solar Charger with Dual USB Ports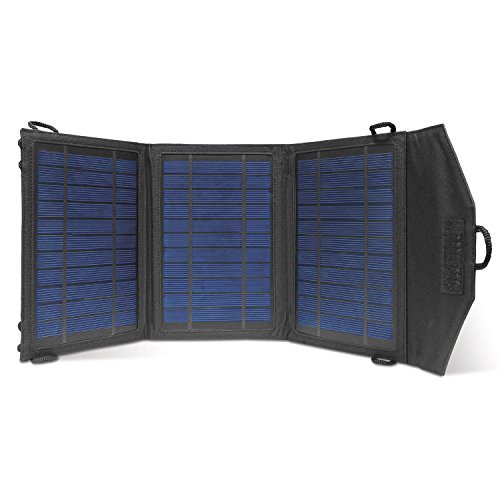 Specs
Manufacturer: Instapark
Peak power: 10W
Dimensions: 9 x 6 x 2 inches
Weight: 0.9 Pounds
One of the perks that the Instapark 10W solar panel/ solar chargers provide, besides its dual function, is that it weighs a mere o.9 lbs and requires no additional battery to be run besides the bonus back 2-pack 3,000mAh battery packs.
These panels' solar charger function provides built-in dual USB ports suitable for virtually all mobile devices, making it an ideal package for any emergency or outdoor and off-grid activities.
The 10w high-efficiency solar panels come in a unique and compact foldable design to top things off, making them relatively easy to cart around at will.
Pros
Lightweight and compact design
High-efficiency solar panels
Bonus 2-pack 3,000mAh battery pack
Cons
It may not perform suitably in low light or overcast conditions.
Suaoki 18V 12V 18W Solar Car Battery Charger Portable SunPower Solar Panel Trickle Charger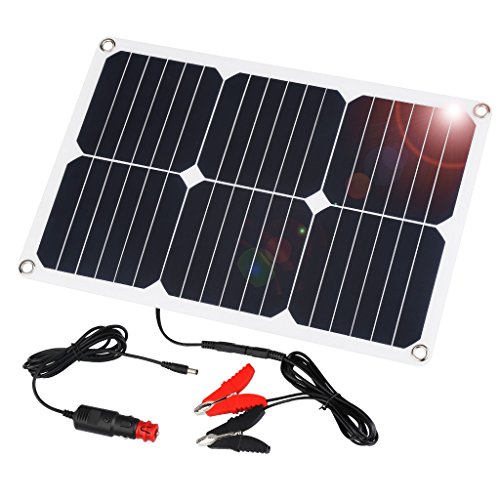 Specs
Manufacturer: Sokoo
Peak power: 7W
Dimensions: 12.6 x 6.5 x 1.4 inches
Weight: 1.1 Pounds
These solar panels provide up to 18V and 18 watts of energy, making them suitable for the more big-ticket items like automobile batteries or tractors and motorcycles. The panels are made from premium quality solar cells, with a guaranteed efficiency of at least 22.5%, and a built-in diode prevents batteries from backward discharge when the charger's voltage is lower.
Overall, the device is portable and durable, weighing only 345g/ 12.49oz for easy transport and water and heat resistant, thus designed for long-term use. Finally, perhaps most significantly, you hardly need to open the car hood to charge car batteries – use the cigarette lighter plug for the best possible experience.
Pros
Portable and durable
Cigarette lighter plug for ease of use when charging vehicle batteries
Made from premium quality solar cells
Cons
Cigarette adapted doesn't have an SAE standard cable
20-39 Watt Portable Solar Panels & Solar Charger
SOKOO 22W 5V 2-Port USB Portable Foldable Solar Charger with High-Efficiency Solar Panel, Reinforced and Waterproof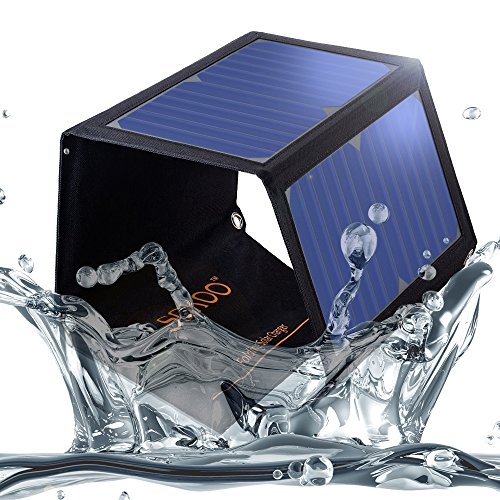 Manufacturer: Sokoo
Peak power: 22W
Dimensions: 12.6 x 6.5 x 1.4 inches
Weight: 1.1 Pounds
This 22W portable solar panel by Sokoo is praised for its water resistance.
However, that isn't the only element the solar panels can withstand – from thunderstorms to high humidity – there is no end to what the solar panel can take while in the line of duty. Not to mention, its durability and battery life aren't deterred by elements. The solar charger is framed in a PVC fabric canvas. It has a Smart IC circuit that helps extend battery life through the dual USB chargers, determining the type of device connected and the amount of output power appropriate for the device.
What else would you be looking for besides a panel that can predict what your device needs?
Pros
Water resistant and durable
High conversion efficiency –
Dual USB smart technology
Portable.
Cons
Wildtek SOURCE 21W Waterproof Portable Solar Charger Panel with Dual USB Ports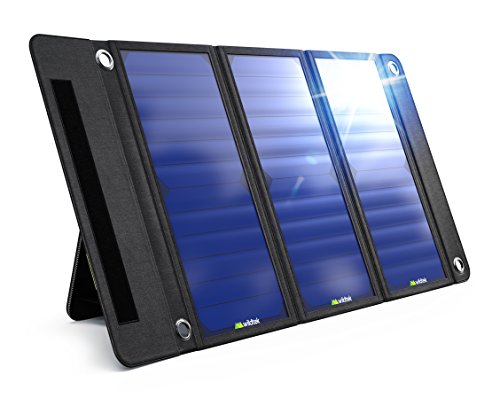 Manufacturer: Wildtek Source
Peak power: 21W
Dimensions: 12.6 x 6.5 x 1.4 inches
Weight: 1.1 Pounds
Are you looking for a portable solution for keeping your batteries charged? Well, look no further. The Wildtek 21W portable solar charger is a highly efficient device Compatible with virtually everything due to its many USB ports. Its cells are efficient and provide sufficient power for charging, and it has a built-in stand that helps the panels be positioned at the best place for the most exposure to sunshine. In addition, it is portable and fully waterproof, and to top things off, it folds in various positions, which improves the chance of portability and maneuverability.
It is dustproof. And you certainly won't get it any better than a solar panel with high-efficiency waterproof features and portability, all accompanied by a full warranty and a stand to help further sun exposure. It's almost too good to be true.
Pros
Waterproof and dustproof
Has high efficiency
Delivers fast charge
Lightweight and portable
Cons
Not as cheap as the others.
Anker 21W Dual USB Solar Charger, Power-Port Solar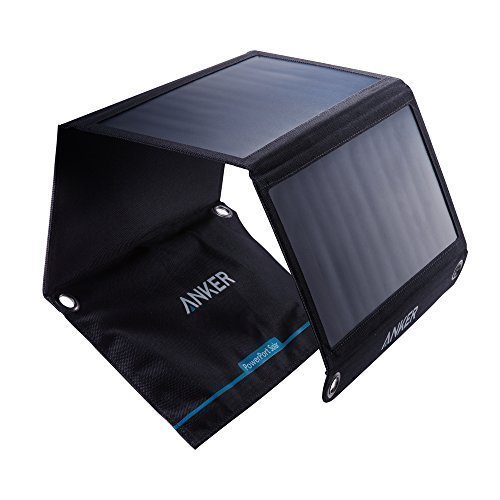 Manufacturer: Anker
Peak power: 21W
Dimensions 26.4 × 11.1 × 0.2 in
Weight: 14.7 oz
Number of Panels: 3
Transition Efficiency: 21.5~23.5%
The Anker 21W portable solar panel doesn't take the number 1 spot on the best mobile solar panel list for no just cause. It is undoubtedly the most popular movable, foldable solar panel. In addition, it is designed to provide as much convenience as possible, with 2 USB power ports that produce 2.4 amps per port and the versatility of being compatible with a wide range of devices.
Its construction is sturdy and durable – one of the perks of using rugged polyester for a portable solar panel exterior. And to top things off, it just happens to be lightweight, making it carting it around a breeze. And let's not get started on the price – you'll be pleasantly surprised.
Pros
The exterior is made with rugged polyester
Sturdy and durable construction
Cons
A few Anker batteries are not compatible with it
40 -59 Watt Portable Solar Panel & Solar Charger
Solar Charger, X-DRAGON 40W SunPower Solar Panel Charger (5V USB with SolarIQ + 18V DC)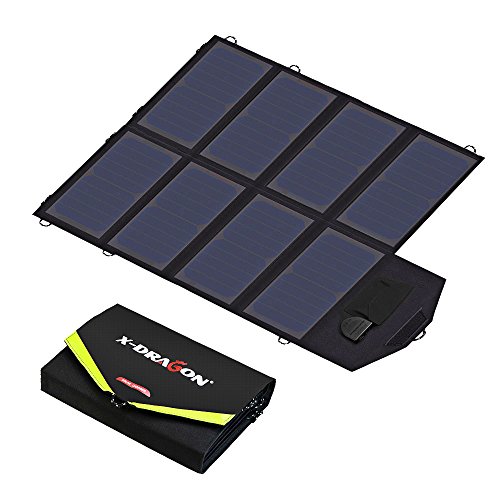 Manufacturer: X-Dragon
Peak power: 40W
Dimensions 10.4 x 2.8 x 6.3 inches
Weight: 3.1 pounds
Transition Efficiency: 22%-25%
Somehow, the X-Dragon manages to both be portable and supersized. It offers an impressive 40W output and an eye-catching 2.8A (Amps) power. And all this notwithstanding, it is still a compact, lightweight pick that performs wonders.

The X-dragon has provision for a 5V gadget with a 5V/2A charging port and has an 18V DC output (18V/2A) outlet, which is ideal for charging a laptop or other 18V powered devices and, to top things off, can automatically adjust to suit conditions that will promote maximum output.
It doesn't get any better than this.
Pros
Compact and portable
Panels can automatically adjust to suit conditions that will promote maximum output.
Cons
None…
JETSUN Solar Charger 1600mAh Portable Solar Power Bank with Waterproof Solar Panel and Flashlight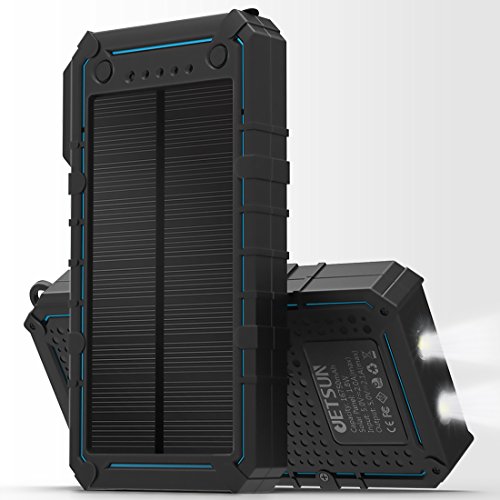 Manufacturer: Jetsun
Peak power: 40W
Dimensions: 6.3 x 3.3 x 0.8 inches weight: 11 ounces
Transition Efficiency: 22%-25%
The Jetsun solar charger was designed with convenience in mind. It is not a solar panel but a charger ready to plug and play and help with all your charging needs – especially if you are off the grid. It has a 16,750mAh battery, compact solar panel, and dual USB output ports complete with an inbuilt LED torch that seems to betray the fact that the manufacturer had emergencies in mind during the build.

Its exterior is water, shockproof, and dustproof, and it only needs 8 hours to charge. Overall, it is durable and portable, not to mention it can conveniently latch onto your backpack while you are on your hike.
Did we mention that it is dirt cheap?
Pros
dual USB output ports
inbuilt LED torch
waterproof, dustproof, and shockproof
Cons
Batteries weaken rapidly with consistent use
60 (And Above) Watt Portable Solar Panel & Solar Charger
SUNKINGDOM™ 60W 2-Port DC USB Solar Charger with High-efficiency Portable Foldable Solar Panel
Specs
Manufacturer: Subkingdom
Peak power: 60W
Dimensions: 6.3 x 3.3 x 0.8 inches
Weight: 11 ounces
Transition Efficiency: 22%-25%
The SUNKINGDOM™ 60W High-efficiency Portable Foldable Solar Panel is designed from high-quality products with a unique ability to be scratch-resistant and waterproof. Moreover, it is portable and ultra-thin with an impressive folding size of 11.42 x 6.30 x 2.76inchesand a weight of 3.1Ib. With the panels, Exclusive PowermaxIQ Technology users are provided Automatic recognition and make charger speed up to 23.5%. In addition, high efficiency with dual ports and broad compatibility means that your USB ports are compatible with most 5V USB devices.

In addition to purchasing one 60W Folding solar panel, you get 1 x DC5521 male to DC5521 male; 10 x DC Laptop Connector; 1 x User Manual, and 12 months warranty.
Suaoki 60W Solar Charger (5V USB + 18V DC) Dual Output Sunpower Mono-Crystalline Portable Folding Solar Panel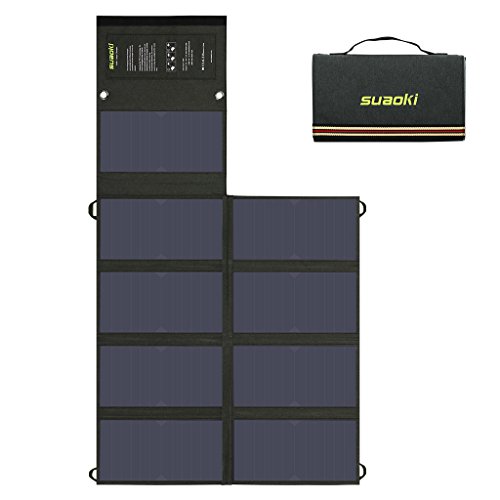 Specs
Manufacturer: Sauoki
Peak power: 60W
Dimensions: 6.3 x 3.3 x 0.8 inches
Weight: 11 ounces
Transition Efficiency: 22%-25%
With the dual-port output feature of this equipment, you get enough power to charge two devices, equipped with a USB (5V/2A) port and a DC (18V/3A) port for a car, RV, trailers, or any other vehicles. In addition, the solar panel can be mounted on your windshield, facing the sunlight, and charging your car battery with the included clamps or charger. With the unique TIR-C technology, you have the convenience of a built-in smart IC for the USB port; the charger can automatically and quickly identify your equipment's current and speed up the charging process; it also makes the DC output more stable and safe.
To top things off, you are guaranteed a high conversion rate and durability thanks to efficient solar panels and their waterproof layer that features the unique IPX3 waterproof rate.
How To Choose The Best Portable Solar Panel
Overall, the best portable solar panel for you would be fully capable of delivering your power needs – i.e., recharge your battery pack until it is fully equipped to recharge your devices. Whether you choose one solar panel or link several together for maximum energy, provided you get reliable solutions that best fit your need, it hardly matters. To ensure that you are delighted with your new renewable energy source, here are a few things to look out for when purchasing.
Type Of Solar Panel
When choosing a solar panel, you are likely to end up with one of three options – The CIGS, monocrystalline panel, or polycrystalline solar panels –
With the CIGS, you get a lightweight, flexible and cheaper option. However, it is often made of a few different materials, including plastic and fabric, which usually means that it is more prone to deterioration than panels made with one material alone. notwithstanding, this category of solar panels is often said to perform seamlessly in low light conditions
Alternatively, Monocrystalline panels are likely to handle deterioration more favorably. While CIGS panels are significantly lighter and display more flexibility, monocrystalline panels are generally more efficient concerning performance than the CIGS – they are usually ideal for low power requirement users.
Finally, Polycrystalline panels are also relatively durable and efficient regarding power output. However, because of its many crystal ingots, which severely impact silicon purity, it ultimately leads to lower efficiency than monocrystalline solar panels.
Wattage
Typically, your choice of how much power your portable solar panel can dispense depends on what you're looking to power with your battery pack. Here is what you should know however; 2 Watts is sufficient power to handle iPods & cell phones – this is the barest minimum.
The recommended minimum for more significant devices such as laptops and cameras is 10 Watts, provided you can get up to 1-3 battery charges in one day.
30+ Watts will take care of everything from video equipment to powerful notebooks.
Ultimately, you can't be tempted to buy a solar panel below your power requirements or too far above, affecting overall performance.
Battery Capacity
take note that your USB battery capacity should be at least 1-2x the daily power output of the USB solar panel charging it, and Universal battery packs for "12V" solar panels should have a capacity of at least 1-2x the daily production of the solar panel charging it
Design
Look out for additional features such as water resistance. Weather resistance is an absolute must. Packability is also quite important. And since you're looking to purchase portable solar panels, note overall weight. They should also have grommets, straps, loops, or handles to make them easy to attach to backpacks, panniers, tents, bikes, etc.
Related Posts
Some of the links in this post are affiliate links. This means that when you click on one of these links, I earn a small commission at no extra cost to you. Also, as an Amazon Affiliate, I earn from qualifying purchases.