---
20-39 Watt Flexible Solar Panels & Solar Charger
Anker 21W Dual USB Solar Charger, Power-Port Solar
Manufacturer: Anker
Peak power: 21W
Dimensions 26.4 × 11.1 × 0.2 in
Weight: 14.7 oz
Number of Panels: 3
Transition Efficiency: 21.5~23.5%
The Anker 21W portable solar panel doesn't take the number 1 spot on the best portable solar panel list for no just cause. It is undoubtedly the most popular portable, foldable solar panel. It is designed to provide as much convenience as possible, with 2 USB power ports that produce 2.4 amps per port and the versatility of being compatible with a wide range of devices.
Its construction is sturdy and durable – one of the perks of using rugged polyester for the exterior of a portable solar panel. And to top things off, it just happens to be lightweight, making it carting it around a breeze. And let's not get started on the price – you'll be pleasantly surprised.
Pros
The exterior is made with rugged polyester
Sturdy and durable construction
Cons
A few Anker batteries are not compatible with it.
SOKOO 22W 5V 2-Port USB Portable Foldable Solar Charger with High-Efficiency Solar Panel, Reinforced and Waterproof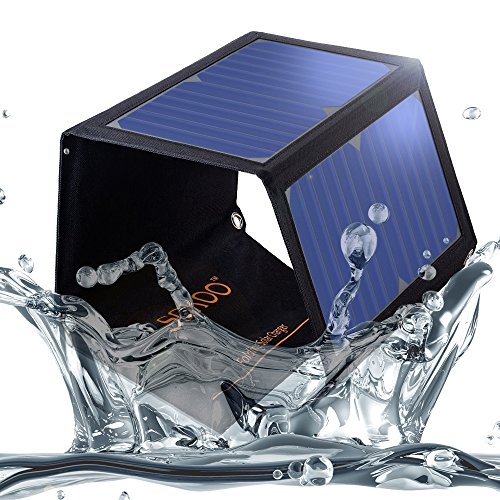 Manufacturer: Sokoo
Peak power: 22W
Dimensions: 12.6 x 6.5 x 1.4 inches
Weight: 1.1 Pounds
This 22W portable solar panel by Sokoo is praised for its water resistance.
However, that isn't the only element the solar panels can withstand – from thunderstorms to high humidity – there is no end to what the solar panel can take while in the line of duty. Not to mention, its durability and battery life aren't deterred by elements. The solar charger is framed in a PVC fabric canvas. It has a Smart IC circuit that helps extend battery life through the dual USB chargers, determining the type of device connected and what amount of output power is appropriate for the device.
What else would you be looking for besides a panel that can predict what your device needs?
Pros
Water resistant and durable
High conversion efficiency –
Dual USB smart technology
Portable.
SUNKINGDOM™ 60W 2-Port DC USB Solar Charger with High-efficiency Portable Foldable Solar Panel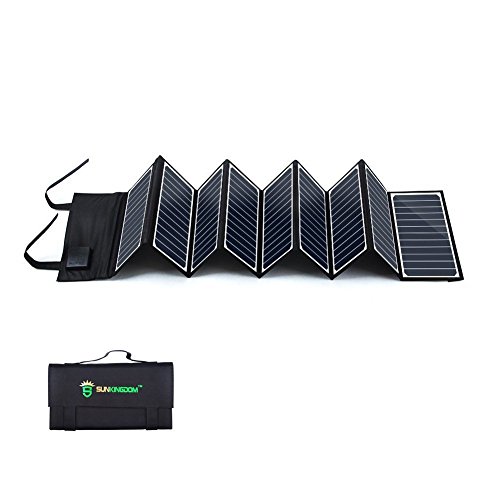 Specs
Manufacturer: Sunkingdom
Peak power: 60W
Dimensions: 6.3 x 3.3 x 0.8 inches
Weight: 11 ounces
Transition Efficiency: 22%-25%
The SUNKINGDOM™ 60W High-efficiency Portable Foldable Solar Panel is designed from high-quality products with a unique ability to be scratch resistant and waterproof. It is portable and ultra-thin with an impressive folding size of 11.42 x 6.30 x 2.76inchesand a weight of 3.1Ib. With the panels, Exclusive PowermaxIQ Technology users are provided Automatic recognition and make charger speed up to 23.5%. High efficiency with dual port and comprehensive compatibility means that your USB ports are compatible with most 5V USB devices.
In addition to purchasing one 60W Folding solar panel, you get 1 x DC5521 male to DC5521 male; 10 x DC Laptop Connector; 1 x User Manual, and 12 months warranty.
Related Posts
Some of the links in this post are affiliate links. This means that when you click on one of these links, I earn a small commission at no extra cost to you. Also, as an Amazon Affiliate, I earn from qualifying purchases.