---
The Bestek 2000W power inverter is one one the top-selling 2000 Watt inverters on the market today. How good is it? Will it serve your purpose? I have researched the Bestek 2000 Watt Modified Sine Wave inverter in this article, and I share my results with you.
An inverter converts Direct Current (DC) from your battery to Alternating Current (AC), similar to the current supplied by your generator to power your appliances and devices while you are on the move.
With an inverter, you can convert the current from your vehicle battery to AC to power your laptop, power tools, PSP, phone charger, and other appliances. The Bestek 2000W power inverter is durable and can withstand harsh environments; ideal for use in campsites, RVs, remote job sites, and anywhere AC power is needed.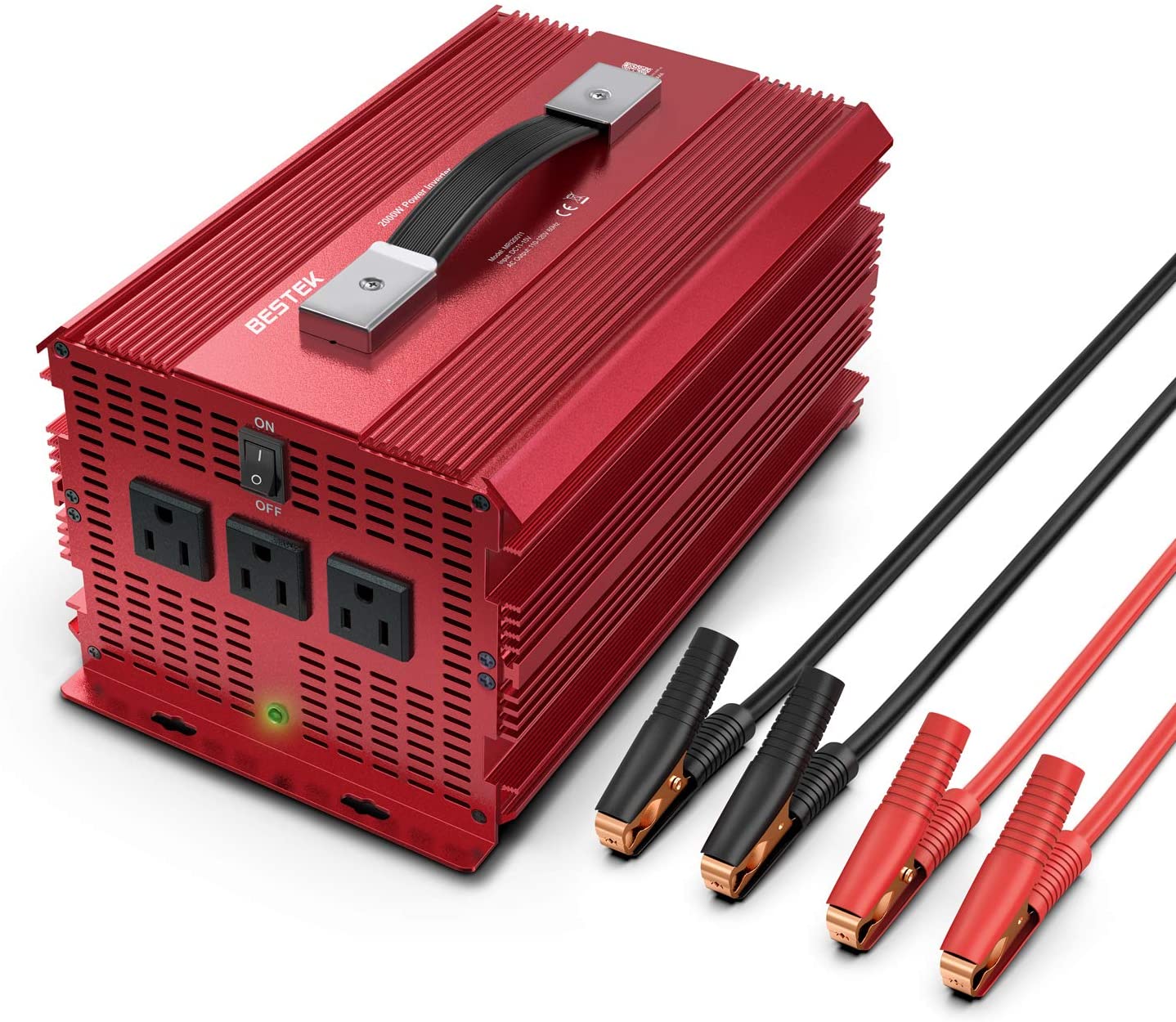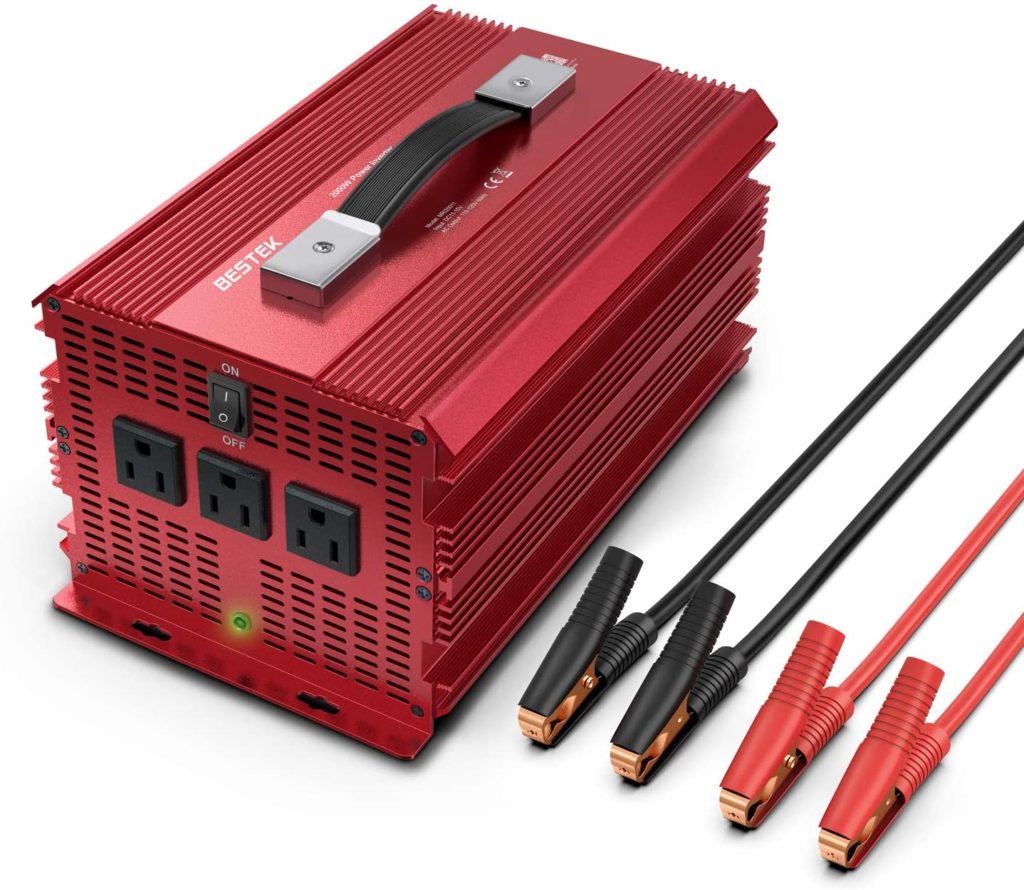 ---
MODIFIED SINE WAVE INVERTER
There are different types of inverters. The Bestek 2000W power inverter is a Modified Sine Wave inverter. This means that the current produced by this inverter is not as smooth as that produced by most generators or the electric grid.
Although pure sine wave inverters are a more preferred choice due to their ability to produce clean power and run your electrical appliances smoothly, the modified sine wave inverter can also be an excellent cost-effective choice for you, especially if you do not use the inverter often.
This inverter can be used to power most tools and equipment that are not sensitive such as lighting, power tools, heaters, etc.
Hair straighteners and hair curlers will not function properly with this inverter. Many Bluray players, C-PAP MAchine, and other sensitive devices will not run correctly with this inverter. I also found that fans run slower and heat up with modified sine wave inverters. You may also find that some of your devices will hum when using the Bestek 2000 Watt Inverter.
This is for you if you need a quick way to have backup AC (110V) current available in your vehicle, camper, or work truck. The price is great for the occasional use and the build is rugged enough to withstand the movements.
---
TECHNICAL SPECIFICATIONS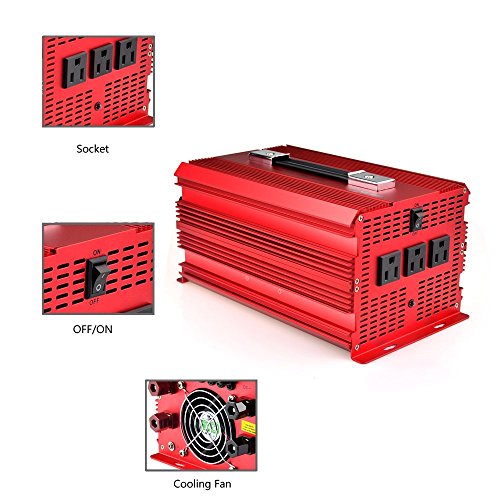 Model: MRI20011-1
Color: Red
Weight: 9.6 pounds
Product Dimensions: 10.00 x 6.50 x 5.30 inches
Rated Continuous output power: 2000 W
Maximum Continuous output power: 2300W
Surge power capability [peak power]: 4600 W
Output Wave Form: Modified Sine Wave
DC Input Voltage: 12V
Input Voltage Range: 10.5V – 15.5V
AC Output voltage: 110V
AC Output Voltage Range: 110V – 120 V
Cooling System: Thermostatically Controlled Fan.
FEATURES
The Bestek 2000W Power Inverter package includes these components.
2000W power inverter unit
4 battery clamps
1 cigar adapter
1 user manual
Bestek 2,000W Features
Power Rating
With 2,000 watts of continuous power, this inverter is guaranteed to run any of your appliances and equipment within its wattage range as long as the load is not greater than 2000 Watts. The Bestek also has a surge capability of 4600W which helps to kick-start those appliances that require a large amount of power on startup.
You need to check the maximum continuous and surge rating of your device before purchasing this inverter. Do not purchase this inverter if the power rating of your device exceeds the power rating of this inverter.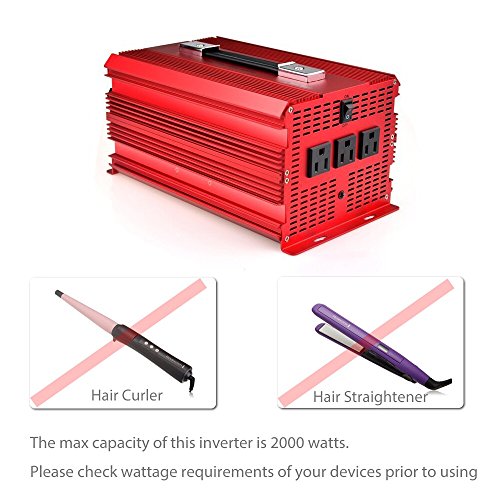 Three 3-prong 110V AC Outlets
They supply 110VAC to your appliances. If your appliances do not match these sockets' shape, you will need a travel plug adapter to plug in. However, they are not GCFI protected like the pure sine wave inverters.
LED Indicators
These indicators give you a status update of your inverter. A green LED indicates that the unit is on and receiving power. A red LED indicates an error or alarm condition such as high voltage, low voltage, and voltage overload.
Heavy duty terminals
This feature allows you to connect your batteries quickly, and it accommodates large electrical loads. It has large positive and negative terminal lugs to supply the high current needed for this power inverter. A separate ground lug is also provided for the safe delivery of power.
Ultra-Silent Thermostatically Controlled Cooling Fan
The two small internal fans keep the unit cool while operating under heavy loads ensuring proper ventilation. These fans only come on when the temperature rises above the normal temperature range for this inverter.
PROTECTIVE FEATURES
Six external 50A Fuses
You don't need to get out a screwdriver with external fuses to open up the unit to replace a burnt fuse. This safety feature not only protects your home appliances, electronics, pumps, and motors from damage, it also protects the inverter.
Low Voltage Shutdown
The LED illuminates RED, automatically shutting down the inverter when the battery voltage drops below 10±0.5VDC. This protects the battery from being completely discharged.
When a battery becomes completely depleted, it sometimes becomes impossible to charge them again. Deep Cycle batteries are designed to be depleted deeper but there is a need to know when the battery voltage is dropping too low.
Low Voltage Alarm
This feature is an indication that your battery requires a recharge. The alarm goes off whenever the battery voltage level has become discharged to 10.5±0.5VDC. It allows you to disconnect your devices before the inverter shuts down completely.
Over Voltage Shutdown
The LED illuminates RED, automatically shutting down the inverter if the input voltage rises to more than 15±0.5VDC. This action prevents devices from getting damaged.
AC Overload Protection
The LED illuminates RED when the continuous draw or the equipment's surge draw exceeds the rated capacity. Following this action, the inverter will automatically shut down. It prevents possible damage to the inverter and equipment connected to it in the event of a power overload.
Thermal Protection
This feature turns the inverter off if its temperature rises above or falls below an acceptable level. The LED will illuminate RED, and the inverter will automatically shut down when the temperature exceeds the limit.
Short Circuit Protection
The inverter will automatically shut down until the short is removed. It helps to prevent malfunction or system failure when there is low resistance.
NB: This inverter resumes work after the inverter has been restored to its normal working conditions.
COST & WARRANTY
The cost of this inverter is a reasonable price for a modified sine wave inverter. It also has an 18-month warranty.
Bestek 2000W power inverter PROS
6 external 50A fuses added for safety during use. This will come in handy if you or any other person mistakenly overloads the system or a wrong connection. They are also easy to replace.
It has 3 AC outlets, which is more than other similar rated inverters. This is great because you will not need to have an extension to plug three appliances.
Near silent thermal fan and is therefore considered to be a quiet inverter.
ETL Listed – This means that this inverter is tested and certified safe to use in the USA.
Bestek 2000W power inverter CONS
The absence of a remote port makes it impossible for you to operate the inverter with ease from a distance.
It does not have an LCD unit, which would have been a much better substitute for the LED lights.
It has no USB port, which can be a problem if you forget to bring your charger while on a trip or at work.
CUSTOMER REVIEWS
For a modified sine wave inverter, this inverter has a lot of positive reviews. Most customers commended the inverter's ability to run a garage and serve as a reliable backup efficiently.
CONCLUSION
This inverter is reasonably priced but standard compared to competitors. The number of positive reviews from customers on Amazon and its number of AC outlets make it stand out. If you need a portable, efficient, and cost-effective inverter, then this is a good fit. The fact that it is ETL provides peace of mind.
The Bestek 2000W power inverter is not designed for you to run 2000 Watt loads for a long time. The battery clamps and the thin battery cables are not expected to run high loads for long periods of time. If you must do so, I suggest you change the battery cables.
To enjoy this unit, it is essential that you identify the type of loads your inverter will be powering and how much you will be using them between charges. Once you know how much power you will be using, you can determine how much battery capacity you need.
(Visited 643 times, 1 visits today)
Some of the links in this post are affiliate links. This means that when you click on one of these links, I earn a small commission at no extra cost to you. Also, as an Amazon Affiliate, I earn from qualifying purchases.