---
Solar Panels are getting cheaper every day, and the 180 Watt solar panel is fast becoming the standard for off-grid solar panel systems. Some people still prefer the smaller easier to handle 100-watt solar panels, but more and more people prefer the 180-watt solar panels. In this article, I take a closer look at the BougeRV 180 Watt solar panel that has taken the solar panel market by storm.
The 180W BourgeRV Solar Panel is a Monocrystalline Solar panel.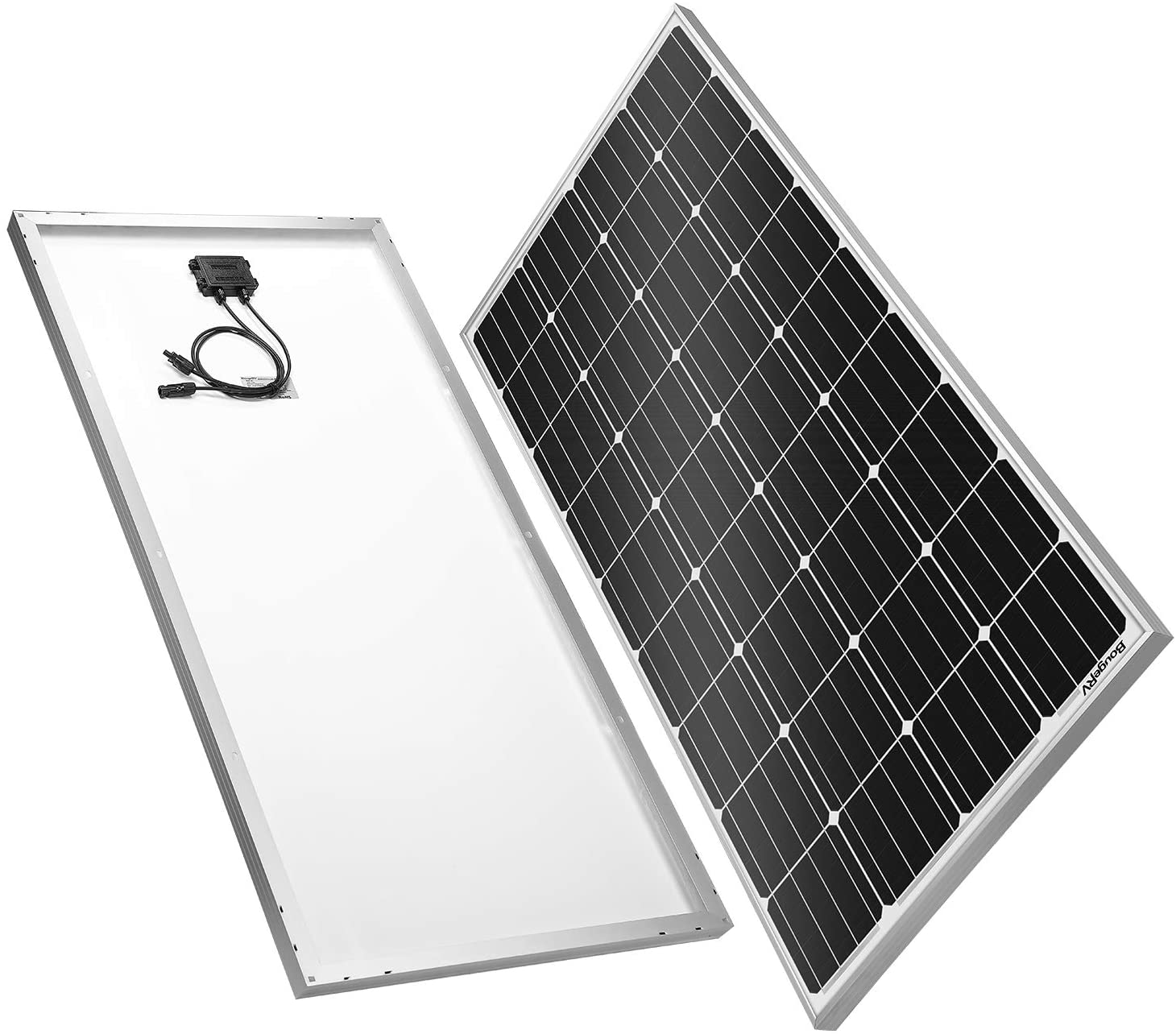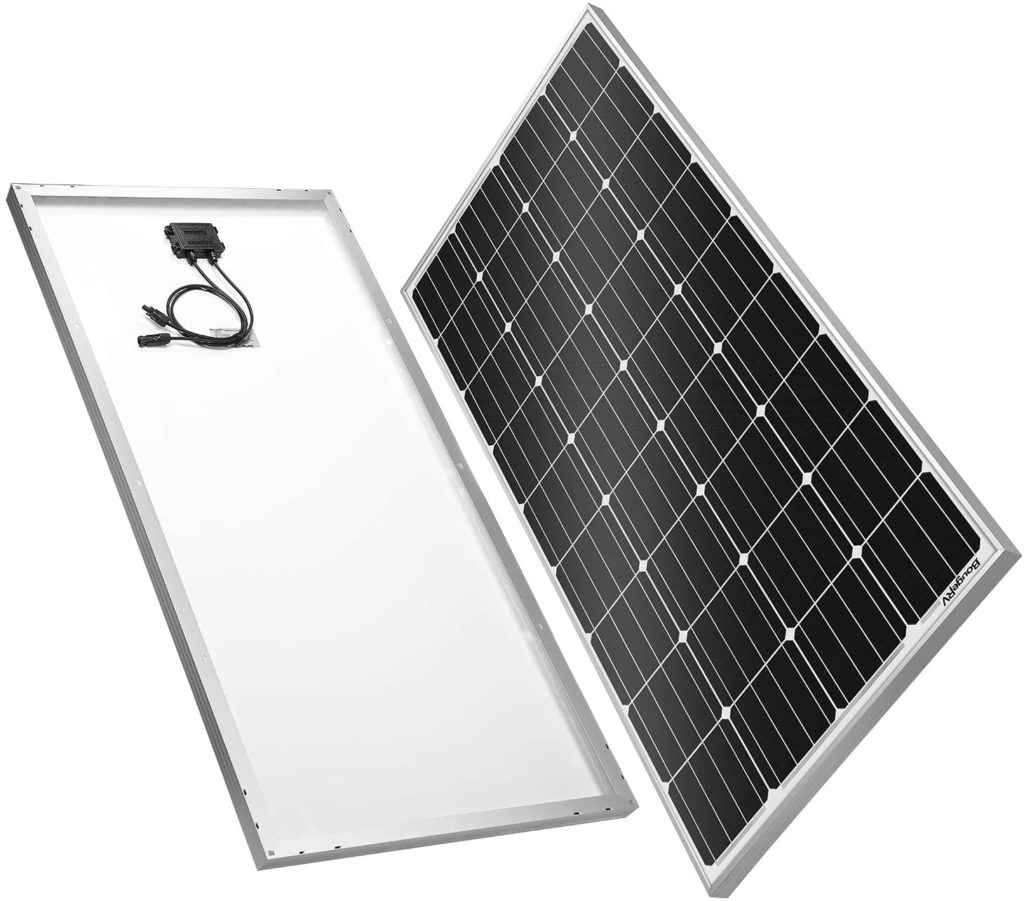 There are a few things to consider when thinking of purchasing the BourgeRV 180 Watt Solar Panel.
How much Power does it Output?
The 180 Watt rating on the BourgeRV solar panel refers to the peak power that the panels can output when placed under direct sunlight. It is the ideal case. In reality, you will not get this peak power all through the day. If you have direct sunlight for 5 hours, then the solar panels should ideally output (5 x 180) = 900 Watts of power. If you have 8 hours of daylight, you should ideally have (8 x 180) = 1440 watts of power per day.
You can check the amount of daylight per state in the USA
This means you can use the solar panels to ideally supply 900 Watts of power to your battery or to any direct current load that may be connected to the panels. In my case, I bought my solar panels to charge my 200Ah battery. It is more realistic to assume that the panels will only supply 80% of the max power rating even when you have an almost ideal situation. If there is some shade, some cloud, or your placement does not allow for adequate sunlight to your panels, the amount of power output will be affected.
What can you use the BourgeRV 180 Watt Solar panel For?
These panels are suitable for various applications. From my research, they have been used for RVs, Caravans, Marine, Off-grid applications (this means that they can be used within a complete system that does not depend on the electric grid from the city).
They can also generate solar energy, which is fed back into the electric grid; some people have installed them on their boats, etc. They will function anywhere electric power is needed as long as you have a way of placing them in direct sunlight.
The 180 watts BourgeRV solar panels can be used in any application that requires the charging of a 12 volts battery. It can also be used for 24 volt and 48-volt battery systems; however, you will need to connect more than one panel in the series.
---
BourgeRV 180 Watts Solar Panel installation
You may need to purchase the BourgeRV Solar Panel with the Z brackets needed to install the panels. You will also need an extension cable. The cable attached to the panel is only about 36 inches long.
You may need to purchase more materials for mounting your panels on a roof if the included z brackets are not enough. You may need extension cables. An MC4 removal tool may come in handy. You may need it to unfasten the connectors if you misconnected them, or you need to disconnect them for any reason.
The 180-watt BourgeRV Solar Panels come with male-female MC4 connectors. These are the standard connectors that come with the solar panels. They are designed for easy connection without a tool, but they do not easily come apart. You will need a tool to pull them apart. This is so that they don't accidentally come apart once they are in place.
I suggest that you estimate the distance between your batteries and the solar panel and purchase an extension cable as needed. I have my panel installed on the roof, so I needed about 50 feet of extension connector.
The extension can also be purchased on Amazon (Shop Heres here). You can also get these from BourgeRV.
Pre-drilled holes for Easy Installation
The 180 Watt BourgeRV Solar Panels have pre-drilled holes that make installation on the rooftop and other places easy. These pre-drilled holes are almost standard on most solar panels of this size. It can be very tedious to install solar panels on the roof if you have to drill the holes yourself.
BourgeRV 180 Watt solar panel Construction
Corrosion-resistant aluminum frame for extended use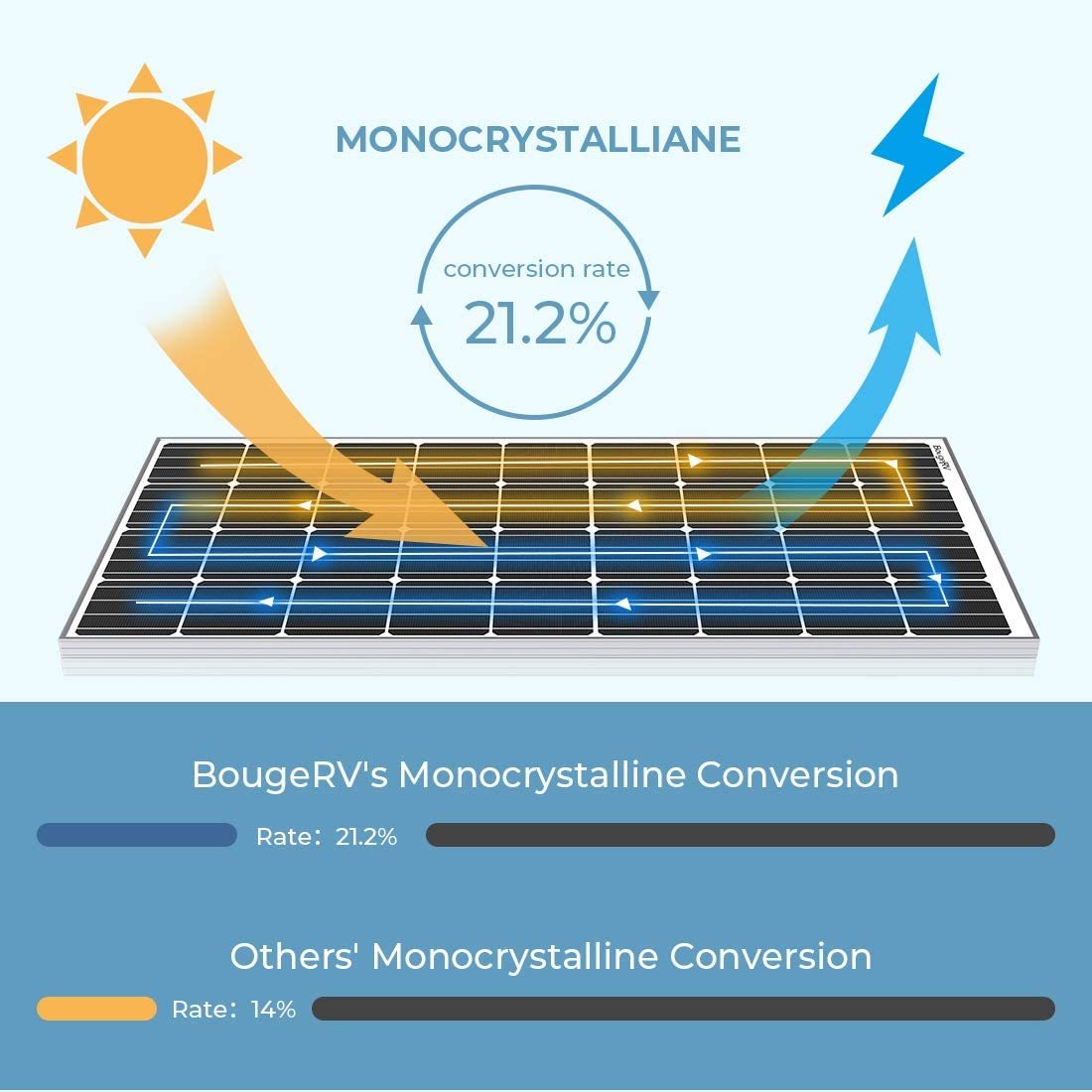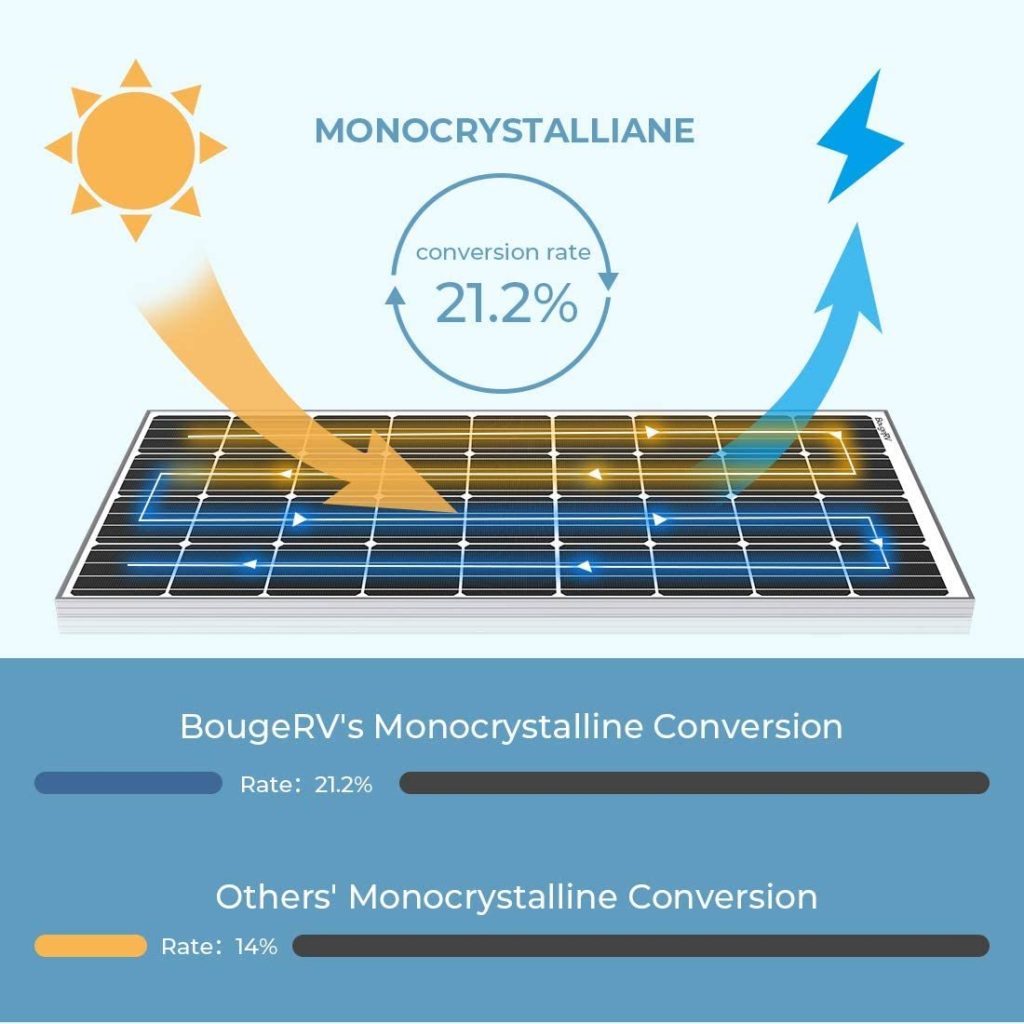 The 180 Watts BourgeRV Solar panel is well-built with a corrosion-resistant aluminum frame. It feels good to know that your solar panels have been built to last. The aluminum frame is anodized, which means that it will maintain a beautiful shiny look for a long time.
Since the panels will be kept outdoor for years and years, an aluminum frame is ideal for preventing corrosion. According to the manufacturers, the panels have been tested to withstand high winds of up to 2400 Pa, which is approximately 50 pounds per square foot. This means that the panels can withstand winds that feel as if a 50-pound weight about 1 foot by 1 foot is placed on it.
For snow loads, the panel can withstand up to 5400 Pa, approximately 112 pounds per square foot. Well, think about your weight, and you would be able to guess how much snow load your solar panel can withstand. Again, this has become a standard for most solar panel manufacturers. It is good to know that the 180 Watts BourgeRV Solar panel is not substandard in this regard. I did not test this, obviously.
BourgeRV Solar Panel – Anti-Reflection Coated Glass
The glass covering on the front of the BourgeRV panels is 3.2mm thick, tempered and patterned. This ensures that the glass is not easily broken while driving around with the solar panels on your RV or your boat. It also protects it from little things that may drop on it on a windy day.
BourgeRV Waterproof IP-65 Rated Junction Box
The Bourge RV Solar panel has a junction box at the back through which the solar panel is connected to your batteries or direct current devices. This junction box contains electrical components that must be protected from dust and moisture.
The BourgeRV panels are IP-65 rated which simply means that they have complete protection against environmental particles as well as low-pressure water jets.
They however are not protected against continuous submersion in water. To be protected against continuous submersion in water, the junction box would have to be IP-68 rated. The second 8, representing the higher level of protection against moisture. Solar panels only need protection against rain so an IP-65 rating is more than adequate.
Where are the BourgeRV Solar Panels Manufactured?
Well, you guessed right. For this price, the panels are not manufactured in the USA. BourgeRV Solar Panels are manufactured in China. According to the manufacturers, BourgeRV panels are shipped from a USA warehouse. This means that the panels have been tested and will ship out to you quickly. Their customer service is excellent. You can easily see that from the reviews.
BourgeRV Solar Panel specifications

– 180 watt Monocrystalline Panel

Max. power voltage(Vmp): 18±5%
Max. power current(Imp): 10±5%
Open circuit voltage(Voc): 21.6±5%
Short circuit current(Isc): 10.5A
Series fuse rating: 15A
Max. system voltage: 1000V DC
J-Box IP Rating: IP65
BourgeRV 180 Watt solar panel dimensions
Dimensions: 26.38 x 58.27 x 0.38 in
Net Weight (kg / lb): 10.9kg / 24lb
The size of the solar panels is good for most applications.
BourgeRV 180 Watt Solar Panel Warranty
BougeRV promises a 25-years warranty and lifetime warmhearted service. I did not find a detailed warranty certificate or statement.
For most solar panel companies, however, they offer 25 years warranty that the panels would operate at least 80% of the rated efficiency.
180 Watt BourgeRV Solar Panel Pros
Construction meets the necessary standards for solar panels.
Monocrystalline Solar panel.
BourgeRV has been around for a few years. Not very long but long enough to have a reputation to protect.
Cost-effective. It competes very well.
Installation is easy
Customer Service is good
BourgeRV
180

Watt Solar Panel Cons
Panels are relatively new to the market when you compare them with Renogy, Eco-worthy, NewPowa, HQST, or Richsolar.
The connecting cable attached to the panel is too short. It's just 90cm (3 feet) long. You would need to buy an extension cable.
Customer Reviews
The 180 Watt BourgeRV Solar Panel has a customer review of 4.5 out of 5 on Amazon. Many of the reviews were five stars, and a good number of the reviews were from repeat buyers.
Many buyers mentioned that the panels produced close to the rated voltage and current, and they were happy with the customer service.
Other BourgeRV Solar Components
What is the difference between Monocrystalline or Polycrystalline Solar Panels?
Conclusion
The 180 Watt Solar Panel by BourgeRV gives good value for money. If you are going for a large or small installation, this is one way to go. If you need one panel, there is no significant difference between the BourgeRV Solar Panel and other brands. Go for the BourgeRV Solar panel because it delivers good quality at an affordable price.
(Visited 473 times, 1 visits today)
Some of the links in this post are affiliate links. This means that when you click on one of these links, I earn a small commission at no extra cost to you. Also, as an Amazon Affiliate, I earn from qualifying purchases.