Some of the links in this post are affiliate links. This means that when you click on one of these links, I earn a small commission at no extra cost to you. Also, as an Amazon Affiliate, I earn from qualifying purchases.
---
Assuming that everyone has an inverter is wrong. However, anyone who requires an inverter needs a quality one. If you own a vehicle, off-grid cabin, boat, RV, or truck, getting an inverter that runs all your home electronics and appliances smoothly must be challenging. This is especially the case with all of the inverters available in the market.
I introduce you to the Microsolar 12V 1000W pure sine wave inverter. This is a pure sine wave inverter that provides clean and reliable power to your home electronics and appliances such as air conditioners, gaming consoles, microwaves, televisions, etc., efficiently and without the risk of damaging your appliances.
WHY PURE SINE WAVE INVERTER
The pure sine wave inverter is a more efficient choice than the modified sine wave inverter to meet your power needs. This is because they produce clean power like utility-supplied electricity, which helps run your power demanding appliances quieter, faster, and cooler than the modified sine wave inverter.
The Pure Sine Wave inverter is better at running appliances efficiently without wasting energy. All your devices, including printer, microwave, and any other power demanding appliance, will work properly with this inverter and do not stand the risk of getting damaged or failing unexpectedly.
Although the pure sine wave inverter is more expensive than the modified sine wave power inverter, many regular users find the cost worthwhile.
TECHNICAL SPECIFICATIONS
Color: Silver

Weight: 6.6 Pounds

Product Dimensions: 11.8 x 5.3 x 3 inches

Continuous output power: 1000 Watts

Surge power capability [peak power]: 2000 Watts

Output Wave Form: Pure Sine Wave

DC Input Voltage: 12V

DC Input [Operating] Voltage Range: 11-14V

AC Output voltage: 120V

Cooling: Thermostatically Controlled Fan

Dual 3-prong AC Outlets

USB Port: Yes
The Microsolar 12V 1000W Pure Sine Wave Inverter package includes these components.
1000W Pure Sine Wave Inverter unit

2 sets of 7 AWG 2 Foot (60cm) battery cable for connecting the inverter to the battery

15ft remote wire controller that makes it easy for you to control your inverter from a distance

Owner's Guide.
FEATURES OF MICROSOLAR 12V 1000W PURE SINE WAVE INVERTER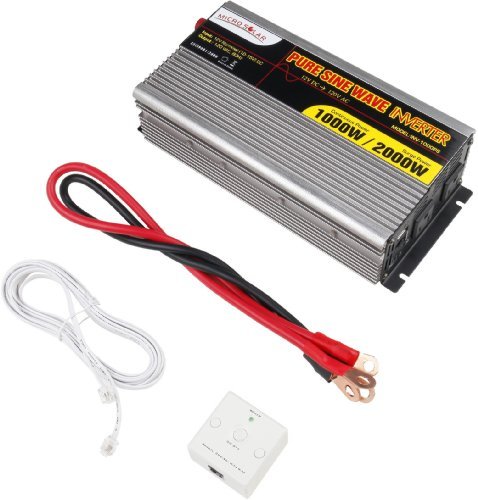 Power Rating
With 1,000 watts of continuous power, this inverter is guaranteed to run any of your appliances and equipment within its wattage range as long as the load is not greater than 2000 Watts.
A surge capability of 2000W helps to kick-start your hard-starting appliances such as microwaves. This rating is a bit unrealistic because a 1000W inverter does not mean that you can run a 1000W continuous output load on the inverter or run appliances that require a startup power of 2000W.
You need to check the maximum rating of your device before purchasing this inverter. Do not purchase this inverter if your device's power rating exceeds the power rating of this inverter.
Dual AC Outlets
It has dual AC outlets, which allow you to connect more of your equipment directly to the inverter. This has more AC outlets than most of the similar rated pure sine wave inverters.
However, these outlets are not GCFI protected. This means that they do not provide a safe and convenient way of powering your devices. Neither do they protect you from electric shock and accidental fire outbreaks when you use the inverter in wet environments.
Built-in USB port
This inverter has a single USB port, which allows you to power gadgets such as cell phones, tablets, and other USB compatible devices, directly from the inverter without using your charger. This could come in very handy if you forget to bring your charger along with you while off the grid.
Unfortunately, this inverter has a single USB port, which is less than most similarly rated inverters with 2 USB ports.
LED Indicators
A green LED indicates that the unit is on and receiving power. Whenever a shutdown occurs due to an error condition, the green LED remains on. A red LED indicates an error or alarm condition.
Remote Switch Port
This port allows connection directly to the remote panel accessory, which gives you access to control the inverter from about 25ft away. You can turn it off and on without direct access. However, this port is not wireless, so you will need to connect the optional remote panel using a small cable that comes prepackaged with this inverter.
Heavy duty terminals
This feature allows you to connect your batteries easily, and it accommodates large electrical loads. It has large positive and negative terminal lugs to supply the high current needed for this power inverter. A separate ground lug is also provided for the safe delivery of power.
Thermostatically Controlled Cooling Fan
The two small internal fans keep the unit cool while operating under heavy loads, so proper ventilation is required for reliable operation. Like the similarly rated inverters, they are thermostatically controlled, which means that they only come when the temperature rises above the normal temperature range for this inverter.
ACCESSORIES
Remote Panel
You can purchase a remote panel alongside your inverter, which will help you control and monitor the inverter with ease from inside your motorhome via this panel. However, the connection process is not wireless. You connect this panel to the inverter via the remote cable that comes prepackaged with this inverter.
LCD Digital Display
There are a variety of LCD product options you can choose from. One of the most commonly purchased with the Microsolar 12V 2000W pure sine wave inverter is the Bayite DC 6.5-100V 0-100A LCD Digital Current Voltage Power Energy Meter. It displays the input voltage, output wattage, current, and energy, giving you an update on the inverter's status.
PROTECTIVE FEATURES
Low Voltage Shutdown
This automatically shuts the inverter down if the battery voltage drops below 10VDC, thus protecting the battery from being completely discharged.
Low Voltage Activation
This feature alerts you whenever the battery voltage level has become discharged to 10.6V. It allows you to disconnect your devices before the inverter shuts down completely.
Over Voltage Shutdown
This feature shuts the inverter down automatically if the input voltage rises to more than 15VDC to prevent devices from getting damaged.
AC Overload Shutdown
This feature prevents overheating and possible damage by automatically shutting the unit down if a short circuit occurs or if the loads attached to the inverter exceed the operating limits.
COST & WARRANTY
The cost of this inverter is a fair price for a pure sine wave inverter. They also have a great warranty plan of 3 month's free replacement and a 1-year warranty.
PROS
The cooling fan keeps the system cool and effective when there is overheating.
The single USB port allows you to power gadgets such as cell phones, tablets, and other USB compatible devices.
CONS
Unlike other pure sine wave inverters, this inverter does not have a display unit. This makes it hard for you to know what is going on with the inverter. The LED notification light is a poor substitute for a display. This means you have more to purchase.
This inverter does not have as many protective features as its competition. It only has overload protection and low and high voltage shutdown features. Its AC outlets are not GCFI protected, which means that they do not prevent you from electric shock in wet environments.
Unlike the Go Power inverter, this inverter is limited to use in areas where the operating frequency is 60Hz. It does not have the flexible settings change that allows one to switch between 50Hz and 60Hz.
It does not have a hard-wired port.
CUSTOMER REVIEWS
This inverter has about 146 reviews on Amazon and an average rating of 3.9 out of 5 stars. Comments are suggesting that with or without the fan, the product is pretty quiet.
Customers expected a slight hum because of the power, but it turned out to be pretty silent. However, some customers stated that this inverter struggles with higher wattage inductive loads such as microwaves and hairdryers to provide the power required for startup.
To help this issue, you must read the number of cautions in the product description about start-up surges and peak surges for different appliances. Hand dryers have high peak surges, and microwaves need a high start-up surge to get started.
The surge power must not exceed the peak power of this inverter (4000W). Anything that goes above this specification is considered to be an overload and, as such, could cause damage to the inverter and the equipment connected to it.
CONCLUSION
I guess with all these critical reviews and a long list of cons; you are probably wondering if this inverter is still a great and recommendable choice for you.
Well, I'd have you know that there is no perfect product. Every system has benefits as well as flaws. A great reason to consider this inverter would be its numerous AC outlets, which allow you to connect more devices directly to the inverter. I'd recommend this for those who already have experience with inverters as this inverter is not easy to use, easy to install.
If you do not have experience with inverters and you still want to purchase this inverter, research extensively on this product so that you can enjoy this inverter. If you already know how to handle it, there is no reason why this unit should not prove to be a useful, worthwhile and great investment for powering your life.
---
(Visited 132 times, 1 visits today)