Some of the links in this post are affiliate links. This means that when you click on one of these links, I earn a small commission at no extra cost to you. Also, as an Amazon Affiliate, I earn from qualifying purchases.
---
Eco-Worthy produces a quality solar panel that is supported by responsive customer service and a good guarantee. If you are looking for a dependable solar panel that performs consistently and is well priced, take a look at this article on Eco-Worthy solar panels.
This article takes you through the panel features and provides positive feedback from the article's original author (Ade S.). Ade used Eco-Worthy panels in his first solar installation.
---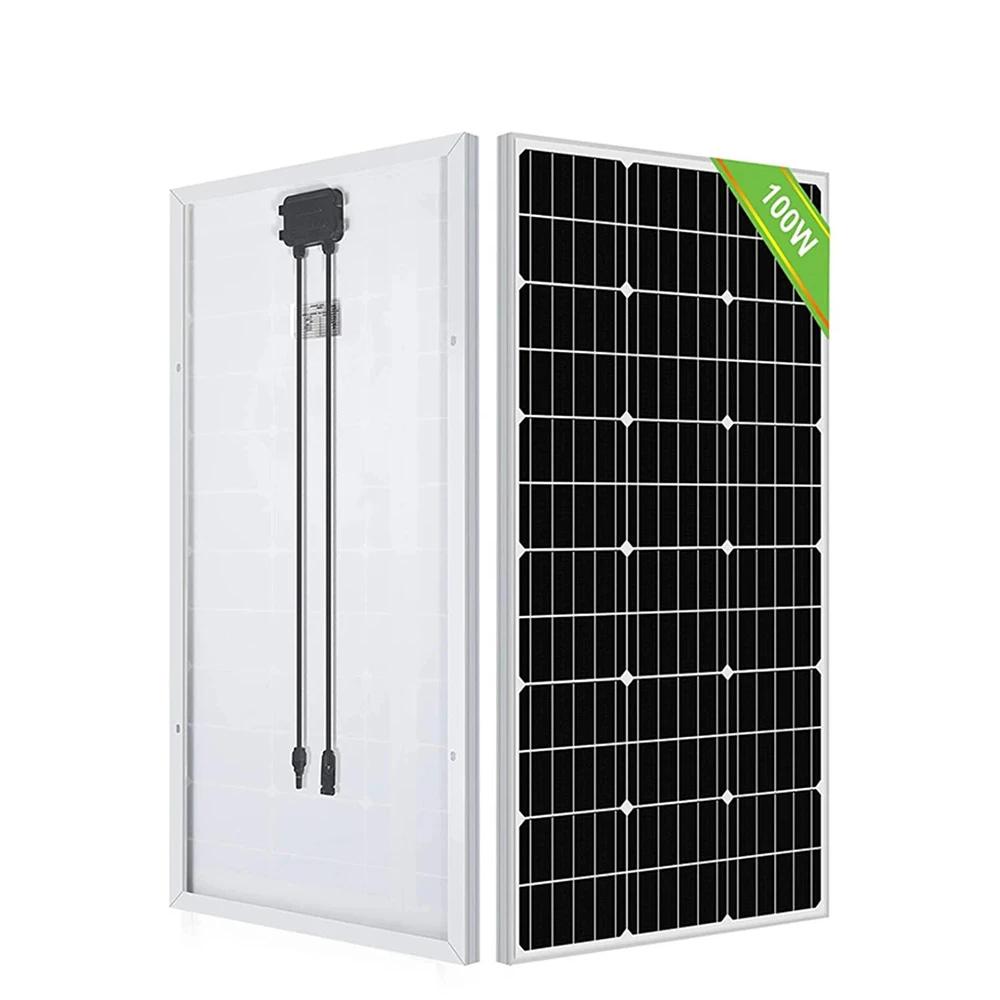 Eco-Worthy has been producing solar panels since 2002. They offer good, consistent solar panels for RVs, Boats, and small off-grid homes at a good price point and with service and guarantees to support your purchase.
Use CODE SKH01 for 5% OFF
---
Pros
Price
Weight
Customer Service
Eco-Worthy Solar Panel Specifications
Rated Power: 100W
Open Circuit Voltage (Voc): 21.6V
Short Circuit Current (Isc): 6.13A
Working Current (Iop): 5.78A
Output Tolerance: ±3%
Temperature Range: -40℃ to +80℃
Size: 1010*510*35mm (39.8*20.1*1.4inch)
Weight: 8.6kg (18.96lb)
Eco-Worthy Solar Panel Competitors
There are quite a few competitors. I've listed those that provide a similar panel and a comparison chart with basic specifications.
Eco-Worthy Solar Panel Materials & Construction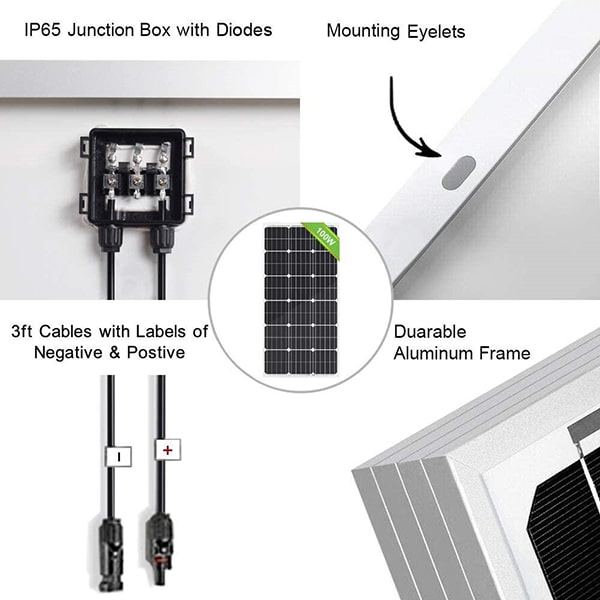 Frame
Eco-Worthy panels are made from corrosion-resistant Aluminum alloys.
The frame is approximately 35mm thick and contains pre-drilled holes for installation and mounting.
One of the complaints you sometimes hear about the Eco-Worthy panels is the limited number of predrilled holes provided for mounting.
You can drill your own holes, but it is easier if they are provided.
The frames are designed to withstand extreme conditions.
High winds of up to 2400 PA – approximately 50 pounds per square foot.
Snow loads of up to 5400 PA – approximately 112 pounds per square foot
These ratings have become a standard for most solar panel manufacturers.
Junction Box
The panel contains an IP65 junction box designed to keep out water and dust. Although you can't submerge the box, this works fine in any type of rain condition.
By-pass diodes are mounted in the box, intending to optimize the panel's efficiency in lower light or shady environments.
Output Cables
There are two 12-AWG, 35-inch output cables included.
These are not long cables, and you will probably need to run additional extension cables if mounting your panels.
| Guage | Amps | Use |
| --- | --- | --- |
| 3/0 Guage | 200 Amps | Service Entrance |
| 1/0 Guage | 150 Amps | Service Entrance & Feeder Wire |
| 3 Guage | 100 Amps | Service Entrance & Feeder Wire |
| 6 Guage | 55 Amps | Feeder & Large Appliance Wire |
| 8 Guage | 40 Amps | Feeder & Large Appliance Wire |
| 10 Guage | 30 Amps | Dryers, Appliances & AC |
| 12 Guage | 20 Amps | Appliance, Laundry & Bathroom |
| 14 Guage | 15 Amps | General lighting & Receptacle |
Connectors
The panels come with two male-female connectors.
The connectors don't easily come apart, so you may want to consider an MC4 tool. This will also come in handy as you expand your system and move around your panels.
Connector Specifications
Rated Current: 30A
Maximum Voltage: 1000V DC
Maximum AWG Size Range: 10AWG
IP Rating: IP67
Panel Glass
The solar panel glass uses 3.2mm low iron tempered glass and Grade A monocrystalline cells.
Like the frame, the glass is designed to withstand extreme conditions.
During shipping, the glass may become damaged. This is a common complaint involving the shipment of any glass panels.
Check your panels immediately upon receipt so you can report any issues within the warranty period.
Eco-Worthy Solar Panel Performance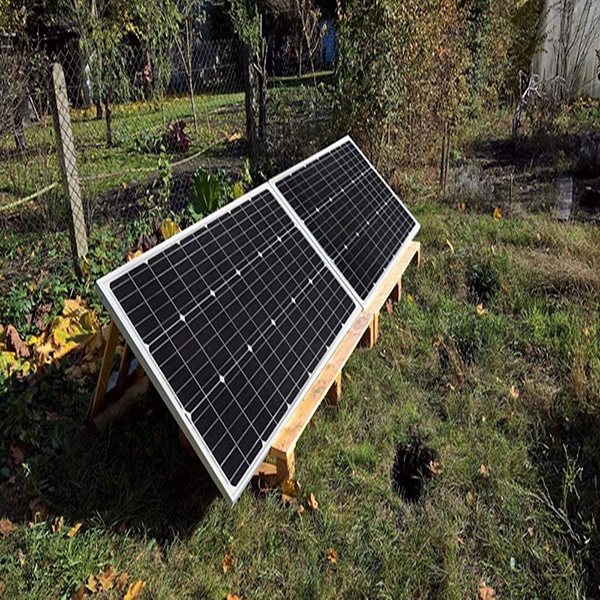 Performance is where Eco-Worthy panels receive good feedback.
At the time of this article, Eco-Worthy solar panels received an average of 4.5/5 stars, with 87% of consumers providing 4 and 5-star reviews.
The output of these panels consistently meets the amp/voltage ratings provided by the manufacturers.
The original author of this website (Ade) used Eco-Worthy panels and states " The panel delivers rated power consistently, even when the sunlight is not intense. Furthermore, the solar panel continues to deliver some power even in less than ideal situations like shade or clouds."
Guarantee & Return Policy
Eco-Worthy provides a "14 Days DOA Product Guarantee." Make sure you get a Return Authorization Number within 14 days of receiving the product.
If the panel is broken, different, or not working, then you can return them for a full refund (shipping is reimbursed) or a replacement panel.
Make sure you check the panel as soon as you receive it.
30 Days No Reason Return
Eco-Worthy also offers a "No Reason Return" where you get a PARTIAL return, but it has a few conditions.
The panel must be in brand new condition
You will pay shipping fees
Any product modifications void the warranty
Specific information and warranty policy to follow (warranty process)
Eco-Worthy Solar Panel Warranty
Warranties are a funny thing. Some manufacturers take pride in their ability to stand behind their products, while others hide it in the small print if they show it at all.
Eco-Worthy does a little of both, which is surprising. It appears to be a good warranty.
I could not find any information on their website about the solar panel's warranty, but Amazon has information.
Power: 5 year/95% efficiency rate
10 year/90% efficiency rate
25-year/80% efficiency rate
You may want to have them send you the warranty documentation since it is not clearly stated on their website.
Eco-Worthy Customer Service
Service is a category where Eco-Worthy differs from many of its competitors.
Eco-Worthy receives good feedback from customers on their responsiveness, and they provide multiple methods of communication on their website.
Phone Number
E-mail
Contact Form
Chat
Eco-Worthy Solar Panel Reminders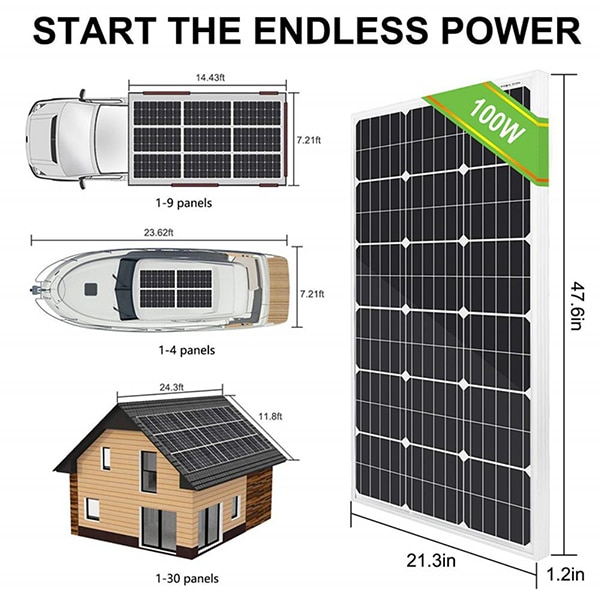 There are a few final considerations before making your purpose.
These panels will provide about 80% of the maximum power rating, even in ideal situations. This is based on conditions like "peak sunlight," weather, shade, and season.
A 100-Watt Eco-Worthy solar panel can be used when charging a 12-volt battery. You will need to connect the panels in a series for 24-volt and 48-volt systems.
You will need extension cables, z-brackets, fuses, etc., for a full installation, so you may want to lay out a plan first.
Read the Warranty and Guarantee guidelines closely when you receive your panels.
Final Thoughts
Eco-Worthy provides a good solar panel at a reasonable price. They also provide good service and a solid warranty, with guarantees to back up their products.
At the time of this article, you can't purchase the 100W solar panel on Amazon, but you can purchase the popular 195W solar panel and many of their other products.
You should check both sites before purchasing.
Currently, the 195W panel at Eco-Worthy's site with the 5% discount will cost you $179. It is $192 on Amazon. So you will pay about 7% less with Eco-Worthy.
BUT – don't forget shipping. Eco-Worthy does not calculate shipping until you reach the payment step, and if you are in no hurry to receive the panels, then Amazon shipping is free.
Additional Eco-Worthy Solar Panel Products
Eco-Worthy has a solid line of panel products which I have listed below.
Eco-Worthy is also providing an additional 5% off on the products below with code SKH01.
| | |
| --- | --- |
| 195W 12V Monocrystalline Solar Panel | SHOP HERE |
| 120W 12V Foldable Solar Panel Suitcase with 20A Charge Controller | SHOP HERE |
| 60W 12V Foldable Solar Panel Suitcase with 20A Charge Controller | SHOP HERE |
| 130W 12V Flexible Mono Solar Panel | SHOP HERE |
| 5W 10W Portable Solar Trickle Charger for 12V Batteries | SHOP HERE |
| 10W 12V Polycrystalline Solar Panel Trickle Charger Kit | SHOP HERE |
| 25W 12V Polycrystalline Solar Panel Trickle Charger Kit | SHOP HERE |
Related Articles
(Visited 1,097 times, 1 visits today)