This Eco Worthy Solar Panel Review is a follow-up based on the research I did for a recent solar panel purchase and installation. I installed solar panels in the power backup system for our home.
Whether you are planning to get solar panels for an RV, boat, or your off-grid farmhouse, there are now many reasonably priced options.
Summary – Eco-Worthy Solar Panels
The Eco-Worthy brand is becoming more popular. They offer good quality panels at competitive prices. If you want solar panels that work, these panels will serve you well at a good price point.
The most popular Eco-Worthy solar panels are the 100 Watt Polycrystalline panels. Eco-Worthy also has monocrystalline 100 Watt panels which are not much more expensive and more efficient.
Although the 100 Watt panels are very popular, I see the Eco-Worthy 160 Watt, 12-volt monocrystalline solar panels becoming even more popular. I ordered a set of 150 Watt panels for our home.
A few months ago, the 150 Watt solar panels were not easily accessible, and I could only find the 200 Watt and 250 Watt panels in 24 volts. With a 24 volt solar panel, I need a 24-volt bank of batteries to maximize the panels.
Below is my review of the Eco-Worthy 100 Watts Polycrystalline Solar Panel. These panels have a lot in common with other panels that have different power ratings.
You may visit my review of the Top 3 100 Watt Solar Panels to find other options.
Update on Solar Panels
Since writing this review, the Eco-Worthy polycrystalline panels have become harder to find than the monocrystalline panels which are more efficient. I've updated this article with those panels where applicable.
Eco-Worthy 100 Watt Polycrystalline or Mono Photovotaic PV Solar Panel Review
Below are a few things to consider before purchasing the 100 Watt Eco Worthy PV Solar Panel Kit purchase.
How Much Power Output
The 100 Watt rating on the Eco Worthy solar panel refers to the peak power that the panels put out under direct sunlight. This the ideal case. In reality, you will not get peak power throughout the day. If you have direct sunlight for 5 hours, the solar panels will ideally put out 500 Watts.
You can use the solar panels to supply 500 Watt of power to your battery or any direct current load connected to the panels. In my own case, I bought my solar panels to charge my 200Ah battery.
It is more realistic to assume that the panels will supply 80% of the max power rating even when you have an ideal situation. If shade, clouds, or placement does not allow for adequate sunlight, the power output will be affected.
---
What Can You Use Eco-Worthy Solar Panels For?
Eco-Worthy panels are suitable for various applications. Based on my research, they are used for RVs, Caravans, and off-grid applications (This means they can be used with a system that does not depend on the electric grid from the city).
They can also be used to generate solar energy which is fed back into the electric grid. Some people have installed them on their boats and RV's. They will function anywhere electric power is needed as long as you place can them directly in the sunlight.
Basically, the 100 Watt Eco-Worthy solar panels can be used in any application that requires the charging of a 12-volt battery. They can also be used with 24-volt and 48-volt battery systems, however, you will need to connect more than one panel in a series.
Eco-Worthy Solar Panel Installation
With the package I purchased, some of the materials needed for installation were included. I needed an extension cable. The cable attached to the panel is only about 36 inches long.
You may need to purchase more materials for mounting your panels on a roof if the included z brackets are not enough. You may also need extension cables. A solar charge controller is included in the kit. An MC4 removal tool will also come in handy. You may need it to unfasten the connectors if you misconnected them, or you need to unfasten them for any reason.
The 100 Watt Eco-Worthy Solar Panel comes with male-female MC4 connectors. These are the standard connectors that come with many solar panels. They are designed for easy connection without a tool, but they do not easily come apart. You will need a tool to pull them apart. This is so that they don't accidentally come apart once they are in place.
I suggest that you estimate the distance between your batteries and the solar panel and purchase an extension cable as needed. I have my panel installed on the roof and needed about 50 feet of extension connector.
Extension cords can be purchased on Amazon (Shop Heres here).
Pre-Drilled Holes for Easy Installation
The 100 Watt Eco-Worthy Solar Panels have pre-drilled holes that make installation on roof tops easy. These pre-drilled holes are almost standard on most solar panels of this size. It can be very tedious to install solar panels on the roof if you have to drill the holes yourself.
Eco-Worthy Solar Panel Construction
Corrosion-Resistant Aluminum Frame for Extended Use
The 100 Watt Eco-Worthy solar panel is well-built with a corrosion-resistant aluminum frame. The solar panels appear well-built and meant to last. The aluminum frame is anodized, which will maintain a beautiful shiny look for a long time.
Since the panels will be kept outdoor for years, an aluminum frame is ideal for preventing corrosion. According to the manufacturer, the panels have been tested to withstand high winds of up to 2400 PA, approximately 50 pounds per square foot.
As for snow loads, the panels can withstand up to 5400 PA, approximately 112 pounds per square foot. This has become a standard for most solar panel manufacturers.
Eco-Worthy Solar Panel Anti-Reflection Coated Glass
The glass covering on the front of the Eco-Worthy panels is 3.2mm thick, tempered and patterned. This ensures the glass is not easily broken while driving with the solar panels on your RV or boat. This also protects the panels from debris that may hit them on a windy day.
Eco-Worthy Waterproof IP-65 Junction Box
The 100 Watt Eco-worthy solar panel has a junction box on the back of the panel. This connects the solar panel to your batteries or direct current devices. This junction box contains electrical components which must be protected from dust and moisture.
The Eco Worthy panels are IP-65 rated which means they have complete protection against environmental particles as well as low-pressure water jets. Note that they are not protected against continuous submersion in water. They would have to be rated IP-68 for complete submersion.
The second 8 represents the higher level of protection against moisture. Solar panels only need protection against rain, so an IP-65 rating is more than adequate.
Eco-Worthy Solar Panel Specifications
Eco-Worthy Solar Panel Dimensions
26.2 x 39.3 x 1.4 inches (6.5 x 3.5 x 100 cm)
22.1 pounds (9kg)
The size of the solar panels is good for most applications.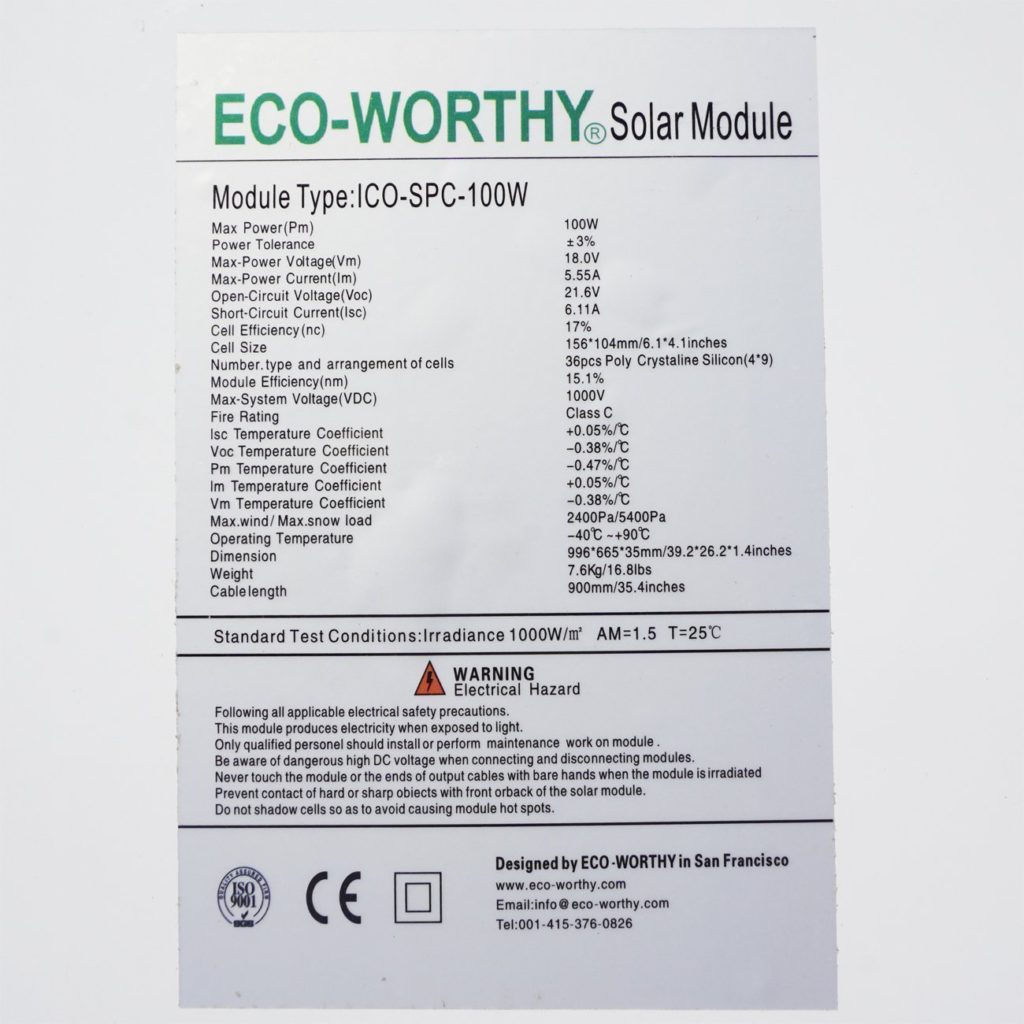 Cost of the Eco-Worthy Solar Panel
At the time of my review, the 100 Watt Eco Worthy Solar Panels had the most competitive on price on Amazon. Although the solar panels are polycrystalline, they are rated to produce the same output as the monocrystalline panels.
The price difference is not much when buying one panel. You would recognize the savings if you bought more than 5 panels. It is not unusual to require 10 -15 panels to take a 3 bedroom cottage off the grid completely.
---
100 Watt Eco-Worthy Solar Panel Pros
The solar panel is well-built
The panel delivers rated power consistently, even when the sunlight is not intense. The solar panel continues to deliver some power even in less than ideal situations like shade or clouds.
The panel is cost-effective. It is not much cheaper than the other panels, but the last time I checked it offered the best value for the money.
100 Watt Eco-Worthy Solar Panel Cons
The connecting cable attached to the panel is too short. The cable is only 90cm (3 feet) long. You will need to buy an extension cable.
The documentation for the panel is not overly detailed. This is not much of a problem because solar panels do not have many moving parts. It is possible to reverse the polarity of the connectors, so it is important to pay attention. Most solar chargers are designed to protect against reversed polarity, so if you make a mistake and your system does not work properly, reverse the polarity.
Customer Reviews
At the time of this article the Eco-Worthy Solar Panel was rated 4.5/5 stars.
Update: Only the monocrystalline 100 Watt panel is currently available, and 86% of it's ratings or either 4 or 5 ratings.
---
Final Thoughts
The 100 Watt Eco-Worthy Solar Panel is a good value for the price. If you are going to build a large installation (10+ panels), this is the way to go. If you simply need one panel, there is not a big difference between the Eco-Worthy solar panels and those of other brands.
Another good panel to checkout is the Renogy panel, which I have also reviewed also reviewed.
See More ECO Worthy Panels & Products
(Visited 1,205 times, 3 visits today)