Best 100 watt solar panel – What matters?
What is the best 100-watt solar panel in the market today? From my research, I have come to discover that most solar panels will last an average of 10 years and many of them are projected to have a lifetime of over 25 years. This means therefore that what anyone interested in buying solar panels should look out for is how they can get good value for their money. It's more about knowing the amount of space you have and how to fit the number of solar panels you would need into that space. You would also want to know how easy the panels are to install and expand.
When considering a solar system that would power a home completely (an off-grid system) then it may be advisable to get a professional in your area. However, if you are just building your system one step at a time, you can do most of it yourself. Solar Panels are pretty easy to install, however, there are ways that one can optimize their placements so that you can more value from your investment. I am building our solar panels as part of a backup system to our home in Abuja, Nigeria where power outages are regular and the sunshine is also regular. You can easily have 24 – 36 hrs of power outage every week during the dry season when water levels are low and the national production of electric power is low. My goal is to build a system that will act as an adequate backup for up to 36hrs of a power outage.
So in my search for a solar panel I have come to the conclusion that once I find a good company that manufactures solar panels at a good price, there is no need to worry. Price is the major player in the decision making, followed by the reputation of the company. I found that the Renogy Solar Panels give you good value for your money.
Monocrystalline of Polycrystalline?
The Monocrystalline Solar Panels are more efficient in converting solar energy to electrical energy so they are a little more expensive. You can differentiate between them with their color. The Polycrystalline Panels have a blue color while the monocrystalline ones have a black color. When installing just a few panels, the monocrystalline panels are better, but when you are considering an industrial scope, the polycrystalline solar panels are usually favored. I encourage you to go for a monocrystalline Solar Panel if you are interested in solar panels for personal use.
Take note that once a solar panel is rated as 100 watts or 200 watts, it really does not matter what the materials are made up of. The panels will deliver the rated wattage under ideal conditions. Once again, go for what fits your budget from a company that produces good quality products based on consumer reviews. For example, the Renogy Solar Panel has a 4.5star rating on Amazon.
What is included in the kit?
For those that are new to solar panels, please go for the starter kits. They have all that you would need to be up and running. As you know more about the systems, you can buy more panels and expand them to catch up with your needs. For a Functional Solar Powered System, you would need a kit that includes:
Solar Panel(s)
Solar Charge Controller
Mounting Kit
Extension kit
Manual (to teach you how to install)
Most of the other things you need to know about solar panels would be more about how they fit your needs. How many panels will you need? How many batteries will you need? How long do you intend on using the batteries and so on.
Below is a list of the top 3 100 watt solar panels on Amazon at the time this was written.
Best 100 watts Solar Panel from Reviews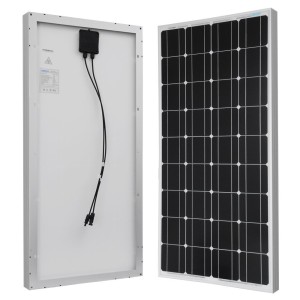 This Solar Panel has an average of 4.5 stars out of 5 from over 500 customer reviews. It is surely the best seller in the Solar Panel category. [su_button url="https://www.solarknowhow.com/renogy-solar-panel-review-100-watts/" background="#fbb606″ size="4″]Read Full Review[/su_button]
Best 100 watt Solar Panel From Cost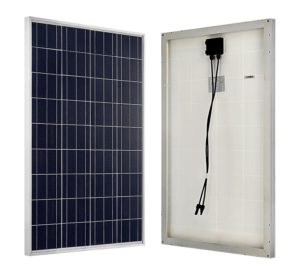 The 100 Watt Eco Worthy Solar Panel gives was the winner when it came to the cost of the solar panels. More details can be found in the Eco Worthy Solar Panel Review.
best 100 watt Solar Panel – upcoming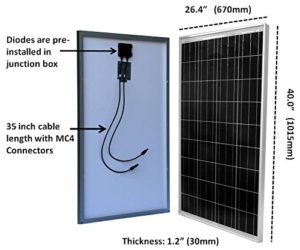 There are a few other Solar Panel manufacturers with products on Amazon, however, these are the ones that have more reviews and one can assume will give you good value for your money. Any of these panels will serve you for many years so feel free to choose anyone. Personally, I prefer the Renogy 100 watts solar panel simply because it's better tested.
(Visited 628 times, 1 visits today)